After a wait of 50 years to develop at Cedar Road and Euclid Heights Boulevard in Cleveland Heights, a couple-month delay due to the COVID-19 pandemic didn't remove any of the sweetness for city officials to finally break ground on the project June 24.
The $83 million mixed-use project saw a ceremonial groundbreaking and its start of construction that early afternoon after the celebration, Mayor Jason Stein said.
"This is going to be the new gateway to Cleveland Heights," Stein told the CJN at the groundbreaking. "This is going to replace all the postcard pictures, I believe. This is a very exciting time, and Cleveland Heights is open for business."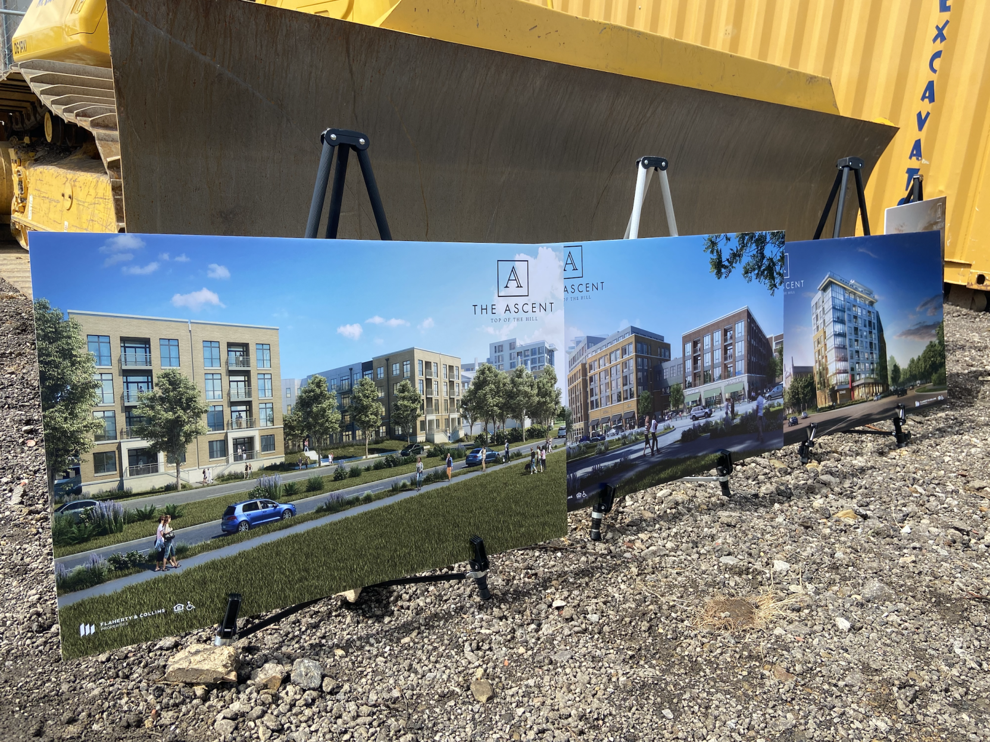 The Ascent at the Top of the Hill consists of a 10-story building – similar in height to the former Doctors' Hospital located in the same place and torn down in 1969 – and a second residential and retail building. It will house 261 market-rate luxury apartments, more than 11,000 square feet of commercial/retail/restaurant space and more than 25,000 square feet of green space. A structured parking garage with 550 parking spaces is also to be developed.
The 4-acre project to be developed by Indianapolis-based Flaherty & Collins Properties was approved in February after about four years of meetings, discussion and planning. The general contractor is Cleveland Construction.
City officials and representatives from Cleveland Heights City Council, Flaherty & Collins, the Cleveland Heights-University Heights School District and the Cedar-Fairmount Special Improvement District took part in the ceremonial groundbreaking.
The plans for the project also include amenities such as a co-working space, pet spa, dog park, indoor bicycle parking with a bike-wash station, fitness center and a 10th-floor pool, terrace and common space, according to a news release from the city.
The development is a private-public partnership, where funding comes through private construction loan financing at 61%, tax increment financing bonds at 29%, developer equity and overhead, and a city commitment in non-tax revenue at 2%, according to the city.
The project is planned to be completed in spring 2022, said David Flaherty, CEO of Flaherty & Collins.
"There are always things you can find in the dirt that can slow you down, but we feel pretty good about that date," he said, adding the development will be primarily residential and will likely include about five retailers, restaurants or small businesses.
The parking garage will be built first to allow sufficient parking options for current district merchants, followed by the shorter building and lastly the taller building, city councilman Michael Ungar said.
Prior to council's unanimous approval of the project, some residents and council members voiced concerns about the style of the project, financing and impact.
The location, within the Cedar Fairmount entertainment, dining and retail district and less than a mile up the hill from University Circle in Cleveland, housed Doctor's Hospital from 1946 to 1969, when it was torn down and the city acquired the site. A municipal parking lot was put there, although the city had a longtime goal of developing the site. Unsuccessful attempts to redevelop it were made in 1972, 1982, 1990 and 2008, due to economic downturns or lack of redevelopment consensus, according to information provided by the city. Doctors' Hospital was the forerunner of Hillcrest Hospital in Mayfield Heights.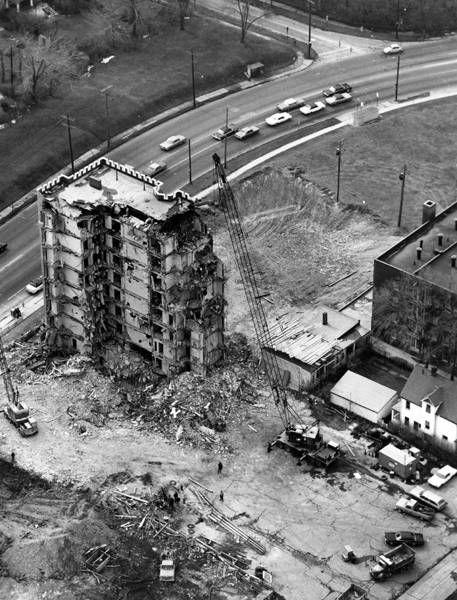 City Manager Tanisha Briley said making the project a reality started with gaining a strong partner in Flaherty & Collins. She said city representatives visited many Flaherty & Collins' properties before selecting the company and saw its amenities were "unmatched in our region."
"Then it was working with them and working with the city council, working with the community to make sure we could deliver a project that they would be part of, and here we are today," she said. "It's been a very long time coming, and it's a crowning moment I think for our community, and hopefully signaling to the world that Cleveland Heights is a place where you can do business and get excellent work and projects done."
Flaherty said it was "fascinating" to hear the storied history of the development in the making.
"We are pretty persistent, so we are just happy to get it going and we feel great about the demand – people are going to want to really live here," Flaherty said. "It will bring people into the neighborhood that aren't here now necessarily, with good incomes to help support all the businesses in the area. So it's very exciting to us," adding something especially attractive will be the 10th-floor outdoor pool that will overlook Cleveland's skyline and Lake Erie.
Ungar said he already heard from a proprietor of "a Zhug-like restaurant concept" – referring to the Middle Eastern-style restaurant by local chef Doug Katz about a block away – interested in the retail space to come. He put the proprietor in touch with Flaherty & Collins, which expects to get much similar interest.
"There's already serious, knock-at-your-door interest in this particular retail space," Ungar said.
From the project, the city is to receive a projected $14.3 million in net new revenue over a 32-year timeframe, according to the release. Also, it is projected to generate over $12.3 million in new taxes and compensation for the CH-UH School District over 30 years.
Moreover, Ungar noted the tax dollars that will come from the development will benefit residents throughout the city.
"Those new tax dollars that come into Cleveland Heights, the fact that they are generated by residents who live here through income taxes, the fact that they are generated by retail that conducts its business here doesn't mean that those dollars going into the coffers of Cleveland Heights aren't equally allocated amongst all of our residents," Ungar said.
Ungar and Stein also said they are hopeful the project will have a domino effect, where more areas in Cleveland Heights that could benefit from development would now appear ripe in the eyes of developers.
"This is going to be a catalyst – we have some other developments in the pipeline, and I think this is really going to kick that off," said Stein, a member of Ahavas Yisroel in Cleveland Heights. "Even with the COVID-19 situation we are in, Cleveland Heights is a desirable location. Developers want to develop in Cleveland Heights, and we want to work with them."