A new book by Rick Smolan and Jennifer Erwitt, and supported by the Anti-Defamation League chronicles various groups' fights for justice and equality in the United States. "The Good Fight: America's Ongoing Struggle for Justice" focuses on personal essays, photos and graphics to demonstrate and explain the country's history of oppression, and those fighting against it.
ADL CEO Jonathan Greenblatt said the book was conceptualized, in part to tie together various groups' fights for equal rights, as well as to ensure Jews were part of that narrative. In an excerpt from a conversation with the Cleveland Jewish News, Greenblatt discussed inspiration behind the book, its timeliness and what surprised him in working on it. 
CJN: As noted in the title, the fights for justice chronicled in "The Good Fight" are still ongoing. Why publish such a book at this point in history?  
Greenblatt: Before I took the job as CEO of ADL, I did research on civil rights and I discovered that I couldn't find a book that contextualized the various civil rights struggles. All of them seemed to be somewhat siloed on particular communities and I just felt like there was no book that allowed me to see the commonalities and parallels between various struggles. And secondly … in the current environment where Jews have achieved so much in terms of equality and expanding in society, I often found that in civil rights conversations, Jews were excluded from certain circles. Sometimes under the guise on intersectionality, sometimes for other reasons, but few remember the struggles that Jews themselves have encountered. And the ADL is one of the oldest civil rights organizations in the country … but no one also told that story. 
CJN: Tell me more about that.
Greenblatt: I was attending a conference in 2016 and found myself having dinner next to Rick Smolan, a very accomplished photojournalist. I said to him over dinner, 'Would you be interested in doing a book on civil rights in America and the history of different communities and the commonalities and the differences?' His response was 'maybe, possibly.' We started a conversation and I commissioned the book and gave Rick the resources to produce it.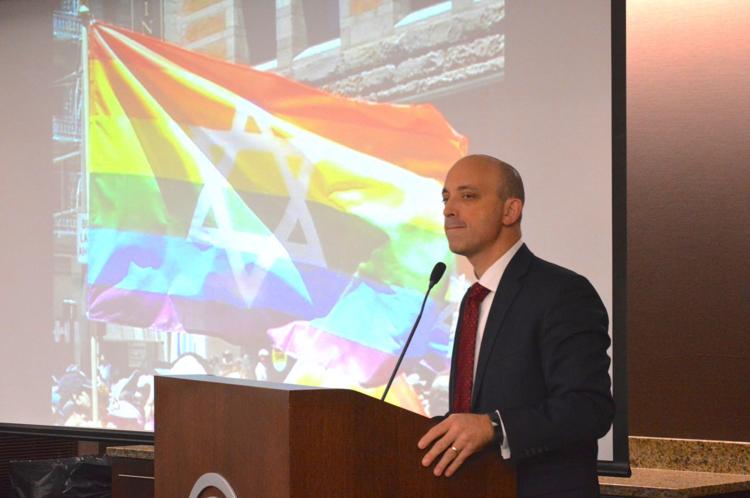 It just so happened that when he started on the book later that year ... the political climate sort of really connected, with what's happening now in the world. I didn't intend for this, but I think the fact that the world is moving in this direction underscores the urgency of these issues. The story of civil rights, the story of different communities overcoming obstacles and achieving, are not ancient history. In fact, they are daily realities. 
And I would point out that the foreword of the book was written by Bret Stephens, who is a conservative columnist for The New York Times. He won a Pulitzer with The Wall Street Journal, he's Jewish, (and) he's from Mexico City. His own struggle as an immigrant, as a Jew, as a conservative underscores that civil rights are not only an urgent issue, they are also not just a liberal issue. They are a conservative issue, they are everyone's issue. No one side, if you will, has a monopoly on this. These are issues of concern for all Americans.
CJN: Did you find anything surprising in the production of the book?  
Greenblatt: These are deeply personal essays written by people from different communities from their perspective. The thing that does strike me every time I look at it is, as different as the essays are, how much they have in common. If you read Ray Suarez's essay about growing up as a young Latino, or George Takei's essay about the internment camp, in which he found himself and his family during the second World War, or you read about Wajahat Ali's essay about growing up as a Muslim. Again, the particulars are different, but the stories are very much the same. 
CJN: The Jewish chapter opens up discussing recent anti-Semitic incidents, like the pervasive harassment of Jewish journalists on Twitter in 2016 and cemetery vandalism last year. Did it start with those incidents as a way to demonstrate anti-Semitism still exists for people who might not see it as a current issue? 
Greenblatt: This book was in the works long before the 2016 campaign, and the book was in the works when anti-Semitism really reared its head and seemed to enter the political discourse in a disturbing fashion. It was conceptualized and developed long before Charlottesville, when we had neo-Nazis literally marching through the major college town chanting 'Jews will not replace us.' But I do think the fact that those things happened while it was in production and development, for us at ADL and around the country, it underscored the urgency of these issues.
CJN: What do you hope readers get out of the book? 
Greenblatt: I hope it will reveal for readers who might not realize it, the commonality and the parallel in the struggles of different people in this country to achieve dignity and equality. I think oftentimes, we think in silos or we are familiar with our own narrative. At a time when our country seems so divided and polarized … I hope this book, by revealing those similarities, helps in a small way to bring us together.