The number of white supremacist propaganda reports increased in Ohio from 26 in 2018 to 141 in 2019, while the number of reports in Cleveland decreased from four to three, according to the Anti-Defamation League.
The ADL report, released Feb. 12, found cases of white supremacist propaganda more than doubled nationally in 2019 over the previous year, from 1,214 in 2018 to 2,713 in 2019 – the highest year on record for the statistic in the nation.
In Ohio, the reported incidents increased 442%, according to James Pasch, regional director of the ADL in Cleveland, which serves Ohio, Kentucky, West Virginia and the western half of Pennsylvania.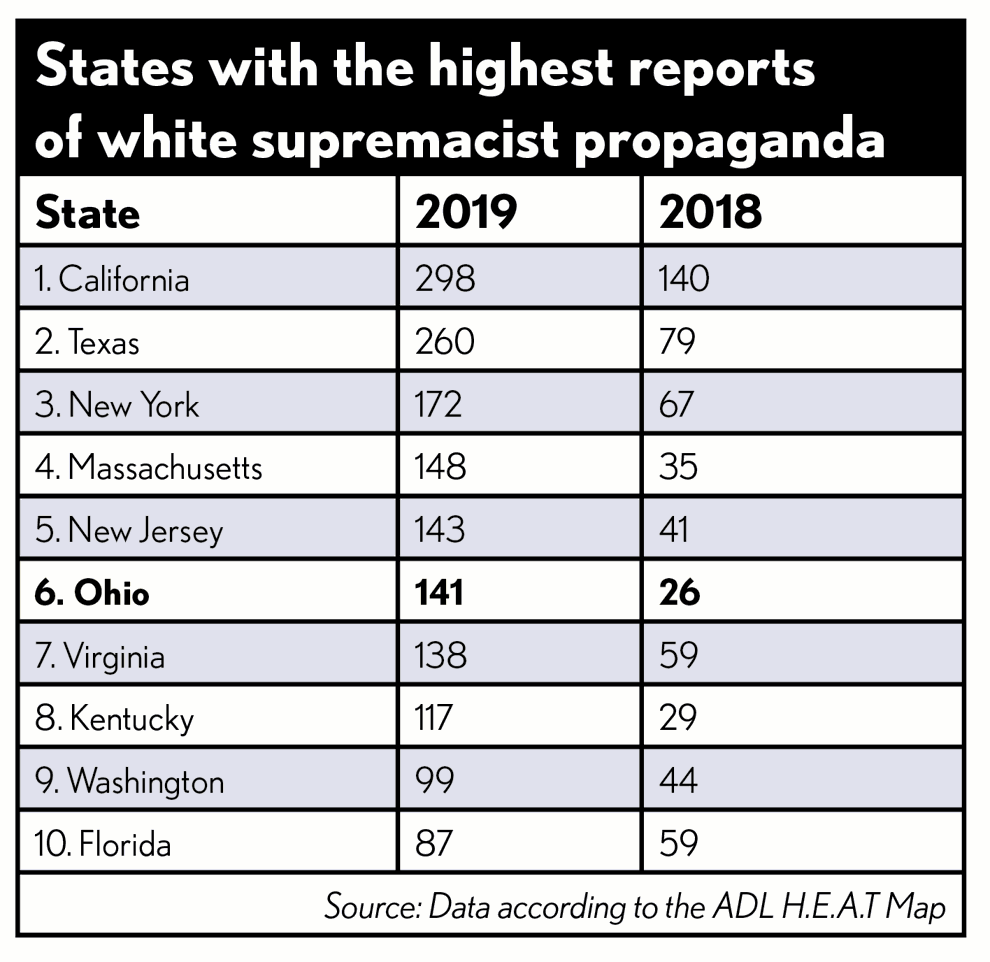 California had the most reports of any state, followed by Texas, New York, Massachusetts, New Jersey, Ohio, Virginia, Kentucky, Washington and Florida.
"There's a wide variety of white supremacist propaganda that we're seeing," Pasch said. "The vast majority of it is in 'flyering,' so you'll see flyers being attached to, in some cases, Jewish institutions or on college campus buildings, ect."
Pasch attributed the boom in propaganda levels to the ability of groups to maintain secrecy while still being able to speak their minds in public places.
"There's been a proliferation of hate speech in general and we see it exploding online as well," Pasch said. "Propaganda, and flyering, I think, is one of the main reasons it's increased because it's a way to increase their presence and their message without identifying themselves – the ability to remain anonymous while spreading hate."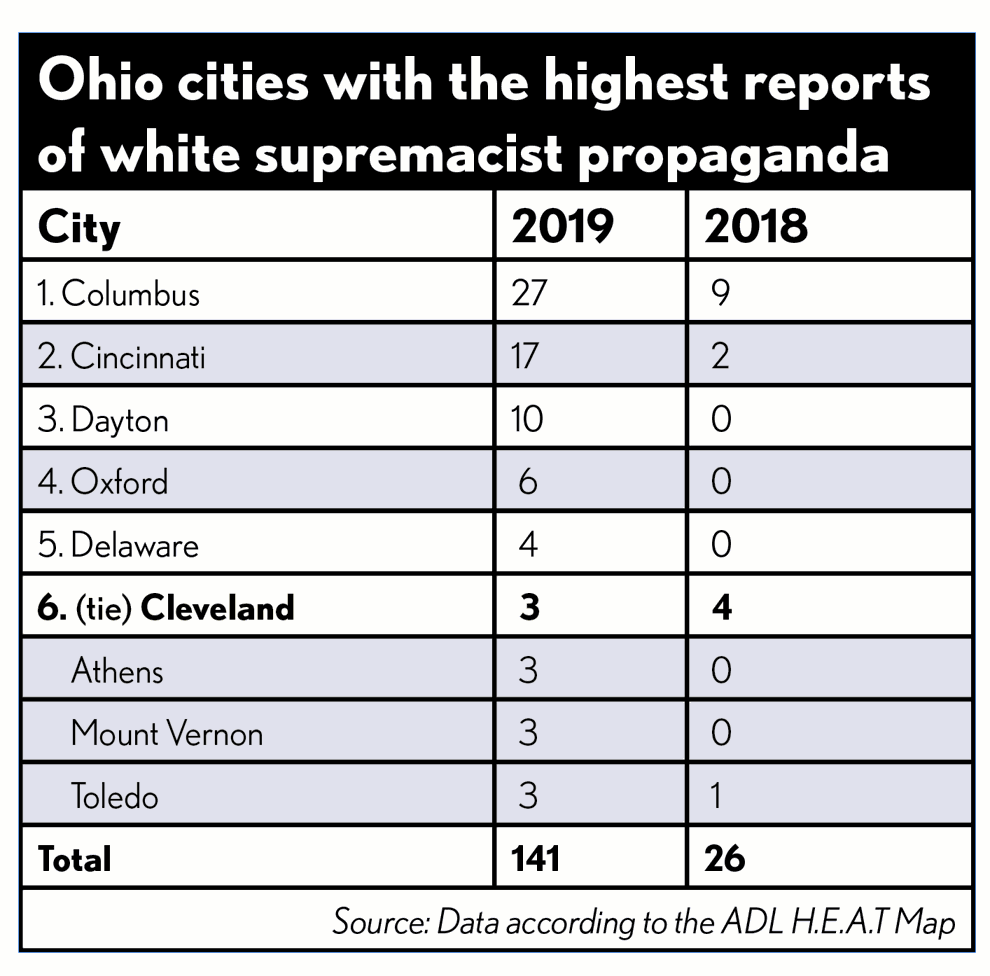 Elsewhere in Ohio, 27 reports were made in Columbus, 17 reports were made in Cincinnati and 10 in Dayton. A majority of the propaganda distribution occurred in southern and central Ohio, both on-and-off college campuses.
College campuses are a popular destination for white supremacist groups to target due to an ability to reach a large population of young adults with a variety of political mindsets, Pasch explained. 630 of the national 2,713 propaganda distribution reports occurred on a college campus. That's almost double the 320 propaganda reports that happened in 2018, according to ADL's report. However, despite the increased attempts, white supremacist groups aren't achieving the grip they want on campuses.
"About 90% of the college campuses were targeted only once or twice though, and that suggests that despite their increased efforts, white supremacists have failed to gain a sustained foothold on campuses," Pasch said. "If it's only happening once or twice on these campuses, they're not gaining a sustained presence."
Patriot Front, a Texas-based white supremacist group with racist, anti-Semitic views that puts a patriotic spin on its flyering as described by Pasch, was nationally responsible for 66% of all propaganda. The group was also responsible for a majority of Ohio's reports. Cleveland's propaganda was distributed by Patriot Front and Daily Stormer Book Club, groups who support white supremacist Andrew Anglin, who runs The Daily Stormer website.
Examples of such propaganda that was reported in Ohio according to ADL's H.E.A.T (Hate, Extremism, Anti-Semitism, Terrorism) map include: Patriot Front leaving propaganda at The Ohio State University in Columbus on Nov. 14, 2019, that read "Reclaim America," "Better dead than red," and "United we stand;" Patriot Front distributing flyers in Columbus on Feb. 2, 2019, that read "Keep America American," "To ourselves and our posterity," and "Will your speech be hate speech?;" Identity Evropa, a white supremacist group, distributing flyers at the University of Cincinnati on Jan. 1, 2019, that read "European roots American greatness;" Patriot Front distributing propaganda on Dec. 10, 2019, at the University of Dayton that read: "America first," "Reject poison," "Money does not rule you" and "Not stolen conquered;" and Daily Stormer Book Club posting anti-Semitic flyers at Case Western Reserve University in Cleveland on March 3, 2019, that read "All hate crimes are hoaxes."
"It's alarming, because what we can't have happen is for white supremacist language to become normalized and become part of our daily lexicon," Pasch said. "What we know in tracking H.E.A.T for as long as we've been tracking it is that what starts with words, hate speech never ends it. Right when you see the increased use of language and hate speech, it has to be stopped in its tracks. You can only stop something once you identify it and track it, which is what we're doing with this study."
Despite the increase in white supremacist propaganda, 2019 saw a decrease in white supremacist events since 2018. The statistic moved down from a national ADL-documented total of 95 events to 76 events – a 20% decrease.
Pasch said he believes the best way to curb the increase of white supremacy propaganda is to fight hate with education – teaching people there are methods other than using harsh words to say what's on their mind.
"I don't like to make predictions on where things are headed, but it's our job to recognize trends," he said. "I'm working as an organization and across the community – when those trends are heading in the wrong direction – to work together to stop those trends.
"I think right whenever there's a spread of misinformation, you have to counter it with the truth, which is done through education. There's a phrase I always use, which is no one is born with hate – hate is learned and hate can be unlearned. We are doubling and tripling down on our education efforts both in K-12 schools and on college campuses."