In an increasingly virtual world, recording and reporting incidents of zoombombing is a critical step on the part of the videoconference host in helping trace those responsible for disrupting videoconferences.
"Extremists really never miss an opportunity to exploit a crisis and to further their hateful agenda," said Oren Segal, vice president of the Anti-Defamation League's Center on Extremism, speaking April 7 in the ADL's webinar, "Fighting Hate from Home: Zoombombing, Videoconferencing Threats."
"We cannot miss an opportunity to respond," he said.
He spoke of the importance of Zoom technology at a time when people are experiencing isolation due to social distancing to prevent the spread of COVID-19.
"I will say that at this time connecting with friends and community online is really more precious than it's ever been," Segal said. "And that's why these efforts to disrupt these communities, these online videoconferences, often with hate and harassment, is so critical to understand now. The more that we know, the better we are going to be equipped to respond and to protect ourselves."
Segal said the ADL's Center on Extremism tracks incidents of zoombombing, which he defined as "the practice of disrupting virtual meetings with graphic or threatening messages, which often include hate speech."
"At ADL we've received over 80 reports of such zoombombing, primarily reports about its impact on the Jewish community, but not solely against the Jewish community," he said.
He said the ADL has also reviewed dozens of other incidents that have not been formally reported.
"In many cases, whether you're a synagogue or a community organization or any other type of group, you will put out publicly, sometimes privately, links to your zoom meeting," Segal said. "And that's one of the ways that these links get out, because no one's trying to actually hide them."
He showed a slide on Discord, a gaming forum, showing a discussion about finding Zoom links. He said private meetings are sometimes revealed publicly on social media, for example.
"If we allowed anybody to share a screen, what would happen is, anybody could share any type of imagery that they want," Segal said. "People can make notes on a screen under certain settings. Posting messages in the chat function … some people leverage that to express their hatred."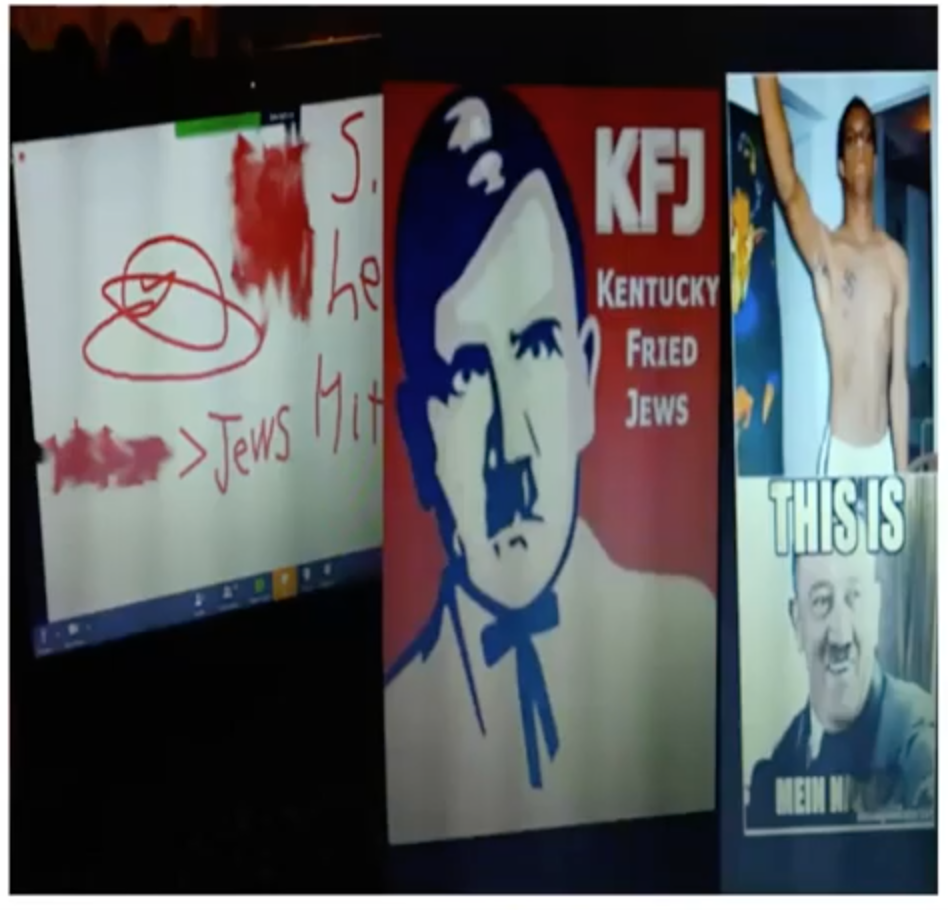 He said some people will use virtual backgrounds to project hateful content, imagery and memes. Others unmute their microphones and say "terrible things" or an "actual video of themselves doing these things."
He said it's not just the pranksters or the trolls.
"What extremists are doing is talking about targeting specific communities, whether it's the Jewish community, the African American community, the LGBT community," Segal said. "Sometimes it's not a specific target or minority group or meeting that they're targeting, but it's the type of content that they're putting out there: swastikas or other symbols of hate in order to create harassment or intimidation."
While many zoombombers turn off their video or use false names, "in some cases we've actually been able to identify a known extremist," Segal said.
He specifically named Andrew Auernheimer, whom he said targeted Jewish audiences. In one of the cases, Auernheimer spouted anti-Semitic language and in the second he revealed a swastika on his chest.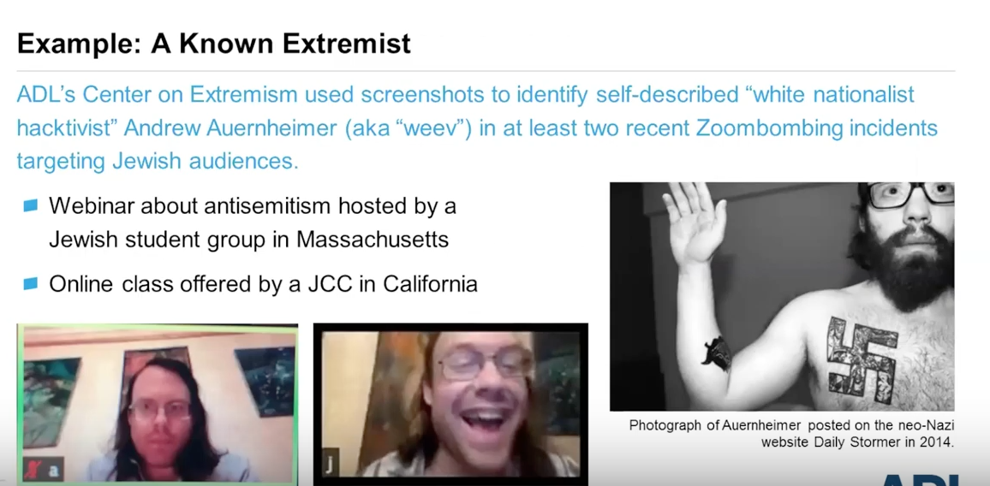 "The fact that we can link him we believe to at least two incidences, we believe suggests that in some cases this may be more coordinated," Segal said. "It's very possible that these are going to be coordinated efforts specifically targeting the Jewish community."
Segal said there have been a range of zoombombings targeting other religious institutions, nonprofits, Alcoholics Anonymous meetings, business groups and schools and universities.
Dena Weiss, chief of staff at Secure Community Network, during the webinar offered practical tips for safeguarding meetings against zoombombers. She divided her tips into steps taken in setting up the meeting, during the meeting and what to do if an unwanted person joins the meeting.
She cautioned against using the nine-digit number zoom automatically generates as a personal ID.
"Given that it's static, it never changes, anyone who has that ID can access it any time which leaves you vulnerable," she said. Instead she recommended that a separate ID code be generated.
"Use unique passwords for each meeting and try to make them difficult to guess," she said.
Zoom's default settings include giving all participants equal access to functions, so she recommended limiting access to certain functions, such as screen sharing and chat.
"You can avoid unwanted content being shared with your attendees," she said. "You can adjust file transfer settings."
She recommended the host utilize the waiting room option to screening potential participants prior to allowing them to join the meeting.
"You can even chat with those who are in the waiting room prior to the meeting starting," she said, adding that the host may also want to consider locking a meeting once it has started and all participants have arrived.
Weiss recommended the host try the features prior to the meeting. And during a meeting, she said the most important functions for a host are the ability to mute and to stop video of a particular participant.
"Finally, consider designating a co-host," with the same amount of power as the host, she said. "This is a second layer of support to help."
Weiss said that while she herself was in a Zoom meeting that was infiltrated last weekend, "The likelihood of your meeting being infiltrated by a bad actor is relatively low, but all of these steps limit the possibility of the event and prepare you."
She recommended removing and reporting any unwanted bad actors.
"You can and should take steps to protect your personal space," she said.
Michael Masters, national director and CEO of Secure Community Network, recommended reporting any content that includes threats directly to law enforcement.
"In some communities that means going through the ADL," he said. "In others it may mean working through a Jewish community security director."
Reporting, he said, allows ADL, SCN and other agencies to track incidents.
Masters warned against publicizing locations on public platforms. Instead, he recommends emailing locations and to vet those who join newsletters or events.
Segal recommended videotaping any Zoom disruption in real time to assist law enforcement.
"I strongly believe sunlight is the best disinfectant," he said. "We don't have a luxury to ignore and pretend this is not happening."
Bradley Orsini, senior national security adviser at SCN, said those in law enforcement need to assess the threat of any zoombombing incident.
"I think we are no longer in the position in the Jewish community where we ignore or accept any sign of hate," said Orsini, who was the Jewish Federation of Pittsburgh's community security director prior to joining SCN. "We need to report everything. We need to assess it and we need to uncover it. I've been serving the Jewish community now for three years and four months, and it's changed dramatically in that time."