An increase in antigen tests as a result of the surge of COVID-19 cases has caused Ohio to fall behind on confirming results, Ohio Gov. Mike DeWine said Nov. 19
Ohio reported 326,615 total cases of COVID-19 on Nov. 19, however that number will most likely go up as 12,000 cases are in need of review.
DeWine said health officials fell behind on Nov. 16. Before a positive antigen test result can be included in the total number of COVID-19 cases, health officials double-check the results.
The state is running about 10,000 antigen tests a day, all of which have the be individually checked. 
Franklin County first to turn purple
Franklin County is the first county to be elevated to purple level 4 on the Ohio Public Health Advisory System, the highest level indicating severe exposure and spread.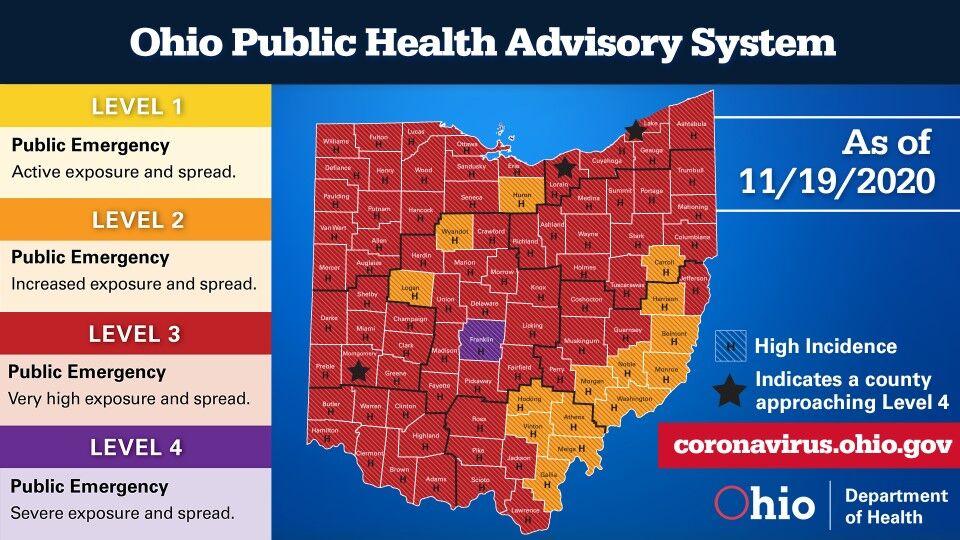 The county has flagged six or more indicators for at least two weeks.
Residents are recommended to only leave home for supplies and services. Columbus Public Health and Franklin County Public Health issued a stay-at-home advisory Nov. 18 and urged all residents of Columbus and Franklin County to stay home.
"This is a sign that we are starting to see sustained impacts on healthcare services due to this disease," Ohio Gov. Mike DeWine said.
Cuyahoga County remains at the red level 3, the second highest level indicating very high exposure and spread.
Cuyahoga County and the city of Cleveland have also issued a stay-at-home advisory beginning the evening of Nov. 18. 
All counties remain at a high incidence level. There are no counties at yellow this week, meaning all parts of the state are now at elevated levels of risk. 
Lake, Lorain and Montgomery counties have been added to the watch list. Tuscarawas County was removed from the watch list.
Ohio to enter curfew
Ohio Gov. Mike DeWine announced he will issue a curfew for Ohio that will start Nov. 19 and run from 10 p.m. to 5 a.m. for 21 days in an attempt to reduce the spread of COVID-19.
The curfew will not apply to those going to or from work, those who have an emergency or those who need medical care. The curfew is not intended to stop anyone from getting groceries or going to a pharmacy. Picking up carry-out or a drive-thru meal and ordering for delivery will be permitted but serving food and drink in person must cease at 10 p.m.
DeWine noted that police will not be pulling people over if they see others driving during curfew. However, police may ask people to go home if they are seen congregating somewhere while the curfew is in effect. 
"We know that Ohioans have it in their power to slow this down," he said. "That's why we put an emphasis on personal responsibility. The big spread is coming from what people do in their personal lives when interacting with friends and family outside of their household."
Senate Bill 311 would 'severely limit' ODH
Ohio Gov. Mike DeWine said Senate Bill 311 would "severely limit" the ability of Ohio Department of Health to issue orders – such as quarantine or isolation orders – needed to prevent the spread of infectious diseases.
DeWine said if the bill passes, he "would have a moral obligation" to veto the bill. 
As an example, if someone were to enter Ohio from a county with an Ebola outbreak, DeWine or future governors would not be able to ask that person to quarantine until it's certain they are not a carrier of the disease. They would be able to go to public areas where they could possibly spread the disease, DeWine said. 
"Senate Bill 311 is a disaster," he said. "I know it's well-intended by the General Assembly, but when you look at the ramifications, this is not a bill that can become law."
The number of reported cases increased by 7,787 from Nov. 18, though the data is incomplete because of the delay.
The total number of individuals who have been tested in Ohio is 5,459,223. The new daily percent positive cases 14.0%, with a seven-day moving average of positive cases of 12.9%, according to data from Nov. 16. 
The ODH reported 63 new deaths Nov. 19, though the data is incomplete. The median age of those who have died is 80.
The ODH reports 23,560 cumulative hospitalizations, and 4,318 individuals have been admitted to the ICU due to the coronavirus, though the data is incomplete. The median age of those hospitalized is 66.
The number of COVID-19 hospitalizations reported in the last 24 hours is 343, though the data is incomplete. There are currently 3,829 patients hospitalized with the coronavirus.
The ODH reports 216,619 individuals are presumed recovered – defined as cases with a symptom onset over 21 days prior who are not deceased.
Cuyahoga County accounts for 31,895 of the cases, 3,092 hospitalizations and 720 deaths, though the data is incomplete.
If you have questions regarding COVID-19, call 833-4ASKODH (833-427-5634) or visit coronavirus.ohio.gov.