Boycott. Divest. Sanction.
These three simple words now carry much greater meaning as the boycott, divestment and sanctions movement has swept across college campuses in the United States over the last few years.
The 2014-15 academic year was particularly volatile. Nineteen campuses held votes on BDS resolutions or referenda that year, according to the Anti-Defamation League. In Ohio, resolutions were proposed by student groups on campuses such as The Ohio State University in Columbus and the University of Toledo.
Perhaps most infamous that academic year was Ohio University in Athens. The campus was thrust into the spotlight after four Jewish students – Becky Sebo, Max Peltz, Gabe Sirkin and Jonah Yulish – were arrested by campus police after attending a student senate meeting in September 2014 and calling for the resignation of then-student senate president, Megan Marzec of Avon Lake, who had urged the university to divest from Israel in a "blood bucket challenge" video that went viral.
What was it about that academic year that led to so much animosity on college campuses? And with a new school year starting, what challenges will Jewish students face?
A look back
OU began its 2014-15 academic year on Aug. 25. One week later, Marzec, after being nominated by Ohio University President Roderick McDavis to complete the ALS ice bucket challenge, an ALS Association fundraising campaign, posted a video on the video-sharing website Vimeo.
Rather than completing the challenge, Marzec donned a pink "Ohio U Divest From Israel" T-shirt and poured a symbolic bucket of blood over her head, saying: "This bucket of blood symbolizes the thousands of displaced and murdered Palestinians, atrocities which OU is directly complacent in through cultural and economic support of the Israeli state."
Upset with the video and the fact that Marzec was speaking on behalf of the university, Sebo, of Pepper Pike, Peltz, of Orange, Yulish, of Beachwood, and Sirkin, of White Plains, N.Y., attended a student senate meeting Sept. 10. Sebo began to read a statement and, when she refused to stop speaking about 15 minutes later, was arrested by OU police officers. Yulish was arrested next, followed by Peltz and Sirkin.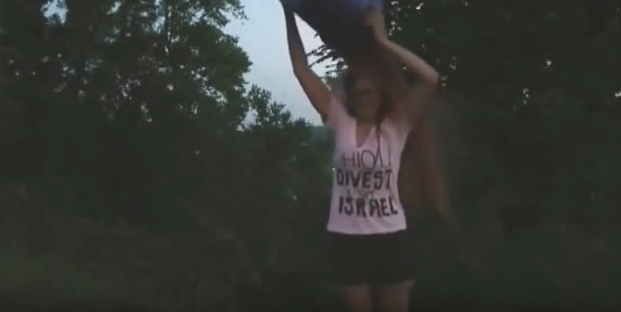 Each was charged with disturbing a lawful meeting, a fourth-degree misdemeanor that carries a maximum sentence of 30 days in jail and a $250 fine.
All four pleaded not guilty to the charges. Roughly six months later, the charges were dismissed by the Athens County Municipal Court due to lack of a speedy trial.
Sebo, now 24 years old and pursing a master's degree in Israeli studies, politics and society at the Hebrew University of Jerusalem, said the case was a heavy weight on her shoulders.
"The arrest really distracted me from completing all of my studies and getting all of my senior requirements done," she said. "I felt like it was almost a burden to be in that situation – trying to graduate from an institution that's pressing charges against you."
Marzec has never responded to the Cleveland Jewish News' multiple requests for comment over the last two years.
Tight-lipped administration
After Marzec posted the video, OU issued two statements: one saying that Marzec's actions did not represent beliefs held by the university and the other calling for civility and the free exchange of ideas among students.
But after those brief statements, the administration went silent. McDavis never spoke with any media, including the CJN, regarding the video or the arrests of the four students and instead diverted all media requests to the university's communications and marketing office.
(McDavis announced on March 10, 2016, that he is stepping down as OU president June 30, 2017, after 12 years in that role.)
Nor did the university ever address speculation that Marzec's video was filmed in the backyard of a house belonging to Louis-Georges Schwartz, an associate professor of film studies at OU.
"He was by her side the whole time," Sebo said of Schwartz.
Indeed, in a video uploaded by The Post, OU's student newspaper, from that Sept. 10 meeting, Schwartz can be heard shouting, "You are a disgusting bully," at one of the students calling for Marzec's resignation.
Diana Wahl, who served as president of Bobcats for Israel, a student pro-Israel group, during the 2015-16 academic year, was in attendance at the meeting when the four students were arrested. She said she was "shocked" by the things her fellow students, as well as Schwartz, were shouting.
"To hear what people were saying about the Jewish students, telling them to get out of the room and calling us 'fascists' and 'Nazis,' it was just a lot of commotion," Wahl said. "People even started cheering when Becky was arrested."
Schwartz did not respond to the CJN's request for comment.
Contributing factors
A series of events in the summer of 2014 could have led to the spread of the BDS movement that academic year, suggests Shelley Kedar, vice president of Israel education and engagement at Hillel International.
"From my sense, the summer of 2014 had an amalgamation of different circumstances, like the operation in Gaza and the conflict in Ferguson (Missouri)," said Kedar, who also is a senior shlicha on behalf of the Jewish Agency for Israel. "It also seemed like a very warm summer, which does influence people's psyche. The Syrian conflict began as well. It all created an atmosphere of activism to begin with."
That activism took off in different directions.
"Some of it went toward things like the Black Lives Matter movement, but some of it also went toward the anti-Israel movement," she said.
The individuals within student government on college campuses that year also played a role.
"The composition of student government is very influential with these issues, as well as the involvement of Jewish students within student government," Kedar said. "Most students don't want to be politicians, so you don't always know who you're going to get in student government."
Sebo shares a similar perspective. Before Marzec was named president of OU's student senate, the BDS movement was not present on campus, Sebo said.
"I think it was her idea and the type of group that she formed on campus had a different humanitarian, human rights thing every other week. I think the flavor of the day was BDS and it just kind of exploded – a lot," she said.
In fact, before the semester started that year, Marzec posted several times on her personal Facebook page about Israel and the BDS movement. One of the most telling posts came on Aug. 4, 2014, when she shared an article about the National Union of Students voting to adopt a BDS resolution. Marzec wrote: "The BDS movement does not target individuals, and is an essential assertion for all institutions to make, especially those in higher education. Long overdue, urgent work to be done at OU."
"That's why I reached out to her and wanted to sit down with her and ask, 'Why do you think this? Let me help you understand these policies,'" Sebo said. "Because it's hard. Even as a master's student, I'm finding out things that no way anybody on the campus level knows."
Wahl added that she believes Marzec created a following of like-minded people on campus.
"College is the best way to voice your opinion. I think that people just like to stick with one thing and go completely all out on that topic. I think that's what happened that year," Wahl said.
"Marzec's role really played a part in it, because she was representing the entire student body and others started following suit."
Evolution of BDS
Anti-Semitism remains at the heart of the BDS movement, according to Anita Gray, regional director of the Anti-Defamation League.
"Part of the BDS movement is to delegitimize the state of Israel, and when you delegitimize the state of Israel, it is anti-Semitism," Gray said. "You see some of the signs in these protests that say 'From the river to the sea.' People don't understand what that means. From the river to the sea means we're going to push Jews into the ocean and there will be no more Israel. That's anti-Semitic."
Sebo believes the BDS movement is hitting a standstill, especially as more states begin to adopt anti-BDS legislation.
"I think the movement had a snowball effect on people and it was just growing and growing and getting bigger and bigger. Now, state legislatures are saying this isn't allowed, this is a form of anti-Semitism. I don't know if it's slowing down, but I don't think it's getting bigger because of that setback," Sebo said.
But challenges remain.
"It's always still an issue … to maintain a pro-Israel community on campus," she said. "Even though there wasn't a BDS resolution at OU last year, they still had challenges getting messaging out just like any university because a lot of students just don't care."
Kedar noted that the activists behind the BDS movement are shifting their tactics and looking for ways to get their message across without being as vocal on campus.
"Overall the BDS movement, if we look at it from a technical aspect, has failed," she said. "There hasn't been one university that's divested from Israel because of it. But we can't ignore the fact that this influences the psyche of students and it takes away the attention from other issues that could be promoted when we speak about Israel."
While the BDS movement may be losing momentum, a larger obstacle is on the horizon. Reports continue to surface of college professors speaking negatively about Israel during class or bringing in guest speakers who try to diminish Israel or the Holocaust.
Take Kent State University, for example, where associate history professor Julio Pino is known to bash Israel both in the classroom and on social media. Or Oberlin College, where Joy Karega, an assistant professor of rhetoric and composition, was just suspended and placed on paid leave as the college investigates anti-Semitic posts she made on social media.
Many students are afraid to speak up, worried that if they do so their grade in one such class may suffer.
"College administrators need to hold professors accountable," Gray said. "Each professor signs a contract to teach a class in a certain way, and I do believe that the administration needs to hold professors accountable to teach according to their contract.
"Academic freedom and freedom of speech are hugely important to all of us, but when you sign a contract with a professor and a professor doesn't do what he or she says, that's something that's incumbent on the administration to be sure that he or she does what he or she is supposed to."
Advice for students
Being proactive is critical to fighting the BDS movement and anti-Semitism on campus.
Hillel International has developed several key programs that focus on Israel education, engagement and advocacy, Kedar said.
"If we get information from the Israel on Campus Coalition about anything that happens on campus, we're proactive and we reach out to Hillel professionals and offer our help and assistance. We're definitely not the experts in fighting BDS, but we do understand Hillel and our Hillel chapters understand students – which is huge," she said.
If students do encounter anti-Semitism or anti-Israel activity on campus, Kedar encourages them to bring the matter to their local Hillel chapter.
"Students are always welcome at Hillel. Our professionals will do anything they can to help them with the administration or any issue on campus," she said.
"They shouldn't feel helpless, but sometimes that is what they feel. They feel that they don't have the power to stand up, and we would like to empower them. We want them to feel that they have the right to feel that they're welcome and appreciated and are like any other student."
For Sebo, having the opportunity to travel to Israel before college helped prepare her for what she encountered her senior year at OU.
"I think me being in Israel prepared me for being at OU and my experiences at OU," she said. "I had the ability to say, 'I've been to Israel and I've seen these things.' If anything, my experiences at OU only encouraged me more to do this master's degree and to get all the facts and all the details and be able to come back and speak to people and give them the facts."
As for advice for current Jewish college students, Sebo says to stay calm and stay smart.
"I'm a big fan of the strategy to just stay calm and listen before you jump on, spewing facts," she said. "If you can listen and find something that's a flaw in their argument, then you can have an intelligent argument and you may be able to change their view on it or maybe they'll go home and research something.
"Don't fall into the screaming match. It's hard, though, because it's an emotional thing to defend an entire population and country of people. The right thing to do is say what you want back, say it louder, and say it with facts that make sense and are going to engage people."