The words "frozen chosen" might have new meaning to Rabbi Daniel Eleff of Beachwood.
When Eleff read about Ernest Shackleton's voyage to Antarctica on the ship Endurance in 1914, he became fascinated.
Having seen six of the seven continents, he wanted to go where few Jews had gone before: Antarctica. And, he wanted to do so on his terms as a Shomer Shabbos Jew.
In March, Eleff, CEO and founder of DansDeals.com, began planning his trip of a lifetime. There were plenty of constraints.
According to Jewish law, the voyage needed to begin on a Monday or Tuesday and end on a Thursday. A majority of those aboard could not be Jewish, and of course, all the meals needed to be kosher. Eleff learned there were fewer than 10 cruise lines that serve Antarctica. None of them has a kosher galley.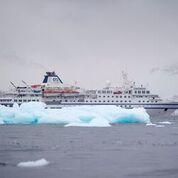 He booked a cruise on One Ocean Expeditions from British Columbia, Canada, and hired a kosher caterer from Montreal, L'Orchidee Traiteur. Cabins cost between $12,995 and $22,995, according to Eleff
Hot meals were planned, prepared, double-wrapped and frozen in Montreal two months prior to the voyage, then reheated aboard the Royal Canadian Geographical Society Resolute, a newly built polar expedition vessel. 
Observing Shabbos presented its own halachic constraints in a place where the sun barely sets and the stars don't shine.
Eleff consulted other rabbis and made arrangements.
On Dec. 6, he boarded a plane to Miami and then flew to Buenos Aires, where the member of Chabad Waxman Center of Beachwood spent Shabbos at a Chabad house.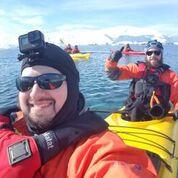 From there, he traveled to Ushuaia, Argentina, meeting with 51 other like-minded Jews. Together, they celebrated the eighth day of Chanukah at their hotel.
"We had the southernmost Chanukah party in the world," Eleff said.
On Dec. 10, the 52 travelers, consisting of couples, women traveling alone, and, like Eleff, married men traveling alone, were joined by some 70 other passengers, most of them non-Jewish.
On board were Andrew Prossin, managing director of One Ocean Expeditions, and former Canadian Prime Minister Stephen Joseph Harper, who became a celebrity among passengers.
Prossin, Eleff said, enjoyed the challenge of planning the cruise for this group of passengers.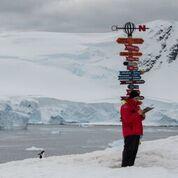 "He got up and made a speech at the end about how his Jewish grandmother would have been quite proud of him for organizing this kosher group," Eleff said.
Harper, meanwhile, obliged the many requests he received for selfies with the kosher travelers, who appreciated his position as a friend of Israel when he was in office from 2006 to 2015.
Eleff said the itinerary took shape based on weather and contingencies.
First, the ship's fuel tank was low, so that meant a detour north to the Falkland Islands, where travelers went to museums and saw beaches still filled with land mines.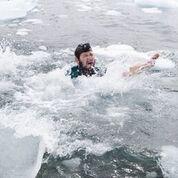 Then the ship traveled to the South Shetland Islands, passing through Drake's Passage on flat seas.
The Shomer Shabbos passengers held services starting at about 9:30 p.m. Friday prior to sunset and ate dinner at about 10. At 1:30 a.m. Saturday as the sun rose, some davened morning prayers and others headed to their cabins.
The ship landed at Cuverville Island on Saturday morning. Because it was Shabbos, the kosher passengers stayed aboard the ship for the day, celebrating Havdalah at 1:10 a.m. Sunday.
On Sunday morning, the observant passengers set foot on land, using inflatable Zodiac boats or kayaks.
"Nine of us went kayaking," Eleff said. "We kayaked through ice and glacier and icebergs."
Eleff wore a dry suit, boots and exterior jacket over several layers of clothing.
"We did that for a couple hours," he said. "We had some hot chocolate and marshmallows. In the afternoon, we went to Wilhelmina Bay, and then we did the same thing again."
That night there were plans to camp on another site on Antarctica, but high winds canceled that opportunity.
On Monday, the ship went to Paradise Bay and visited an Argentinian base on the continent, which is closed until January.
Eleff, along with a few others, stripped to his bathing suit and took a polar plunge. He said he has never been so cold in his life.
The group then traveled to a Chilean research base that had a gift shop, where Eleff paid $5 for a postcard and another $5 for a stamp. It had not reached home by Jan. 2. He said the dozen researchers at the Chilean base are outnumbered by penguins.
At 65 degrees and 0 minutes south latitude, the observant travelers held a siyyum led by mashgiach, Moishe Paskesz of Israel. Only 100 people are allowed to set foot on the continent at the same time, and Eleff had asked the group be allowed to be together for the the service accompanying the reading of the final page of a tractate of Talmud.
"There (were) penguins circling around us," he said, adding the service included prayers for Israeli soldiers and a special kaddish. "People were tweeting #KosherAntarctica."
He said he was surprised that Wi-Fi was available for the entire trip. 
"I was able to video chat back home," he said.
As the ship returned to Ushuaia, it passed through Drake Passage, this time cutting through waves of 30 feet for about 38 hours. 
"The boat rocks violently from side to side as it gets shellacked by these waves," Eleff said. "I wasn't scared. Others may have been. The boat is designed for that purpose."
The fast of Tevet happened to coincide with that passage. While some of the kosher passengers observed that fast, others ate lightly. In addition, some went on deck during the violent passage to bless the new moon. Eleff said his prescription anti-seasickness patch worked pretty well. He carried five with him from Cleveland.
"My 7-year-old was very nervous about the whole thing," Eleff said. "He asked me why I would risk my life to see some penguins. I reassured him that I was perfectly safe."