Dubbed "the best mailman in the whole world" by one Beachwood resident, Aaron Johnson was feeling the love on his 60th birthday, when residents of his walking route showered him with balloons, signs, banners and gifts.
Johnson, who has been walking the neighborhood of Wendover Drive, Timberlane Drive, Blossom Lane, Buckhurst Drive, Brentwood Road and half of Beachwood Boulevard for more than 21 years, said he was "humbled" by the display of affection residents made March 30.
"They really surprised me," Johnson said. "I was like, wow, I didn't picture anything like that … It just blew my mind."
Johnson is known to say Shabbat shalom to residents of the neighborhood and engage in conversation. When they ask him how he's doing, he answers, "Baruch Hashem," literally, praised be the name, a traditional expression acknowledging that G-d has bestowed good health.
Teri German of Buckhurst Drive said Johnson has an infectious smile and makes people feel good when he sees them on the street.
When her husband, Dan, told her that Johnson was about to turn 60, she notified her neighbors and organized a progressive party of sorts along the route.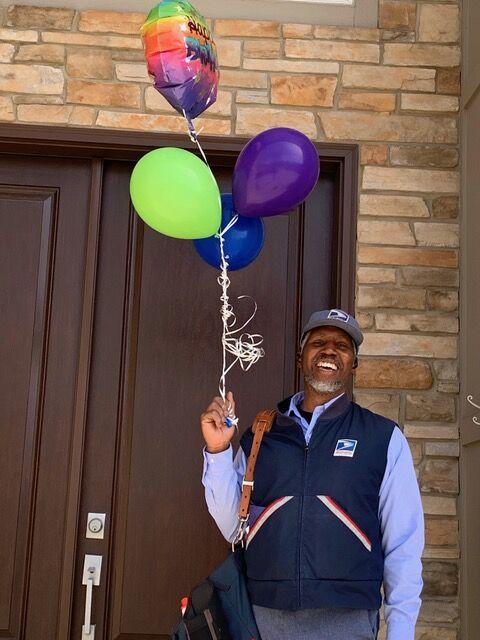 "It happened to be during Pesach," said German, which complicated things because many residents in the largely Orthodox neighborhood were out of town. "I called the post office to make sure he would be there."
German said her goal was to have something for Johnson at every home.
"He's got this infectious smile," German told the Cleveland Jewish News. "It brightens your entire day. If you don't see him, you feel like you've missed out."
Johnson has been invited to weddings, bar and bat mitzvah ceremonies and parties at residents' homes, becoming integral to the fabric of the neighborhood.
"I consider all of the children in my neighborhood nieces and nephews because everybody is really just amazing," Johnson said.
At 60, Johnson is the only person in the Beachwood Post Office in his age bracket and seniority level who has a walking route. With a pedometer attached to his wrist, Johnson once measured his route: He walks 8.3 miles per day to complete it.
"That's just on my route," he said, adding the figure does not include overtime. "I say the post office is paying me to exercise."
City letter carriers typically bid for the routes they get, and those assignments are given out by seniority. Walking routes are generally considered less desirable than ones that allow a carrier to drive.
"There were many routes I could have bid on and could have got," Johnson said. "But I love this route and the people. I flat out refuse to bid anywhere else."
He said he plans to retire at 62, and retirement is the only way he'll leave his beloved neighborhood behind.
A native of Cleveland, Johnson was born March 30, 1961, at MetroHealth and graduated from John F. Kennedy High School in Cleveland in 1979. He then enlisted in the U.S. Army, going through basic training at Fort Dix, N.J., and received advanced individual training in welding at Aberdeen Proving Ground in Maryland. He served for about 18 months at Fort Campbell in Kentucky and for two years in Kirchgoens, West Germany, prior to the reunification of that country.
After an honorable discharge, he continued service in the active reserve at the Army arsenal in Ravenna.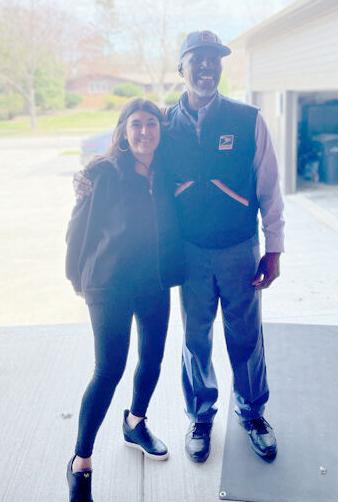 He began working for the U.S. Postal Service in 1987 at the Garfield Post Office. Prior to joining the staff in Beachwood, he also worked at the Shaker Heights Post Office.
On his 60th birthday, March 30, "I received monetary donations. I received gift cards, and I received some other gifts. They had all kinds of balloons out and banners saying happy birthday. It was something, I will tell you," Johnson said.
Johnson attends Calvary Apostolic Assembly in Cleveland, although he recently moved to Twinsburg with his wife, Vanessa, whom he met at the Beachwood Post Office.
Johnson has a son, Andrew Johnson, who is married and lives in Maple Heights. He also has four stepchildren, Vanetta Cook of Bedford Heights, Robbie Cook of Bedford Heights, Lashawnda Battle of Parma and Teandra Coleman of Cleveland.
"They're all mine," he said.
His understanding of the role of Jews in history was to "bring all of mankind back to monotheism," he said.
He said when new residents get to know him, they realize he's a "pretty decent guy" having heard about him through neighbors.
He called racism "the zenith of ignorance, the high point of ignorance."
Johnson, said, ""You can't hate people that you know," quoting John 4. "How can you love G-d who you have not seen and hate?"
On a regular basis, Johnson said his customers treat him well.
"I can go out there with absolutely no water, and I will not be thirsty," Johnson said. "They will all just give me so much water. They feed me good."