Having traveled to Washington, D.C., for two rallies in support of the president in 2020, Valerie Charms Mason and her husband, Todd Mason, decided to return on Jan. 6 for what was termed a "Stop the Steal" event.
The rally to support President Donald Trump's claims disputing the results of the 2020 presidential election – a theory vehemently rejected by state and federal courts, including the U.S. Supreme Court – was held just prior to some violent Trump supporters storming the Capitol Building that afternoon as the election was in the process of being certified.
"It was a terrible end to a great day," Charms Mason, a Beachwood resident, told the CJN Jan. 8, as she reflected on the violence at the U.S. Capitol, resulting in the deaths of five people, including a Capitol Police officer. "We were like, 'Stop breaking the windows to the Capitol. … It's our house. We're not damaging our own home.'"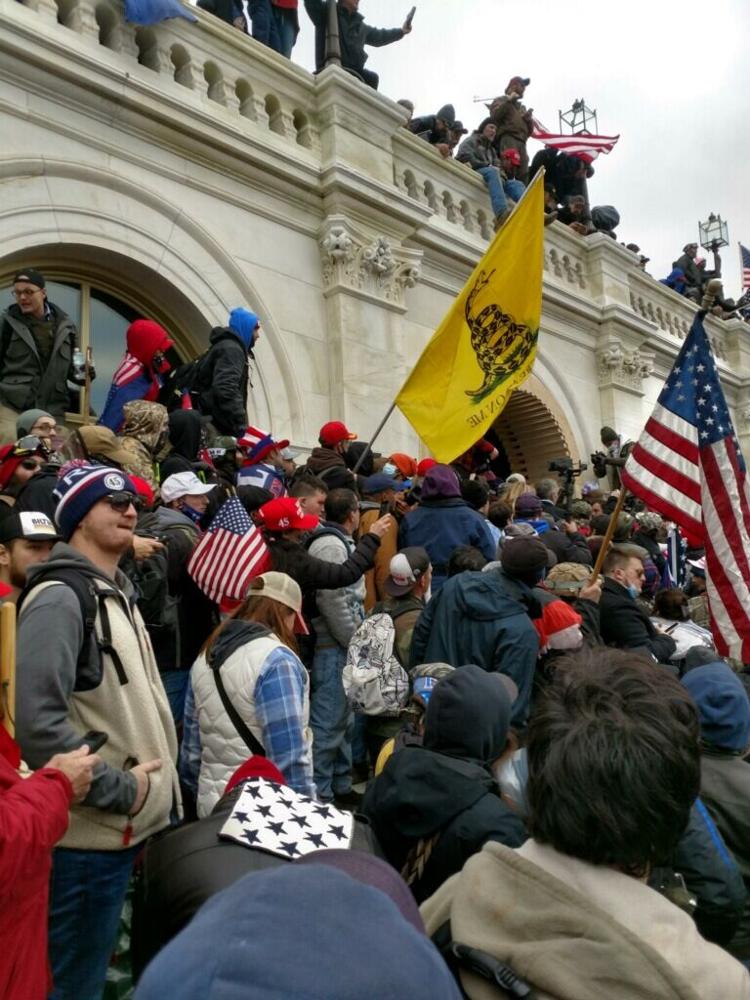 Charms Mason said after she walked away from the violence following what she described as a "peaceful gathering," she questioned, "Where were the police?"
Those attacking the Capitol in the insurrection included a man wearing an anti-Semitic shirt that read "Camp Auschwitz." There were also Neo-Nazi symbols, Confederate flags and QAnon slogans seen in photos of those at the Capitol protesting and violently attacking the building and the lawmakers, police and others who work there.
Trump's incitement of violence by his supporters and his long refusal to accept the results of the election caused lawmakers and Jewish groups, such as the Anti-Defamation League, to call for his removal from office. The House of Representatives impeached him Jan. 13, making him the only U.S. president to be impeached twice, with a vote of 232 to 197. Republican senators have spoken out against Trump's role in inciting the violence, and Sen. Lisa Murkowski, R-Alaska, was the first Republican to call for his resignation Jan. 8.
Twitter banned Trump Jan. 8, citing "the risk of further incitement of violence" following the deadly insurrection, the Associated Press reported.
Charms Mason blamed the violence on Antifa, a decentralized left-wing extremist group, not Trump supporters, whom she described as "patriots." The Federal Bureau of Investigation said there is no indication that Antifa infiltrated the mob at the U.S. Capitol.
"Patriots would remove these guys who were trying to cause damage," she said. "I was probably 20 feet from the guy who was banging the window with the sledgehammer. At least seven times that I can recall, patriots would remove the rabblerousers while expressing displeasure with their calls to violent action."
Charms Mason, 50, said in the previous two rallies she attended in Washington, D.C., police presence was much heavier than on Jan. 6.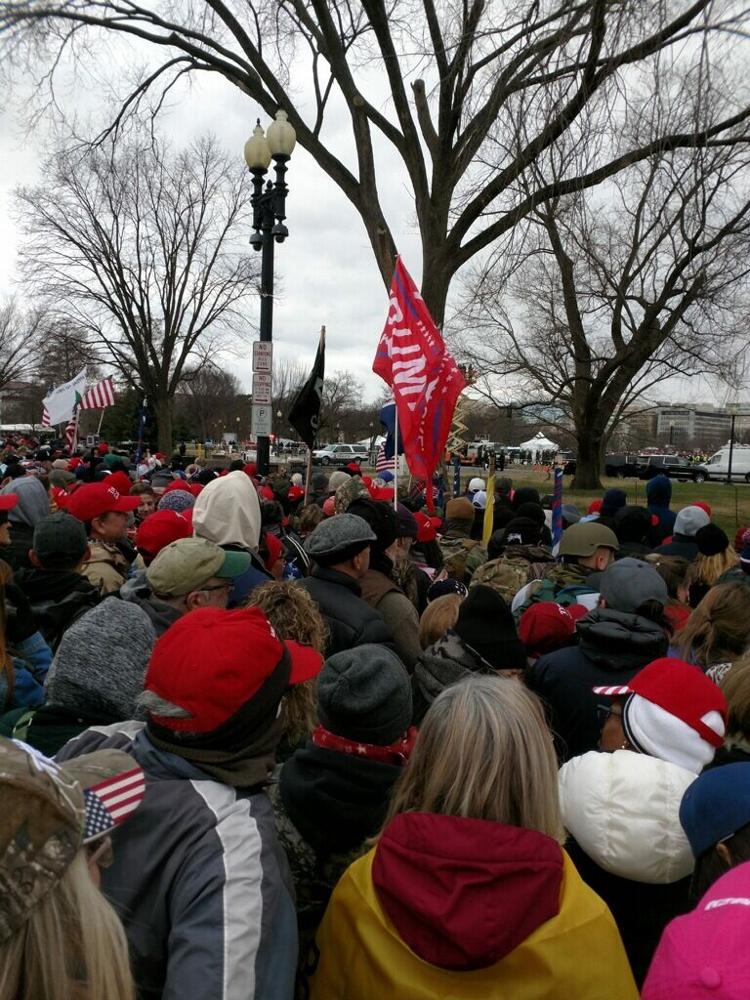 While seven buses traveled from Cleveland to Washington, D.C., the couple booked a reservation for a one-night stay at Spring Hill Suites in Gaithersburg, Md., packed their Honda Odyssey and set out from their home on Jan. 5. Charms Mason works in the cannabis industry and is a former member of The Temple-Tifereth Israel in Beachwood.
At least 10 more Jews from the Cleveland area attended the rally, a local organizer who did not go to Washington, D.C., told the CJN.
When asking some girls at a rest area if they were attending the rally, Charms Mason told the CJN she felt compelled to whisper her question because of the level of "persecution" she has felt among friends and relatives for her conservative opinions.
The next morning, as the couple boarded the train in Gaithersburg, they noticed others heading to the rally dressed in red, donning MAGA hats and smiling.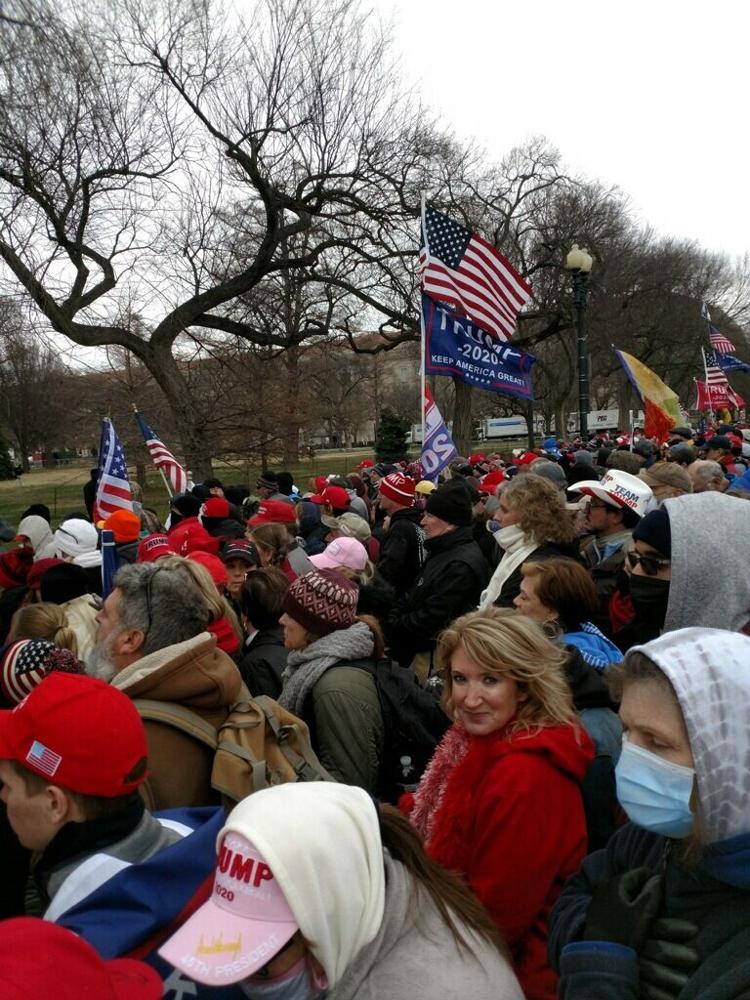 Once they reached the Ellipse, a 52-acre park south of the White House where Trump spoke in the late morning of Jan. 6, they struck up conversations with others there.
"There were more people at this one than I've seen at the others," Charms Mason said, adding she counted not more than 10 police officers in her time in Washington, D.C., on Jan. 6.
She said she didn't vote for Trump in 2016 and initially went into mourning after he was elected. She said her change of heart came with his record as president.
"I looked at what he did, which was a lot," she said, adding that she was hoping for information about alleged election fraud and some resolution during his speech. "At the end, he said, 'We're going to march to the Capitol and make our voices heard.'"
Charms Mason and her husband then walked to the Capitol, eventually walking up a long flight of stairs. She described the people at the Capitol singing patriotic songs including "The Star Spangled Banner," "G-d Bless America" and "My Country Tis of Thee."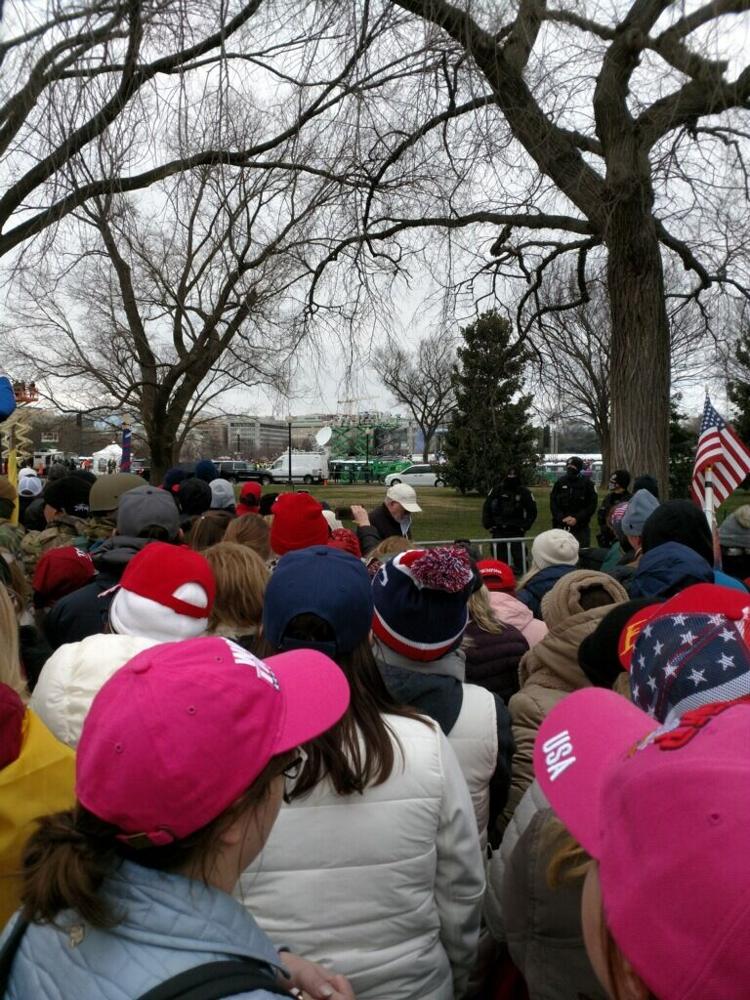 "I was proud to be there," Charms Mason said, describing her experience at the Capitol before the violence started at the hands of rioters. Despite the insurrection that occurred and deaths of five, Charms Mason said, "We were never in danger. There was no angry mob."
The FBI continues to seek information that will "assist in identifying individuals who are actively instigating violence in Washington, D.C." It is accepting tips and digital media depicting violence in the Capitol Building and surrounding areas.
A top federal prosecutor told The New York Times Jan. 13 that more than 70 people have been charged with crimes and he expected the number to rise to the hundreds.
The federal offenses listed include violent entry and disorderly conduct on Capitol Building grounds, interstate threats against U.S. House Speaker Nancy Pelosi, entering a restricted area of Pelosi's, theft of money, property or records, assault on a federal law enforcement officer and firearms offenses including carrying a pistol without a license. One of those arrested had 11 Molotov cocktails in a vehicle, according to the Department of Justice. Another had a 9 mm handgun and ammunition. In addition, at least 40 individuals had been arrested and charged with offenses including unlawful entry, curfew violations and firearms-related crimes.
Charms Mason said as soon as she and her husband saw the Capitol was breached, the two turned to leave.
She described the sensation of encountering tear gas on the Capitol steps and how they stopped to close their eyes and wait for the burning to abate. They then took the train back to their car in Gaithersburg and arrived home after midnight.