Beachwood City Council has taken its first of three readings to adopt a rule that would allow council members to oust one of their own if that person discloses information discussed during executive session.
In addition to making all information discussed at executive session "absolutely privileged and confidential," another proposed rule would require council members to keep "privileged and confidential unless stated otherwise" all written or verbal communication from the city law director, assistant law director, city prosecutor or outside counsel.
Rule 1.5 Executive Session, part of 15-page Exhibit A to the proposed ordinance, reads in part, "When in the determination of any three council members, one or more other council members are reasonably suspected to have violated this rule," a council member will be appointed to "preside over" an investigation, or the matter may be referred to the Ohio Ethics Commission. A hearing would be held, in which the councilor suspected of being in violation could be represented by legal counsel. The remaining members would have "full power" to determine "such penalty as a majority of them deem fit," ranging from "none" to "forfeiture of that member's seat on council."
There are three exceptions provided for disclosing information discussed at executive session: first, if authorized by a vote at a public meeting; second, when requested by the mayor, and in both cases "only to the extent so authorized"; and third, when "otherwise required by law."
In a 6-1 vote Nov. 16, with councilman Mike Burkons dissenting, the proposed rules will move to a second and third reading under Ohio Revised Code 705.15.
Burkons was censured by council in August after he contacted the employer of Beachwood resident Alix Noureddine, who complained about Beachwood police. Through a special prosecutor, Burkons is facing a first-degree misdemeanor charge regarding the same incident for violating Noureddine's First Amendment rights. He pleaded not guilty Oct. 16 in Chardon Municipal Court.
Beachwood resident Stephen H. Bossin submitted a Nov. 16 letter to council to be read into the record prior to a vote.
"Why would any elected official or other public servant, presenting themselves as advocating for city operations to be conducted with transparency, consider voting in favor of new rules that further restrict an appropriate flow of information that can be shared with the public?" Bossin wrote in the letter, which he provided to the Cleveland Jewish News. "It would appear there are already sufficient restrictions incorporated in existing laws. I hope council understands that Beachwood's citizens need to hear from our elected officials. I, for one, look more kindly to open discussion than to back-room deals."
A heated exchange took place prior to the vote on the ordinance.
Councilman Justin Berns opened the discussion at the Nov. 16 council meeting.
"I can't let it go without saying how kind of appalled I am with Mr. Burkons for sending us an email this weekend claiming that if we supported this that we, as council members, are not transparent," said Berns, adding that he took it as an insult.
Burkons did not back down.
"I think there's a big contradiction between anybody who claims transparency is important and then voluntarily votes to pass rules, which intentionally limit our ability to share things with the public beyond what the current law allows for," Burkons said.
Council president James Pasch said the initiative to draft council rules predated his tenure as president, and that he did not, as Burkons previously stated in an email, draft the rules "with the law director in my attempt to circumvent the charter process."
Burkons read from Ohio Ethics Commission opinion 2020-02 dated April 17 that specifically addressed the question of whether public officials are prohibited from disclosing information discussed during executive session.
"It would be unreasonable to hold that everything discussed in an executive session is statutorily confidential, absent other provisions of state or federal law expressly making the information confidential," the opinion states. "Also, the privacy afforded to executive session discussions does not automatically make confidential all documents that a public body may discuss in executive session."
In addition, it addresses public documents discussed in executive session.
"If a document is a 'public record' and is not otherwise exempt under one of the exemptions to the Public Records Act, the record may still be subject to public disclosure even if the public body appropriately discussed it in executive session," the opinion states.
Law Director Diane Calta took issue with Burkons.
"The opinion is very clear that the ethics commission does not opine on the release of public records," she said. "You're not going to agree with me, OK? You don't respect me."
Interrupting Calta, Burkons said, "I don't agree with ... the legal advice that you're providing."
Calta said, "If no one else is going to stand up, I will stand up to you. You're wrong, OK? You are wrong."
Burkons said, "Because you say I'm wrong."
Calta said, "You have an opinion, but your opinion is wrong."
More than a week later, at noon on Nov. 24, councilman Eric Synenberg, who chairs the council's legal and personnel committee meeting, sent a text to Burkons asking if Burkons would be available at either 9 a.m. or 2 p.m. Dec. 2. The texts obtained by the CJN asked Burkons "to meet with Diane (Calta), (Mayor) Marty (S. Horwitz), James (Pasch) and I on the council rules questions you have raised."
Burkons declined, saying he was busy.
"Why don't we discuss it at the next meeting on second reading assuming there is an assurance it will have all three readings," Burkons suggested in the text.
Synenberg said the ordinance would have three readings. He also wrote, "But I believe Diane wanted to address all of your questions raised in your emails and thought it would be productive in a meeting with her, you, myself and Marty."
Burkons said he would respond by email later.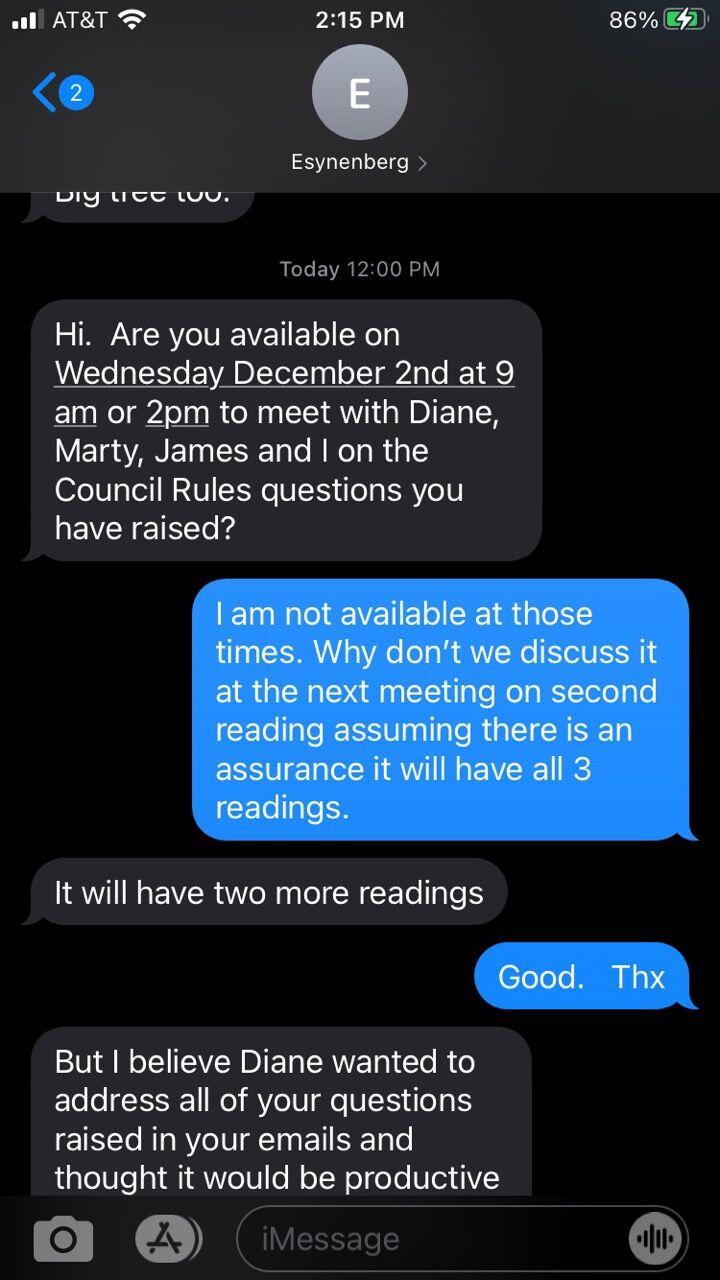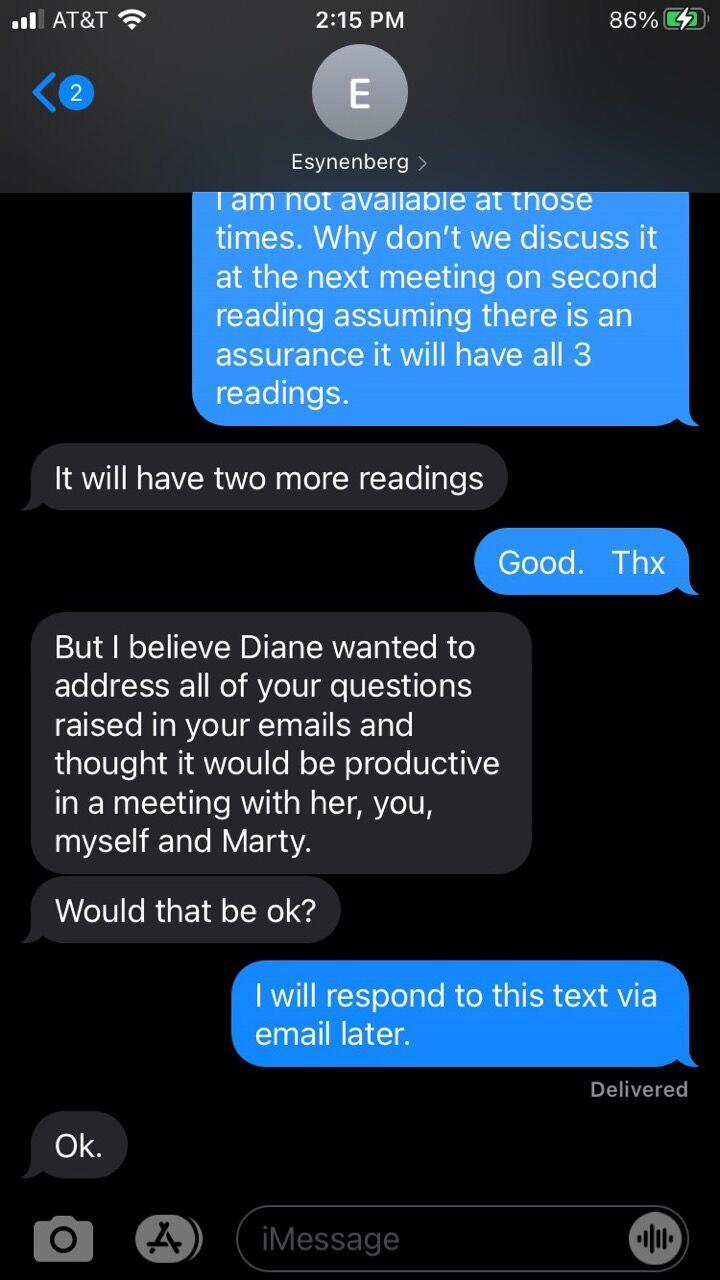 He addressed Synenberg in a 1:58 p.m. email later that day, which he copied to city council members and Horwitz.
"I disagree and I think this discussion needs to be had in an open public meeting for a number of reasons, especially since this entire issue is about transparency," Burkons wrote. "I will not be complicit to this practice where these important issues are intentionally discussed in private meetings outside of public view, even if everyone else on council, all who claim to care about the importance of transparency, would rather it happen this way."
Synenberg said he was in error in suggesting that three council members be involved and only intended that he and Burkons meet with Calta and the mayor, a grouping he said is not illegal.
"It's maybe not that usual," Synenberg told the Cleveland Jewish News. "It's not unethical. It's not illegal. And you know the only reason is because they're sort of at this impasse."
The state attorney general's Ohio Sunshine Law Manual describes the parameters for discussing public business.
"With narrow exemptions, the Open Meeting Act requires the members of a public body to discuss and deliberate on official business only in open meetings," the manual reads.

Asked by the CJN if Beachwood's proposed rules are based on other similar ones in Ohio, Calta submitted examples of similar legislation from eight communities in Ohio – Aurora, Cuyahoga Falls, Dublin, Huber Heights, Kent, Oberlin, Springdale and Upper Arlington.
"Under Ohio law, what is discussed in executive session shall be maintained as confidential if a statute affirmatively makes the information confidential or if the information has been clearly designated as confidential when it is warranted and necessary for the proper conduct of government business. R.C. 102.03(B)," Calta wrote in a Nov. 23 email to the CJN. "The improper release of confidential information is punishable as a criminal violation under Ohio's ethics laws. Council Rule 1.5 explains the law. Furthermore, the proposed Council Rule 1.5(A) is subject to Rule 1.5(C). When read together, in simple terms – what is discussed in an executive session shall be maintained as confidential unless another law says otherwise. "
Avery Friedman, a civil rights litigator and visiting distinguished professor of constitutional law at Ursuline College in Pepper Pike, who also teaches at Cleveland-Marshall College of Law at Cleveland State University in Cleveland, told the CJN Beachwood's proposed rule penalizing a council member for disclosing information at executive session may be subject to legal challenge.
"They're struggling to come up with a civil remedy for breach of that obligation," Friedman said. "They're trying to comport with the due process clause of the 14th Amendment, but they're struggling to get there. It doesn't sound like they're quite there."
He said the city might consider holding a public hearing before passing an ordinance that would adopt rules that tread on First Amendment rights.
"The balance is going to be a tough one to find," he said. "It's a delicate one. It's a serious one."
Thomas Lobe, law director for the city of Solon, told the CJN that in his more than 25 years as a law director, he has not worked in a city that has operated under similar legislation.
William M. Ondrey Gruber, Shaker Heights law director, told the CJN Shaker Heights City Council follows its own ordinance regarding public meetings and, "there are no ordinances that deal with confidentiality and executive sessions."
This is a developing story