Humans aren't the only ones able to enjoy a park. Beachwood's newest park opening Sept. 22 at City Park East is for a special group of residents: its furry ones.
"We're just recognizing a need in the community," Beachwood Mayor Martin S. Horwitz said. "With about 800 dogs in Beachwood, a lot of residents have asked us over and over again for a dog park, and we feel there's no reason to not give them what they want."
Barkwood contains two separate sections to cater to dogs of all sizes and features 45-degree corners to reduce aggressive behaviors in dogs believed to be flared up by 90-degree corners, said Karen Carmen, the city of Beachwood's community service director. The entire park measures up to 165 feet by 135 feet, but is broken up into a 45 feet by 135 feet small dog area for dogs under 30 pounds and a 120 feet by 135 feet section for larger dogs over 30 pounds.
Benches and water fountains for both humans and dogs invite both species to explore the space from dusk till dawn when City Park East closes. Beachwood residents can gain entrance to the park for a year by obtaining a key fob for $25 by submitting a registration, waiver and release form guaranteeing dogs are up-to-date on vaccinations and healthy with the community services department. The forms can be found on the city of Beachwood website.
"The great thing about the fob is that after one year has passed, it will deactivate, and that way we will be able to see the dogs' vaccination records again and make sure they're all up on their shots," said Lynn B. Johnson, the city's communications coordinator.
The park is entirely enclosed with a 5-foot chain link fence and entrance can only be granted via the key fob, but for additional safety precautions, it is constantly monitored by a camera.
"If there are problems, we'll know," Horwitz said. "If anybody claims there are any issues, we'll be able to go back and look. Security here is important. Security is important throughout the city, but we want to make sure everything is safe here."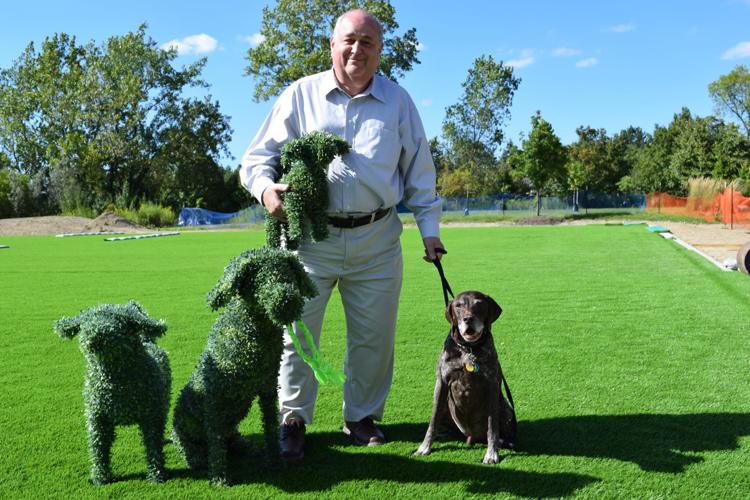 Engineered to drain naturally and simplify maintenance, Barkwood's $160,000 design mixes community space with cost-effectiveness, Carmen said. The park's flooring consists of eight inches of sub-base with the bottom layer of asphalt fill made up of grindings from the Cedar Road resurfacing project followed by layers of pea gravel and stone and topped with perforated SYNlawn artificial grass and Envirofill, an acrylic-coated round, coarse sand infused with Microban that prevents bacteria, mold and mildew, creating an antimicrobial protector.
Unlike traditional turf used in dog parks, Barkwood's turf does not contain the small "pebbles," or ground up granite, used as a layer underneath the turf that can dislodge and get into dogs' paws, Horwitz said. When brushed into the turf with an electric brush, the Envirofill works its way into the fiber mat of the turf and makes the synthetic blades of turf stand up, never coming into contact with dogs' paws. The use of special, porous turf also eliminates excessive water residue and muddy paws.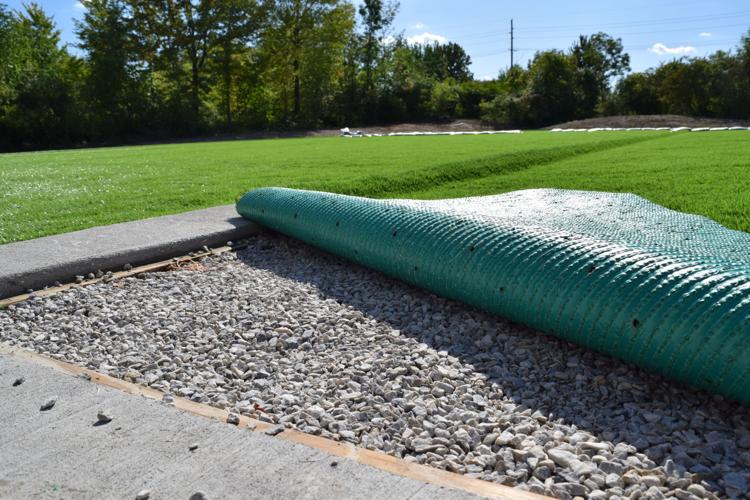 "We did a really good cost analysis, because this looks like an extravagant project, but the reality is, when you analyze what it will cost to maintain this over a 15-, 20-year period, not having our crews coming in every week having grass to maintain because there's no maintenance here, it cuts costs," Horwitz said. "But otherwise, with traditional grass, you've got the crews coming in and they have to shut it down to maintain it. You've also got a lot of drainage issues in traditional dog parks. This we just feel that even though it's a bit more expensive than traditional grass, the (lack of) maintenance is just what sells it. It'll just last a whole lot longer."
The only maintenance the dog park will need is to have leaves that fall from neighboring trees blown away.
Beachwood residents have been anything but quiet when it came to the planning of the park. Horwitz said well more than 60 residents attended a town hall meeting tackling what people would like to see in a dog park, which is far larger than the turn out he usually sees.
"Normally, for any kind of council meeting, there might be three people who show up. We know there's energy for the dog park, and we know there's excitement and interest. That's the power of dog ownership," he said.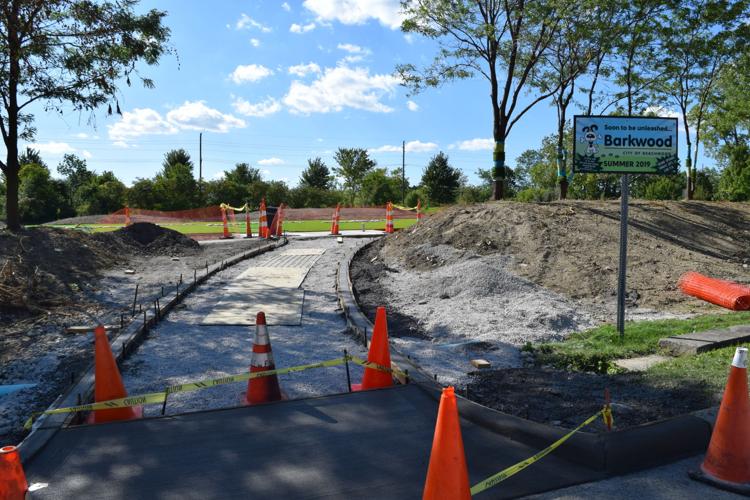 The grand opening of the dog park at 2 p.m. Sept. 22 will feature goodie bags, a ribbon cutting and special canine treats, Carmen said. Residents are encouraged to register before the opening so they are allowed to enjoy the new space. The winner of the Beachwood People's Choice Top-Dog Contest posted on the city of Beachwood's Facebook account will be announced, where the winner will receive a free fob and "bragging rights that last long after your key fob has expired," Johnson said.
As of now, Barkwood is only open to Beachwood residents, but the option of possibly opening it up to others will be looked into following a study of the success of the park.
"We need to see how many dogs register, how many owners register, how everything works through the winter, which we can see that data with our software program," Horwitz said. "Then we'll know what's going on."