In September 2020, the state of Ohio will place a historical marker at Beth Israel-The West Temple.
This will be the second historical marker to be placed at a synagogue in Ohio following Plum Street Temple in Cincinnati, which was designated as a National Historic Landmark in 1975 and received an Ohio historical marker in 2003.
Noting Plum Street Temple was where Reform Judaism began, Beth Israel-TheWest Temple president Peter Sackett said, "We're just a little temple with 150 members ... on the west side of Cleveland."
The Beth Israel-TheWest Temple's marker, "A Modern-Day Exodus," will honor the accomplishments of the committee on Soviet anti-Semitism, started in 1963 by a small group of the temple's founding members.
Led by NASA scientist Louis Rosenblum, they started "this amazing journey ... in a little office above our sanctuary – above the bimah, actually," Sackett said. This was post-World War II during the Cold War, an ongoing political rivalry between the United States, the Soviet Union and their respective allies.
Committee members were alarmed about  Soviet-sponsored anti-Semitic acts.
"This is before cell phones," Sackett said. "This is when, you know, social activity was literally on the ground." They had to go about it the "old-fashioned way," walking with signs, writing letters and lobbying politicians.
Then "they got a couple of politicians that decided maybe this was worthy of their time, and then they found congressmen and they found senators. Next thing you know, Lou is in Washington and they passed the Jackson-Vanik Amendment, which was really a trade amendment, but they tied trade into the relief of Soviet Jews."
According to Sackett, their movement, which was first built nationally, then worldwide, ultimately led "to a million and a half Jews being allowed to leave Soviet Union."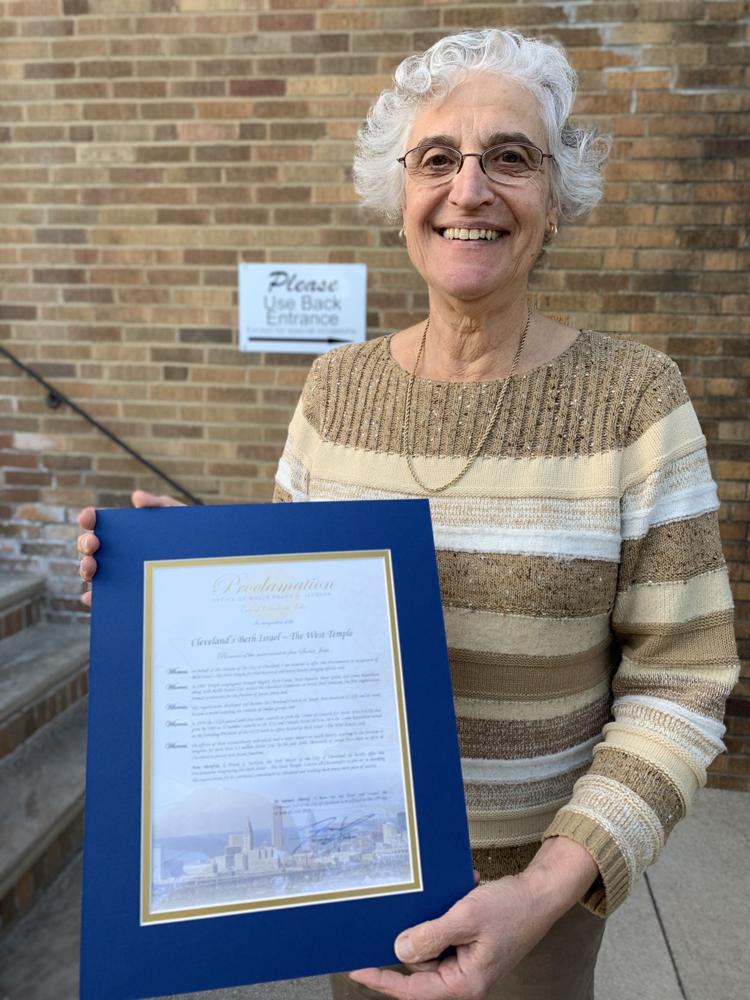 After Rosenblum died on April 4, 2019, at age 95, Cleveland Jewish history webkeeper Arnold Berger reached out to Miriam Rosenblum, Louis Rosenblum's daughter, suggesting they contact the Ohio History Connection in Columbus to get a historical marker recognizing her father's work.
"Arnie was a great admirer of my father," Miriam Rosenblum said. "They were wonderful friends in the recent couple of decades. He shot me an email ... about two weeks after my father died to say, you know, 'This should really happen.'"
Miriam Rosenblum agreed, and connected Berger with Sackett and Rabbi Enid Lader.
"That gave Arnie the introduction to who to speak with at Beth Israel," Miriam Rosenblum said. And "within 24 hours, it was like wildfire."
Noting Rosenblum died in April, Sackett said the marker application deadline was June 30. Only 20 applications are approved each year.
The favorable reply came from the Ohio History Connection just days before Rosenblum's memorial service on Sept. 22.
Miriam Rosenblum, who wrote the proposed wording on the marker, said she was intricately involved with her father's work for many years.
"I have a personal experience with the history of the movement as well, so I think that that helped me," she said.
During his later life, her father was interviewed and sought after by many people who were trying to recount the movement's history, Miriam Rosenblum explained, she helped him compose his memories.
"I am thrilled (about the marker) because my father was never someone to seek recognition for not only his piece of it, but what they all did on the west side. It was just something you did as a just human being," Miriam Rosenblum said. "And this way, future generations will hopefully get inspired by what just simple, good people could do to help change the world."
Noting The Jewish Federation of Cleveland also had a hand in the marker proposal, Sackett said, Beth Israel-The West Temple is only 65 years old, "and to think that we can pull something off like this, and then have there be an Ohio Historical Marker that everybody will always be able to refer to about what happened at our little shul, it's pretty cool stuff."