Nearly 100 supporters, volunteers and staff of Lev Miriam Bikur Cholim of Cleveland gathered to celebrate the opening of offices in Cleveland Heights, a move that raises the organization's profile within Greater Cleveland's Orthodox community.
The June 23 ribbon cutting at 1845 South Taylor Road also served to honor David and Hedy Adler, who made a substantial donation as part of the initiative to match funds from a $90,000 grant from Mt. Sinai Health Care Foundation that helped fund infrastructure, equipment, staffing and technology for the new office.
Since its start in 1988, Bikur Cholim has been based in Cleveland Heights. Until the offices opened, staff worked out of a basement in one of Bikur Cholim's four guest houses, offering free room and board to Jewish family members of those facing medical treatment in Greater Cleveland hospitals.
The new office includes a pantry as well as cubicles, a kitchen and volunteer work space, which also functions as a boardroom.
Cleveland Heights Mayor Carol Roe, who is a registered nurse as well as a lawyer, commended Bikur Cholim's work.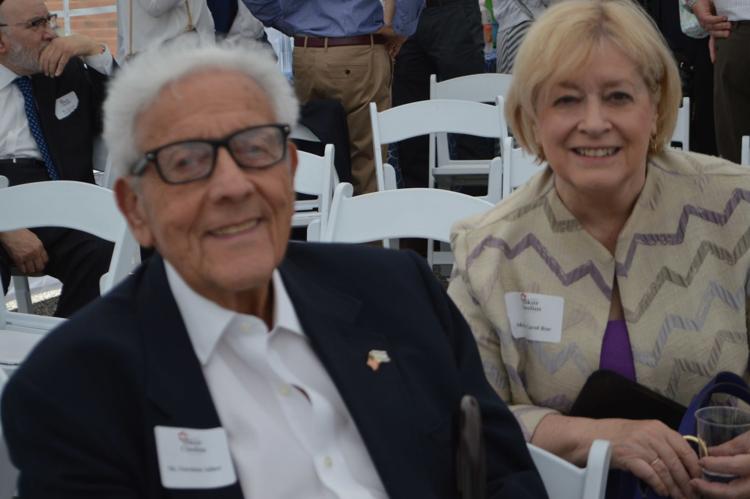 "You do very noble work, and I can address the kind of work you do both from a professional and a personal perspective," Roe said. "In my career as a registered nurse, I of course am very well aware of the needs of both patients and families and know what a challenge it can be for a family member to try to access the health care system, which has grown only more complex and more confusing."
The kosher hospital lounges offer places of respite for families supporting those who are ill. Such rooms exist at several area hospitals, including both University Hospitals Cleveland Medical Center in Cleveland and UH Ahuja Medical Center in Beachwood.
"We are very fortunate to be able to partner with Bikur Cholim to serve the Jewish community's needs and, thereby, uniquely advance this vision," said Dr. Daniel I. Simon, University Hospitals president and chief academic officer of University Hospitals Cleveland Medical Center. "Bikur Cholim is dedicated to serving all members of the Jewish community by providing assistance to improve health and well-being. It strives to help young and old, from within Cleveland and beyond, by offering comfort, shelter and support through a variety of services, including guest houses, hospitality rooms, visitation, kosher hot meals, medical equipment, transportation and emergency child care."
Event sponsor Dr. Reuben Gobezie, president of the medical staff at Lake Health Beachwood Medical Center as well as director of the Cleveland Shoulder Institute and director of REGEN Orthopedics, referenced his commitment to the mission of Bikur Cholim.
"Our new hospital is in Beachwood, (an) epicenter for the Orthodox community in our minds," he said. "Rabbi (Alan) Joseph (Bikur Cholim's development director) is going to work with us to try get some innovative ways to try to improve the experience for those people who are Orthodox or Jewish, but particularly to address the Orthodox concerns as they stay with us in the hospital. I look forward to an ongoing long-term relationship. I am blessed to be here, literally, as well as in a casual way."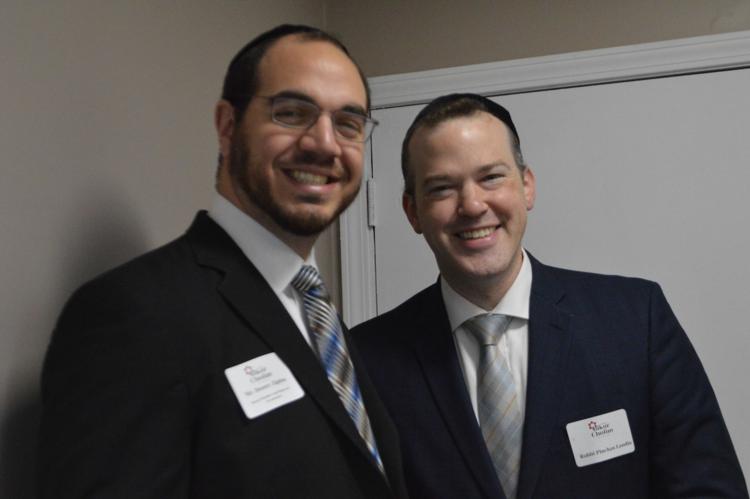 Bikur Cholim board member Donny Zigdon, who emceed the event, said Gobezie was committed to offering Bikur Cholim a "beautiful room" at the Beachwood facility.
The Adlers are relocating to Boston. Rabbi Eli Dessler offered farewell remarks to the couple, as did Harley Gross by video.
Message to Hedy & David from Bikur Cholim of Cleveland on Vimeo.
Gross spoke of the Adlers' commitment to the Jewish community.
"I think the best way we can thank them is to follow their lead, which is being part of the Jewish community – be generous, be kind, help others," Gross said.
Dessler spoke of not just the Adlers, but of their parents' commitment to the Jewish community and its institutions.
"It made no difference what kind of Jew you were," Dessler said of Hedy's parents. "If it was a person in need or an organization in need, they were there."
He drew a parallel in Bikur Cholim's mission: "Because it makes no difference what kind of Jew you are, Bikur Cholim is there for you."
Dessler also spoke of Robert "Mendy" Klein, who died in May 2018.
"Who's really sorely missed today is Mendy Klein," he said. "Bikur Cholim grew because of Mendy Klein a lot."
David Adler referred to Jewish teachings and to Eli Dessler's grandfather.
"Rav Eliahu Dessler concluded that a person's true character, their true state of being, is revealed through the little things that they do," he said. "To Hedy and me, this speaks volumes about Bikur Cholim, the mitzvot of the volunteers of Bikur Cholim and what Bikur Cholim is all about: visiting the sick, bringing kosher meals to those who are in the hospital or perhaps who are housebound, providing a place for someone to stay when their families come to Cleveland for medical treatment. They're just a few examples of the small things you could say that Bikur Cholim does – all showing this great character, the great character of the people involved, the great character of the volunteers."