Bishop Anthony M. Pilla, bishop emeritus of the Catholic Diocese of Cleveland, will be remembered as a humble and empathetic man with a ready sense of humor and an ability to connect with people of all faiths, including leaders in the Jewish community.
Pilla, 88, died Sept. 21 at his residence.
"He joined Cleveland developer Sam Miller on March 11, 1988, to announce the first Catholic-Jewish Colloquium to help promote better understanding and reconciliation between the Catholic and Jewish communities," the Catholic Diocese of Cleveland wrote in its obituary of Pilla. "The bishop and Miller had a deep mutual respect and a longtime friendship. When Miller died at age 97 in 2019, Bishop Pilla issued a statement about his friend, saying in part, 'What Sam and I had as friends I only wish that everyone could find with another person from a different faith. I will always cherish the memory of my mother and Sam in her kitchen every Sunday morning praying together – hand in hand –
and enjoying the bagels he would bring with coffee.'"
Abraham Miller of Shaker Heights, a son of Sam Miller, said the bishop came to his father seeking help raising funds for local parochial schools run by the diocese.
"Sam would tell the story, 'Well, I'll help you, but we're going to have to do it Jewish style. You got to do it my way,'" Abraham Miller told the Cleveland Jewish News. "And Sam's way was picking up the phone and cornering people that he knew and have them make a financial commitment right then and there."
At the bishop's request, Sam Miller served on the board of the Catholic Diocese, Abraham Miller said, and insisted that his son replace him on that board. He said he occasionally drove the bishop to appointments.
"He had a sense of humor. He was gentle and he was loving," Abraham Miller said. "You kind of would forget when you were conversing with him that, you know, this guy's a bishop."
Stephen H. Hoffman, chairman of the Jack, Joseph and Morton Mandel Foundation, said he got to know Pilla when he was the president of the Jewish Federation of Cleveland and through his relationship with Sam Miller. He called Pilla "a good friend of Israel."
"He was just very empathetic and understanding of the importance of good Jewish-Catholic relations in the most spiritual ways," Hoffman told the CJN
Sept. 27. "He embraced the spirit of Vatican II and brought it home to Cleveland. There was never an issue where he couldn't be called upon for private guidance or public support if it was necessary."
Hoffman said Pilla was helpful during the John Demjanjuk case, referring to the Seven Hills auto worker who was extradited in 1983 and deported in 2009 by judges in the U.S. District Court for the Northern District of Ohio in Cleveland. He was tried four times for war crimes in Germany and Israel. Demjanjuk died in 2012 at the age of 91 in a nursing home in Germany while awaiting an appeal.
That case, Hoffman said, was "very messy," as Jews staged protests. "But we made sure not to burn any bridges."
"He was our bishop as much as he was the Catholics' in some sense," Hoffman said. "That's how he made you feel."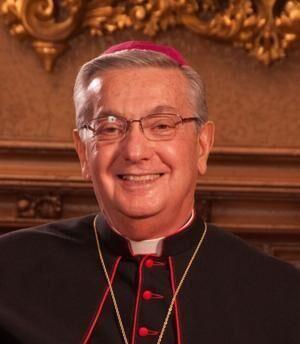 Lee C. Shapiro, regional director of AJC Cleveland, offered condolences to the Catholic Diocese on behalf of AJC.
"We had the great privilege of working closely with the bishop, especially on issues that sought to better the lives of all our neighbors," she wrote in a Sept. 27 email to the CJN. "Bishop Pilla encouraged interfaith dialogue, understanding and joint action. Always thoughtful, the bishop was both humble and inspirational as he quietly guided us to become our better selves. With a wonderful sense of humor and extraordinary grace, he was a cherished friend and partner. He will be greatly missed."
Born Nov. 12, 1932, in Cleveland's Little Italy neighborhood, Pilla grew up in a devoutly Catholic family, attending Parkwood Elementary School, Patrick Henry Junior High School, Cathedral Latin High School and St. Gregory High School Seminary in Cincinnati. He attended Borromeo College, St. Mary Seminary and was ordained May 23, 1959, by Bishop Floyd Begin. He was installed as one of three auxiliary bishops in Cleveland on June 30, 1979, and was named the ninth bishop of Cleveland on Nov. 18, 1980.
"His first pastoral letter, 'World Peace – A Call of the Church,' was issued on Aug. 6, 1981, and called for an end to the nuclear arms race and new efforts for promoting peace between the United States and the Soviet Union," the Catholic Diocese wrote.
Philanthropist Albert Ratner of Lyndhurst said he got to know the bishop through Sam Miller, Ratner's brother-in-law, and called him a "person of great empathy."
Ratner said the bishop was both close to and conscious of the Jewish community.
"His empathy for people of our religion was his empathy for all people, whether they were religious or not," Ratner told the CJN Sept. 27. "And the thing that I admired the most about him was that he was a doer. He was not a preacher. He was a doing teacher. You could go to him with a problem and he would work with you, whoever you were, to find a solution. He was a combination of a parent in one sense and a pastor in another sense. … In all the times I met with him, I never left without a smile on my face. He was what you would hope we would all be. He walked humbly with G-d and treated gently with people."