Mendl Weinstock, it appears, delivers more than just pizza.
Weinstock is a 19-year-old junior at The University of Akron studying financial planning and works at Papa John's Pizza.
Five years ago, Weinstock, was on a road trip with his older sister, Riva, when she began talking about her wedding.
"She was 17 and not even dating anyone at the time and so it kind of was irking me a little bit," he recalled. "So I told her, 'I'm not going to come out to the wedding,' just to get a reaction out of her because I was fed up with hearing about it. And she freaked out. …
"So, just to keep it going, the most random thing that could pop into my head, I said, 'I'm going to bring a llama to the wedding.' And, of course, she freaks even more. So, eventually she gets so upset that she told me that the llama is invited to the wedding."
Weinstock took that invitation to heart.
"Ever since she said those words, I have promised her and nagged her about it that I'm going to do it," he said.
On March 1 – his sister's wedding day – Weinstock delivered on his promise.
At a cost of $450, he delivered a llama to the DoubleTree by Hilton Hotel Cleveland East in Beachwood ahead of the arrival of guests.
Dressed to the nines in bow tie and tuxedo with a yarmulke to cap off his appearance, the llama was an immediate sensation – and not just with guests, who snapped photos.
A photo of the three – brother, sister and beast – went viral on Reddit with the caption, "5 years ago I promised my sister I would bring a llama to her wedding."
Before the reception was over, the number of upvotes on Reddit was 100,000. By March 3, the number topped 150,000.
Since then, Weinstock has been inundated by media.
Riva Eisenberg said she was not surprised by the appearance of the creature, given that her brother has reminded her of his promise frequently since he first made it.
"I knew it was coming," she said, adding that she set ground rules. "I will not spend more than 10 seconds with the llama."
Riva and Avi Eisenberg met at a 2018 wedding at Green Road Synagogue in Beachwood. A shared sense of humor, Avi said, was the spark.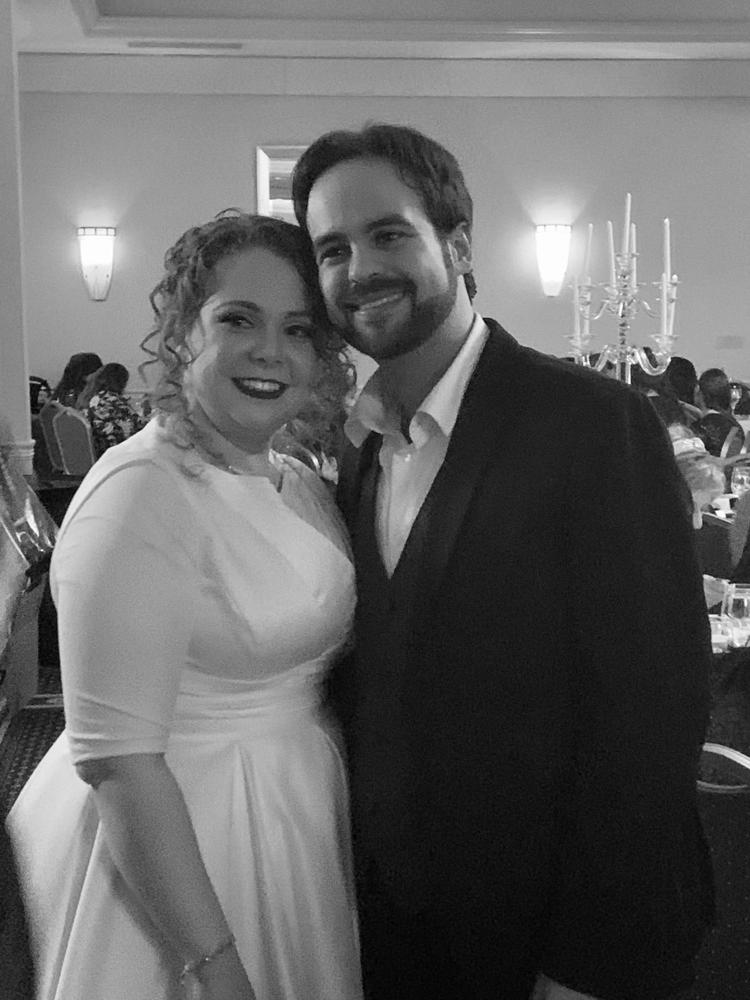 Riva said Avi looked her up the following morning on Facebook after she told him "If you remember this conversation, find me tomorrow."
He did and the two began dating long distance. In 2019, he moved to Cleveland. And the rest is history. The two live in South Euclid and attend Heights Jewish Center Synagogue in University Heights, where she celebrated her bat mitzvah.
Avi Eisenberg said while his bride dislikes llamas, he has had a long-standing dislike of zoos.
Shocky (the llama), it turned out, is used to wearing costumes, so fitting the custom-made tux turned out to be simple for the animal's handlers, Weinstock said.
"It would have been a little weird if we put a tuxedo on a female llama," Weinstock said, confirming that the llama was male. "If it was a female, I probably would have had to commission a dress."
A co-worker at Papa John's fashioned the garment for the animal at a cost of $10, for which she did not charge Weinstock.
Shocky's appearance cost more, but Weinstock said he was prepared to pay up to $1,500, so the $450 charge was well within his budget.
Shocky, he said, performed admirably.
"He did great," Weinstock said. "He killed it. I mean, guests couldn't get enough."
Weinstock did have a last-minute panic. His initial plan, to secure the four-footed wedding guest from an Akron petting zoo, didn't pan out, he learned a week before the wedding. He called around and got a referral to a Youngstown llama farm.
"And I have to say we were really nervous because llamas are known to spit," Weinstock said. "But he didn't spit. He didn't move around too much. He didn't make a mess. Nothing. It was perfect."
Riva is apparently planning payback for her brother on his graduation day.
Meantime, Weinstock has just one regret.
"I wish I kept my mouth shut for the past five years and had a big surprise because the reaction would have been 10 times better," he said. "But, unfortunately, I love picking on my sister too much and just getting that reaction every single time for five years was too perfect."