Eliot Wolf said during Temple Emanu El Brotherhood's sports night Aug. 7 he told Cleveland Browns General Manager John Dorsey to draft quarterback Baker Mayfield with the team's top pick in the 2018 NFL Draft. That was before he was even hired by the team, when he was working as director of football operations for the Green Bay Packers and interviewing for the Browns' assistant general manager position, a job Wolf later got.
"I advocated for (drafting Mayfield) in my job interview," said Wolf, adding that he had scouted Mayfield extensively for the Packers, though he knew Green Bay was unlikely to draft a quarterback that year. "I said (to Dorsey), 'Even if I don't take this (job), you're not going to screw this up and not take Mayfield.'"
So far, it looks like Wolf was right about Mayfield, too.
During the sports night, Wolf discussed his job, Mayfield, the Browns' prospects for this season, what he looks for when he scouts and much more as he was interviewed by Aaron Goldhammer, on-air host at ESPN Radio 850 AM.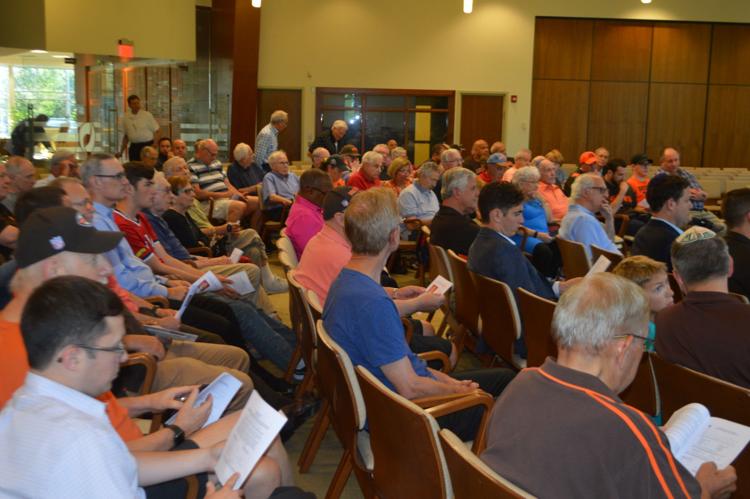 He said he left a successful Green Bay organization after he was passed over for the general manager job because he was attracted to the challenge.
"This community is so unique," Wolf said. "It's a football town, I knew that before I moved here, but it's even more so than I thought. When I got here, the Cavs were rolling and the Indians had been pretty steadily good, but all anyone wanted to talk about was the Browns. No. 2, the challenge of fixing something that's broken. Clearly, the Browns hadn't done what they wanted to over the past 600 days, years, whatever the case may be (before Wolf was hired, when the team went 1-31 during the previous two seasons). ... People know John Dorsey and Alonzo Highsmith came here from Green Bay about a week before I did. When he left to come here, I didn't have an inkling that I would be coming as well. So, that was a big part of it. And they were set up to win."
After the talk, Wolf discussed Browns kicker Greg Joseph with the Cleveland Jewish News. Joseph attended Donna Klein Jewish Academy in Boca Raton, Fla., and was with the Browns last season, but now faces competiton for the job in rookie Austin Seibert.
"When we tried (Joseph) out, we didn't know he was (Jewish)," Wolf said. "First of all, he's got a really strong leg. If he can just harness it a little bit, more than extra points and field goals, I think he's going to be kicking in the league for a long time. I think there's a little extra brotherhood and camaraderie there, knowing there aren't a ton of Jewish people in the NFL, but I'm always rooting for him to do good things."