Dec. 1 crept up onto Dr. Malcolm Brahms like it was any other day.
His aide drove him from his Beachwood residence to B'nai Jeshurun Congregation in Pepper Pike for morning service and then he made his way to breakfast afterward with his usual group of friends.
But what made this Sunday different was that surprising Brahms was not his typical breakfast, but a cake reading "Happy 100th Birthday, Doc!" in white frosting, a lit "100" candle and about 50 people, way more than the usual 15 who show up for Sunday service, all gathered for him.
"As a matter of fact, I feel like I'm only 60 years of age," Brahms said. "One-hundred doesn't seem right. I am 100, but I have no reason to feel that I am a 100 years of age. I just don't. My attitude is that I'm still young."
And it's because of his optimistic, zest-for-life perspective that Brahms can say he has no regrets and has thoroughly enjoyed his life, especially his 15-year stint as the Cleveland Browns' orthopedic surgeon.
Brahms joined the football team's staff in 1965 after he performed surgery on Browns wide receiver Paul Warfield, who became a member of the Pro Football Hall of Fame in 1983 due to his successful surgery. Brahms' medical prowess led him to performing surgery on many notable players who were all able to continue their roles as football players.
"I had operated on Milton Morin, who was a member of the Browns as a tight end, and he had a very successful Sunday afternoon in which he was given the game-of-the-day ball in the locker room by Blanton Collier, the coach," Brahms said. "But he didn't accept the ball; he threw it to me because I had done successful surgery on his back."
Brahms' skill led him to joining Dr. Alvin Tramer's orthopedic practice, starting Brahms, Cohn & Leb Orthopaedics more than 50 years ago. He is also a founding member of the American Orthopaedic Foot and Ankle Society that recently celebrated its 50-year anniversary.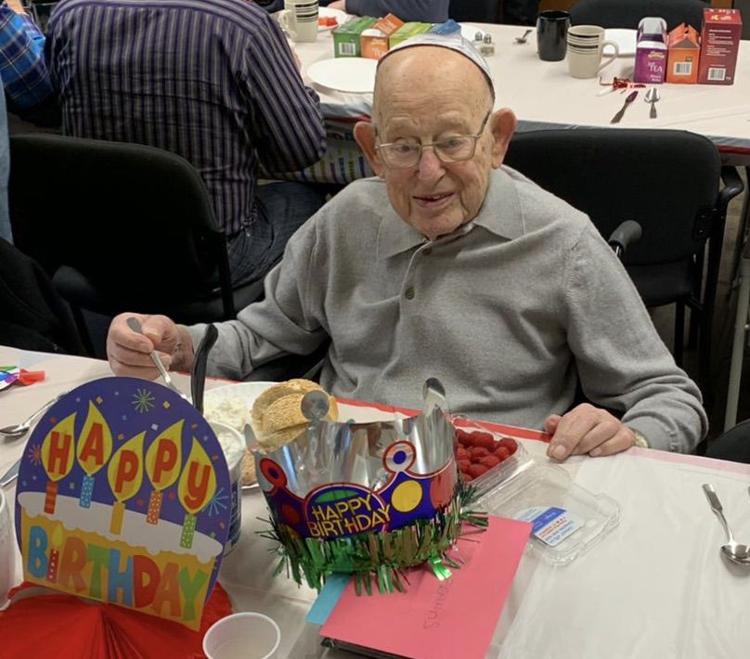 "He doesn't like to talk about himself, but back in the '60s and '70s, he was probably one of the best known if not the best known doctor in town because of his affiliation with the Browns," said Robert Zelwin, Brahms' close friend with whom he attends daily services. "Everybody in town knew him. It was without exception; people just knew who he was."
Despite his age, Brahms tries to live as independently as he can, like the inner 60-year-old he believes himself to be. He "retired" in 2000, but ended up resuming work for a U.S. government medical department until he was 92, drove himself to services until last year, and drove himself one recent morning when his aide was late. He spends his days trying to stay as up-to-date as possible on current events.
He started coming to services at B'nai Jeshurun when his wife, Evelyn, fell ill eight or nine years ago and he made the painful realization he'd outlived most of his friends. She died in November 2018.
"It was a great decision because I've made a lot of good friends who are almost constantly concerned about my well-being and are glad that I'm part of their group," Brahms said.
Zelwin, very happy to have Brahms in his life, looks up to him as both a person and for what he means to the community.
"If you didn't know any better, you'd think this guy's 75 at the most," said Zelwin, a Solon resident. "He's one of the most amazing people I've ever known in my lifetime. He just represents a great moral compass; he's a man of faith, he's honest, friendly, smart. He's just the kind of guy everybody gravitates to. The fact that at his age of 100 he literally comes to services every single day, seven days a week when he's healthy, even our rabbi Sunday morning at a breakfast said, 'Maybe one of these days I'll be coming here more than you do.'"
B'nai Jeshurun is celebrating Brahms' centennial with a free and public event Dec. 7 at the congregation with a luncheon at noon following 9:00 a.m. Sabbath service where he will be honored. Zelwin said due to his friendly, positive nature and number of life-changing surgeries he's done for people, about 300 people will attend.
As for Brahms' secret to living a long, healthy life, he can't provide any actual hacks to cheat death.
"The secret is luck and no chronic diseases or conditions such as diabetes or cancer and so forth," he said. "I've enjoyed a lot of friends and I attend the minyan every day at B'nai Jeshurun - that's been one of the reasons my days are so great. I enjoy services at B'nai Jeshurun and all of my friends and the clergy at B'nai Jeshurun."