Be specific, Jeffrey J. Wild, told 275 volunteers and leaders gathered to launch the Jewish Federation of Cleveland's 2020 Campaign for Jewish Needs Aug. 28.
"I just have one call to action for all of you," said the Jewish Federation chair of the 2019 and 2020 Campaign for Jewish Needs. "Please make sure in the next couple months you take the time to schedule face-to-face solicitations.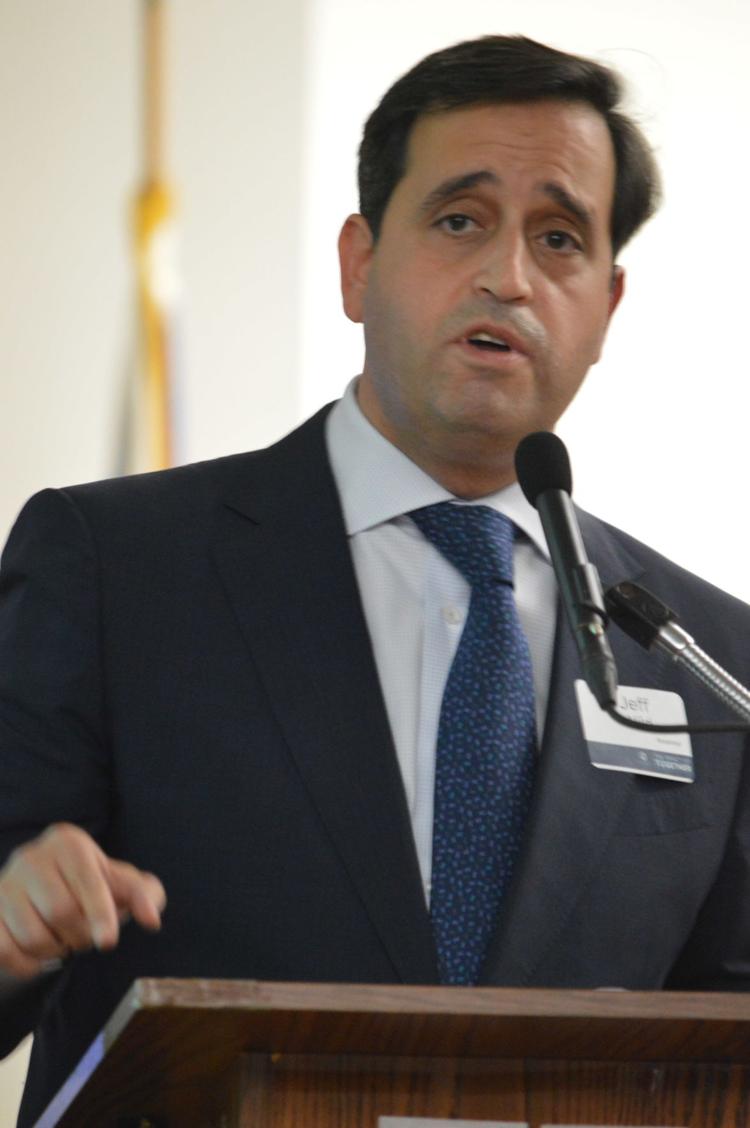 "Get in front of your donors and make the case. Make a bold, inspired ask. And make a specific ask. Don't sit there and ask them to 're-up' what they did last year. Give a quick 2 or 3% increase cost of living. Make a specific ask for an increased amount so we can address all of the challenges and needs that we have this year that we didn't have last year."
Wild announced a challenge to people under the age of 45 who for the first time donate $1,000. A dollar for dollar match for those donations totaling up to $60,000 will come from Brunswick Companies led by Todd Stein, president, and his daughters Rachel Weinberg and Michelle Hirsch, who are both senior vice presidents of the insurance broker based in Garfield Heights.
After the event, Hirsch said her family "has four generations of involved community Federation volunteers, and we wanted to inspire the future leaders to step up and give at a meaningful level."
With testimonials, videos, and appeals, volunteers gathered at B'nai Jeshurun Congregation in Pepper Pike to listen and schmooze. 
The theme of the campaign is The Impact of Together.
In a rotation, volunteers were assigned to four groups and moved through three of four rooms at the Pepper Pike synagogue in 15-minute presentations, each highlighting a different set of priorities: security, financial needs, STEM education in Israel, and Holocaust education and support for Holocaust survivors. 
Security needs
Oren Baratz, senior vice president of external affairs, spoke about security needs, along with Renee Higer, executive director of Temple Emanu El in Orange, and Bart Bookatz, chair of the Federation's security committee.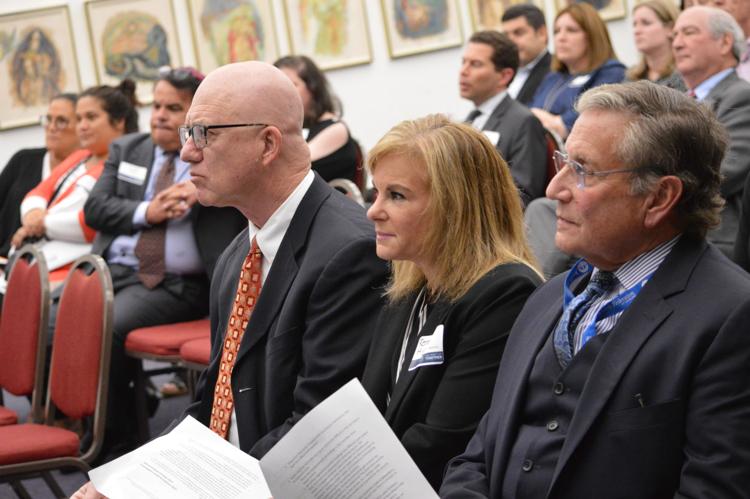 "A member of our clergy received a bomb threat via email," Higer said. "We immediately called 911 and then called Federation security. Our preschool was in session, and with the guidance of the Orange Village Police Department and Federation security, buses were dispatched from Orange City Schools and our children, faculty and staff were all evacuated to Orange City Hall. Federation security assisted Orange Village PD for any devices and determined it was safe."
Bookatz said the Federation is securing approximately 60 buildings from Hudson to Elyria, including synagogues, preschools and women's shelters.
Baratz said, "Our security concept today is based on four pillars."
He said the first is to have guards. The second is target hardening, including locked doors. The third is training. The fourth is partnership with law enforcement.
The Federation hosted a tabletop exercise for approximately 200 law enforcement members in the region in 2016 and will host a second one in 2020, Baratz said.
"And I can't stress enough the importance of that partnership," he said, adding the Federation took 27 police chiefs and two commanders of SWAT teams in Cleveland along with police chiefs from Detroit, Cincinnati and Pittsburgh with their community security directors to Israel for a week-long training two months ago. "It's creating a shared language. It's creating trust."
Baratz said the budget for security in
2017 was $800,000; in 2019, it was $1.25 million; in 2020, it will be $3.25 million.
"And I must say it's sad that we've reached the point that this is the amount of money we need to spend on security, but this is the reality we are living in today," Baratz said.
Baratz said the Federation is beginning to work more closely with federations in Detroit, Pittsburgh, Youngstown and Cincinnati.
In addition, he said, "A lot of chatter is happening on social media. What we are looking (at) now is to create a social media alerting system."
Fighting Poverty
Ginny Galili, executive director of Strengthening Families at Jewish Family Service Association of Cleveland, and Melanie Halvorson, the Federation's managing director of community planning, spoke of helping people in financial distress.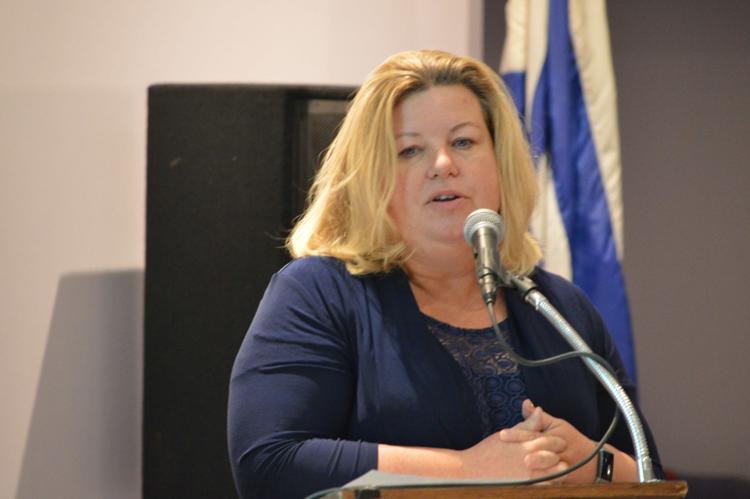 "The 2011 Greater Cleveland Jewish population study showed that 19% of Cleveland Jewish household incomes were at or below 200% of the federal poverty rate," she said. "Another finding is that baby boomers represent over 50% of households that indicated they are just managing or cannot make ends meet."
Those findings, she said, spurred the Federation to convene the Task Force on Financial Distress. From that task force, the Financial Distress Roundtable was created along with the JFSA Forward Focus program, Galili said.
Forward Focus helps community members by teaching financial literacy and aids them in achieving self-sufficiency.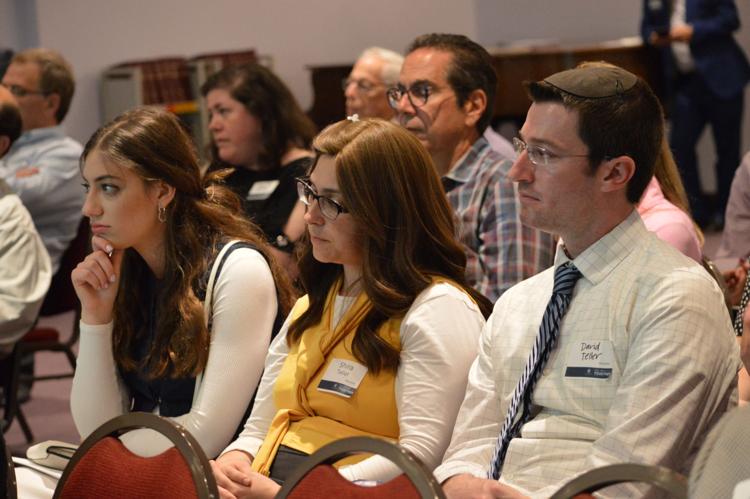 "We now can address holistically, collaboratively challenges faced by our families in ways that we were never able to do before," Galili said of the Financial Distress Roundtable. 
Halvorson said the collaboration has uncovered "unmet needs every day" in the local Jewish community.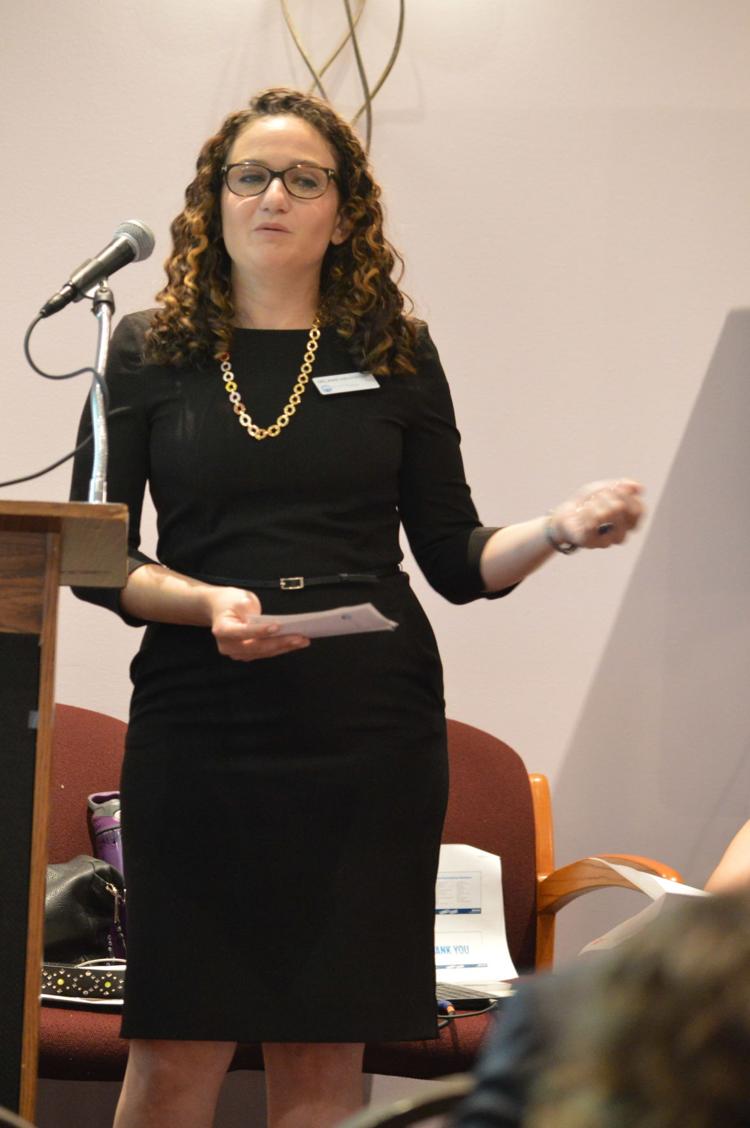 "If we were simply to fund campaign at the same level as last year, we could meet the same needs that we met this year," Halvorson said. "But then we wouldn't be able to meet all of these unmet needs that we're uncovering the way we need to."
A video featured a woman who today is finishing her college degree as a nontraditional student and working full time for the Jewish Family Services. A decade ago, she fell on hard times after a second bout with cancer. At first she refused placement at the shelter, later relenting. 
"I was very struck that there was a meal prepared for us every night," she said in the video, adding that home-like touches made a difference. "Those little things, when you lose everything, really make a difference because you just kind of lose your dignity. And so it was very therapeutic for me to be in an environment where there were other people there. …"
Holocaust survivors and Holocaust education
Gabrielle Jerusalem, co-chair of campaign for the Federation's Young Leadership Division board and co-chair of intergroup outreach subcommittee of the Federation's community relations committee, spoke alongside Holocaust survivor Erika Gold about Holocaust education. In addition, Gilda Katz spoke about support services for Holocaust survivors. She is JFSA's Holocaust Survivor Support program coordinator.
Jerusalem spoke about a program that brings together small groups of young Jewish professionals with survivors.
"These intimate settings lead to intimate discussions," Jerusalem said, adding topics include, "survival, struggle, and the responsibility that the Jewish community has ... to make sure that we're preserving the memory of the Holocaust and not allowing history to repeat itself."
She said four years ago, the program drew 73 participants, and last year there were 127. 
"It's an incredible meaningful program for me," she said. "I have Holocaust survivors in my family."
Gold speaks at the Maltz Museum of Jewish Heritage to school groups as well.
"I talk as much as I can because I feel it's very important for our stories not to be lost and because I have my own memory, I can tell people what I experienced and hopefully they pass it along." 
STEM Education in Israel
Ilanit Gerblich-Kalir, managing director of international operations at Jewish Federation of Cleveland, spoke about the Federation's STEM teaching initiatives in Israel.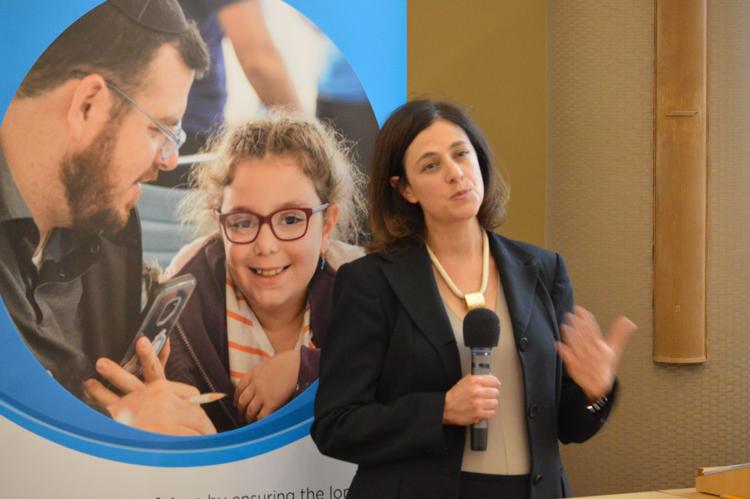 Gerblich-Kalir said that in Israel 7,000 to 10,000 jobs in the high-tech sector each year are not filled by Israelis and that children in the periphery don't have opportunities to learn science, technology, engineering and math.
The Federation's initiative is taking place in Beit Shean and Valley of Springs, sister cities to Cleveland. She said the Federation decided to work within the ultra-Orthodox community in Jerusalem and the Bedouin community. In Jerusalem, girls have made the greater progress than the boys, she said.
"We see this as an early sign that we can do more, and have impact," she said.
Jan Morrison, president and managing partner of TIES, praised the work of the Federation in Israel.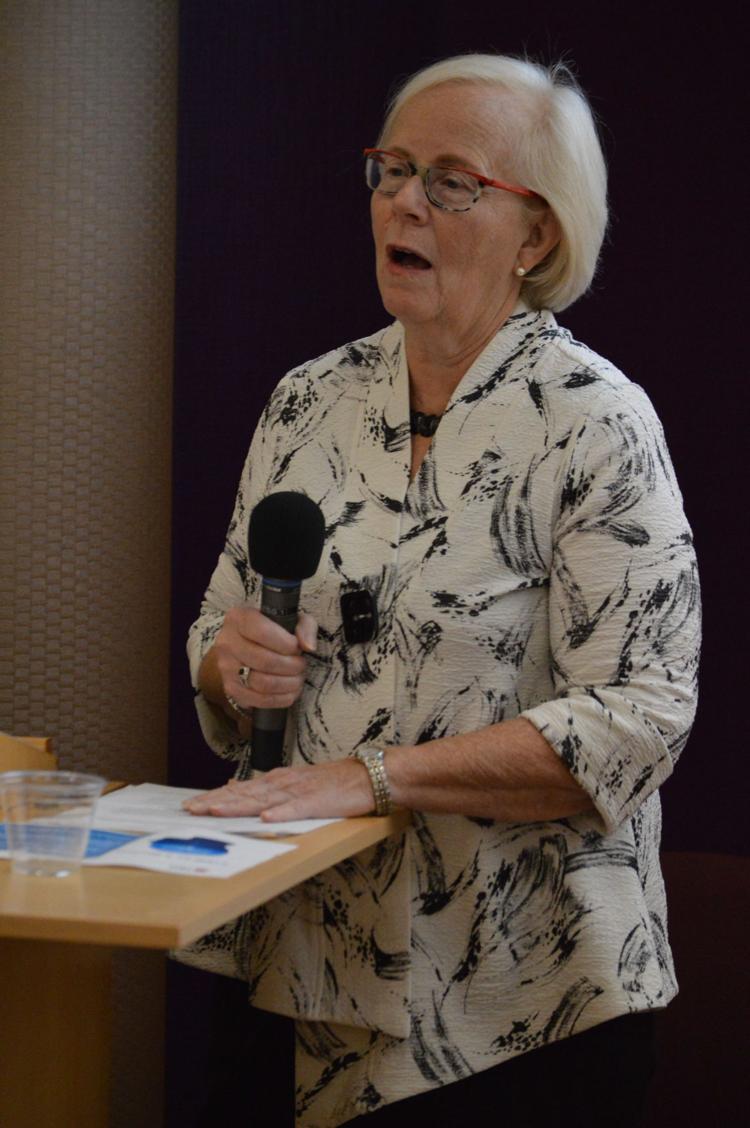 "Cleveland is ground zero for STEM in our country," she said. "Little known fact: We have the first STEM school in the country."
Morrison said she has seen other STEM initiatives in other countries.
"And I see the difference in the quality and approach and the solid vision the Federation (has) is unsurpassed," Morrison said.
Final notes
Wild spoke of security pointedly during his pitch.
"…When I think of the theme – The Impact of Together – I'm moved by the challenges we face together," Wild said. "And I think about the critical need to raise more money this year, challenges that are more enhanced and pronounced than they were in 2019. Specifically, I look around this room, and I look around this entire facility, and I am saddened by the fact there are six armed guards that for the sole purpose of protecting us. It's sad that when Jews in a group like this get together that we need to be protected. That was something we didn't have just a couple of years ago. As sad as that is, there's something even more emotional to know -- that my kids can no longer safely walk to shul on Shabbat without being under the watchful eye of our JFC Security Force. Think of that: walking through our communities. I never thought that just a couple years ago Beachwood, Ohio, we would have to form our own security force, not only to protect our buildings, our shuls, our schools, all of our institutions, but to also patrol our neighborhoods where our kids walk to and from schul and throughout our community. All of this in order to protect against the historic rise of anti-Semitism not just here in the U.S. but around the entire world."
Finally, echoing the theme of the campaign – The Impact of Together – Wild said he is confident that by working together, the volunteers "will absolutely raise those critical funds that are necessary."