Rabbi Mendy Sasonkin's cohesive influence on Akron's Jewish community was honored at the Campus Gala Nov. 9 at the Schultz Campus for Jewish Life in Akron.
Students from The Lippman School checked coats as Summit County's four rabbis lined up for photographs and guests mingled at the annual event to benefit the organizations housed on the Schultz Campus for Jewish Life.
The fundraiser drew more than 200 people to the Shaw JCC and raised $15,000 directly and $27,000 in total.
Teri and Michael Segal were the main honorees.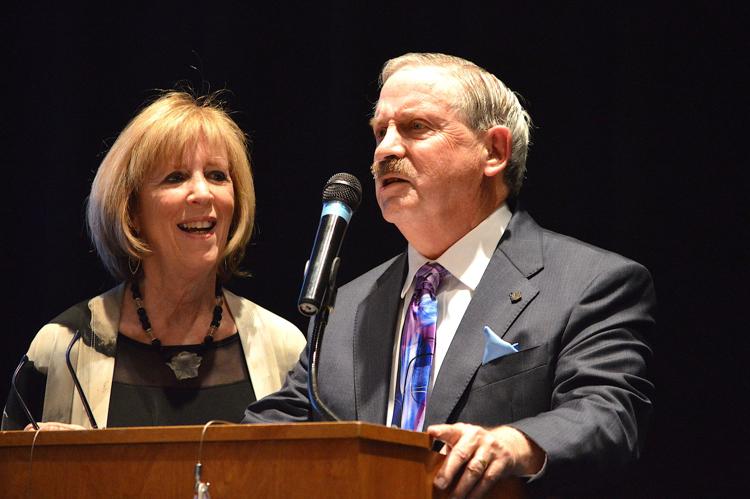 The Segals relocated to Akron when their daughters were young, and when Michael Segal arrived, he noticed the Israeli flag flying over the campus, and got a tour of the preschool wing from Hy Tabachnick, then executive director.
"The rest, as they say, is history," said Segal, who is co-president of Temple Israel in Bath Township, vice president of the Jewish Community Board of Akron and is past president of Shaw JCC. "The Akron Jewish community is very unique. Comparatively, it is the little engine that can. While we are a relatively small Jewish community, we are a strong environment and village. We are a cohesive environment where our agencies and synagogues work together for communal good."
Teri Segal said she volunteered for tasks.
"We really didn't have anything to do and nobody to do it with, so when people encouraged us to sign and volunteer, what the heck," she said. "So we volunteered for a lot of things. Being in this building and being in this room is very nostalgic."
Sasonkin, who died of cancer on Oct. 2, 2018, at the age of 54 and was spiritual leader of Akron's Chabad community, was remembered with the Rabbi Mendy Sasonkin Award for Righteousness.
Sam Chestnut, head of school at The Lippman School, spoke of Sasonkin's power of persuasion.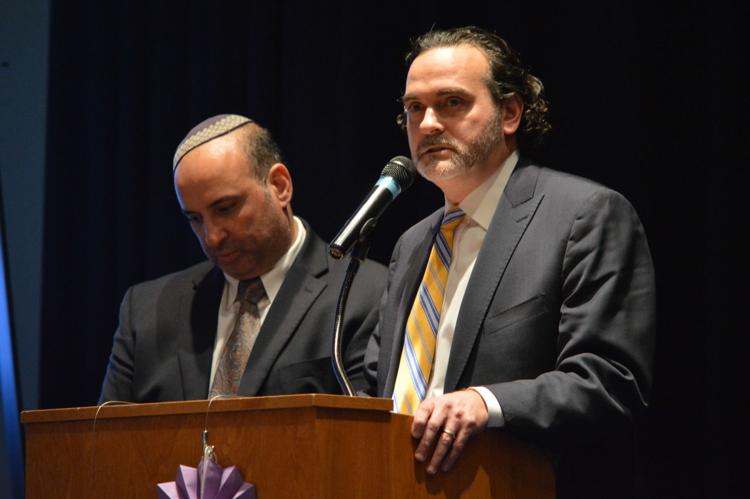 "It's not easy for someone who lives a traditional and observant life to push people who aren't as traditional or observant as him to do more mitzvot," Chestnut said. "He pushed us all to be our best selves in the kindest, gentlest way, and inspirational at the same time. It's a rare, rare thing that I've never experienced in my life. … And of course, it wasn't just Rabbi Mendy. It was Rabbi Kaila, too."
Kaila Sasonkin, who partnered with her husband as education director at the synagogue, accepted on his behalf.
"To all of you, I'm sure Mendy would be saying I love you all, bless you all, and thank you so much for this special honor from my entire family and from above," she said.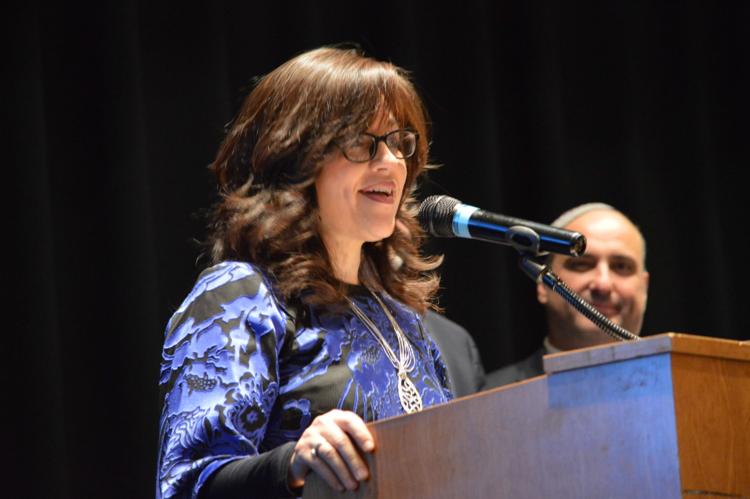 It was his daughter, Chana's closing toast that perhaps captured the spirit of her father.
"In case you don't know, I'm the youngest and most favorite Sasonkin," she said, to applause from the audience. "I'm not really the public speaker type, but who could say no to my mother?" Chana Sasonkin is 13.
"Tonight is extra special for me as we are honoring my father's righteousness. I mean, we are also honoring my brother, Moshe, but that's not as important. I'm just kidding."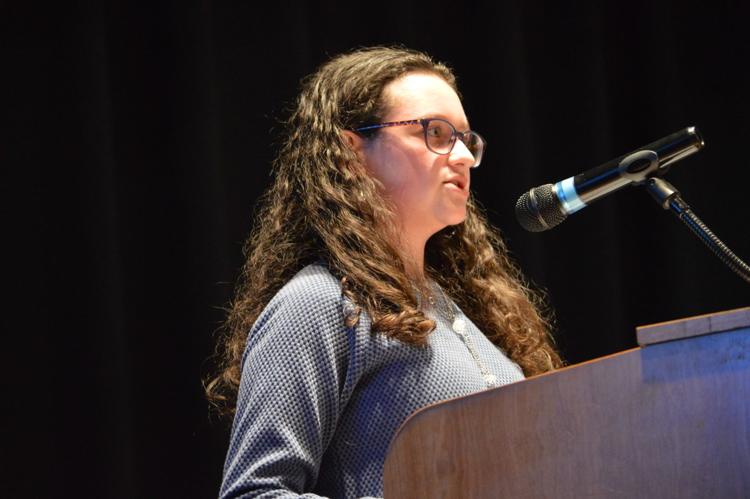 Rabbi Moshe Sasonkin assumed leadership at Anshe Sfard-Revere Road Synagogue in Bath Township following his father's death. He also leads Chabad of Kent at Kent State University in Kent and was one of the four rabbis who make up the Summit County Board of Rabbis, who were honored with the Community Spirit Award. Others were Rabbi Josh Brown at Temple Israel in Bath Township, Rabbi Elyssa Austerklein of Congregation Beth El in Akron, Rabbi Michael Ross at Temple Beth Shalom in Hudson and Hillel at Kent State University.
"My father would always teach us at home about getting along together. He told us that, at the end of the day, we need to remember to be there for each other as brothers and sisters. So we shouldn't fight with each other and make sure to get along. We still did fight, but just a little.
"Watching him as a leader here in the community, my father was the same way," she said. "He would always try to unite people together and show everyone if we truly love one another and unite together, that's how we will survive and grow. He was very proud of our Akron Jewish community, would always unite and work together. We used to ask him, how do you get people to get along? So he would tell us, 'If I can get you to get along, then I can get anyone to get along.'"
Rabbi David Horowitz, rabbi emeritus of Temple Israel, offered the opening prayer, in which he referred to Mendy Sasonkin's leadership.
"We thank you, G-d, for giving him vision and for giving courage and direction to the rabbis of our community," he said. "Grant them strength. Grant them courage. Grant them wisdom. Grant them the ability to continue their leadership roles throughout the entire Jewish community and make us even stronger than we are."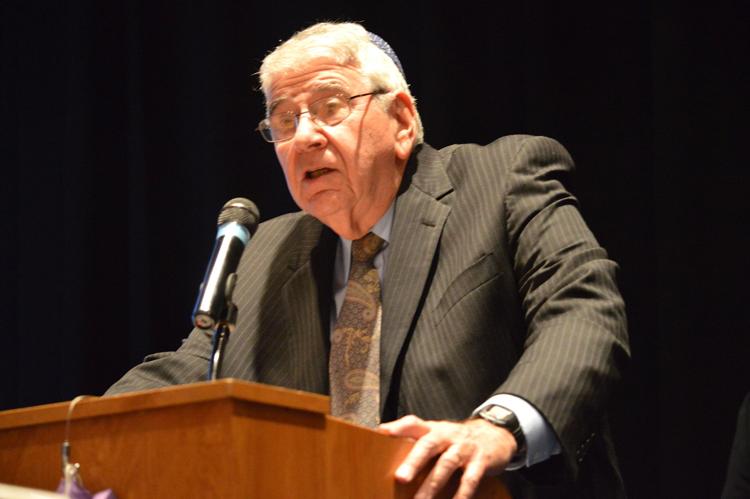 Todd Polikoff emceed the program. The CEO of the Jewish Community Board of Akron said the evening celebrated kehillah, the Hebrew word for community, which he called, "one of the most important aspects of Jewish tradition."
He quoted a conversation he had with Herb Newman just after he took his job nearly a year ago.
"He said the campus gives the community relevance, but not just the Jewish community," Polikoff said. "What we're doing in the programs that happen on this 55 acres and (in) this 130,000-square-foot building, we're providing community to people whether they're Jewish or not. It was a really profound thing he said to me and I haven't forgotten it."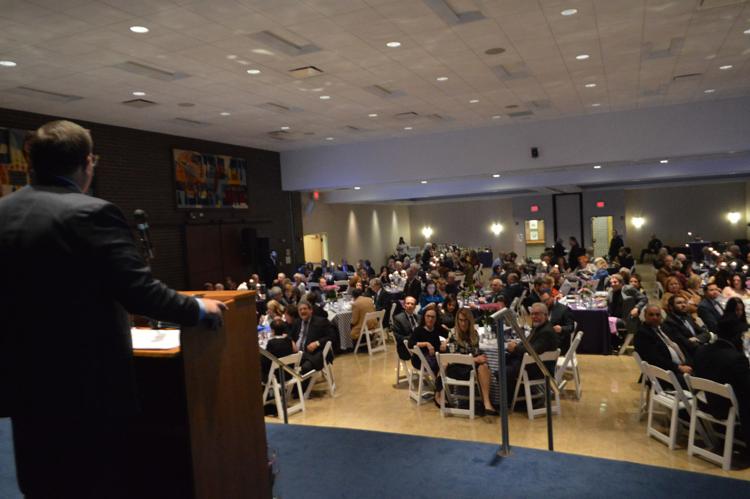 Polikoff screened a video about the impact of organizations housed at the Schultz Campus: The Lippmann School, the Shaw JCC, the Mandel Early Childhood Education Center, and the Jewish Family Service of Akron and its Silver J-Ticket Program.
Erin Katz and Meir Ohayon chaired the event.
Cantor Matthew Austerklein chanted the priestly blessing as a benediction to close the program.
Campus Gala at the Schultz Campus for Jewish Life in Akron