Cantor Laurel Barr stood before more than 1,000 people at Olivet Institutional Baptist Church in Cleveland to tell the story of her son, who at the age of 13, was introduced to prescription painkillers.
"Our daughter is an ordained rabbi and our son became a heroin addict nearly a decade ago," she said at a meeting of Greater Cleveland Congregations called Rise up, GCC! A Criminal Justice Action.
The event was held to highlight the work of Greater Cleveland Congregations in planting the seed and gathering momentum and initial funding commitments to build two crisis centers – one on Cleveland's east side and one on the west side – to divert people from the criminal justice system who are struggling with mental health issues, including addiction.
People sat with their congregations, and dozens of congregations were represented. Jews were well represented. There were contingents from B'nai Jeshurun Congregation in Pepper Pike, Anshe Chesed Fairmount Temple in Beachwood, Beth Israel - The West Temple in Cleveland, Beth El - The Heights Synagoguei in Cleveland Heights, Kol HaLev, Cleveland's Reconstructionist Synagogue, in Pepper Pike, and the National Council of Jewish Women.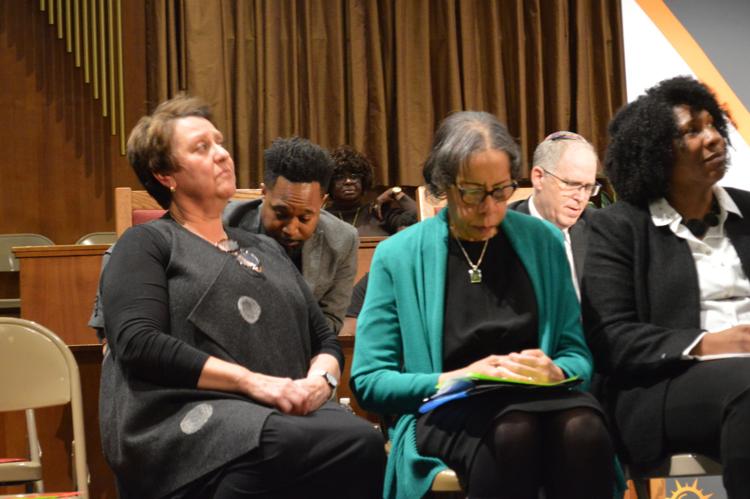 Barr was one of two mothers to testify about a son's mental health struggles leading to incarceration. 
Anita Arrington-Bey spoke of her oldest son, Omar, who was killed June 21, 2013 in Cuyahoga County Jail. He was married and had three daughters.
"He was someone who went out of his way to help others," she said. "In 2010, he gave his brother, Roger, a kidney."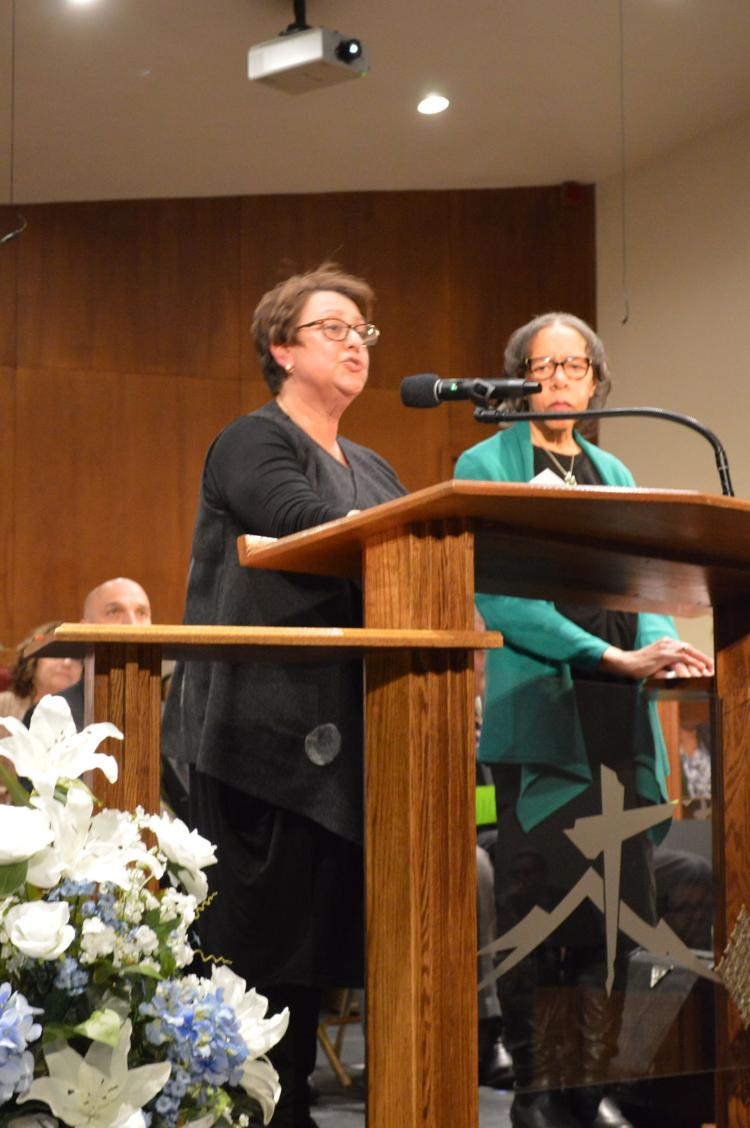 Arrington-Bay said her son gave of his time and talents.
"I was with Omar when he was arrested," she said. "I told the police he was bipolar and the medication he was on. I later learned that that information was never given to the facility he was taken to. I thought my son would see a doctor, be taken to the hospital, receive treatment and come home. To my surprise, I received a call that night saying, 'Your son is dead.' I could not believe what I was hearing. I gave the phone to my husband and I cried. This is a pain I will live with for the rest of my life."
Barr spoke of her misconceptions about heroin addiction.
"As our addiction story unfolded, I very quickly learned that the African American community has been battling this disease for decades and not until it showed up in suburban white communities did anyone really take notice. That is wrong, unconscionable and unjust."
There was applause from the audience.
Barr then said her son was nearly killed a year ago when he crashed his car. 
"Four days later, I tried to get help at another hospital emergency room. As I drove there, I watched in my rearview mirror in horror as my son tied off his arm with my iPhone cord and shot dope into his vein right there in my back seat."
She said there were no detox beds available, "and by night's end he was arrested and once again."
Her son has been incarcerated at least seven times.
"Incarceration has not helped my son," she said. "In fact, it has made him worse during his seven times in county jail."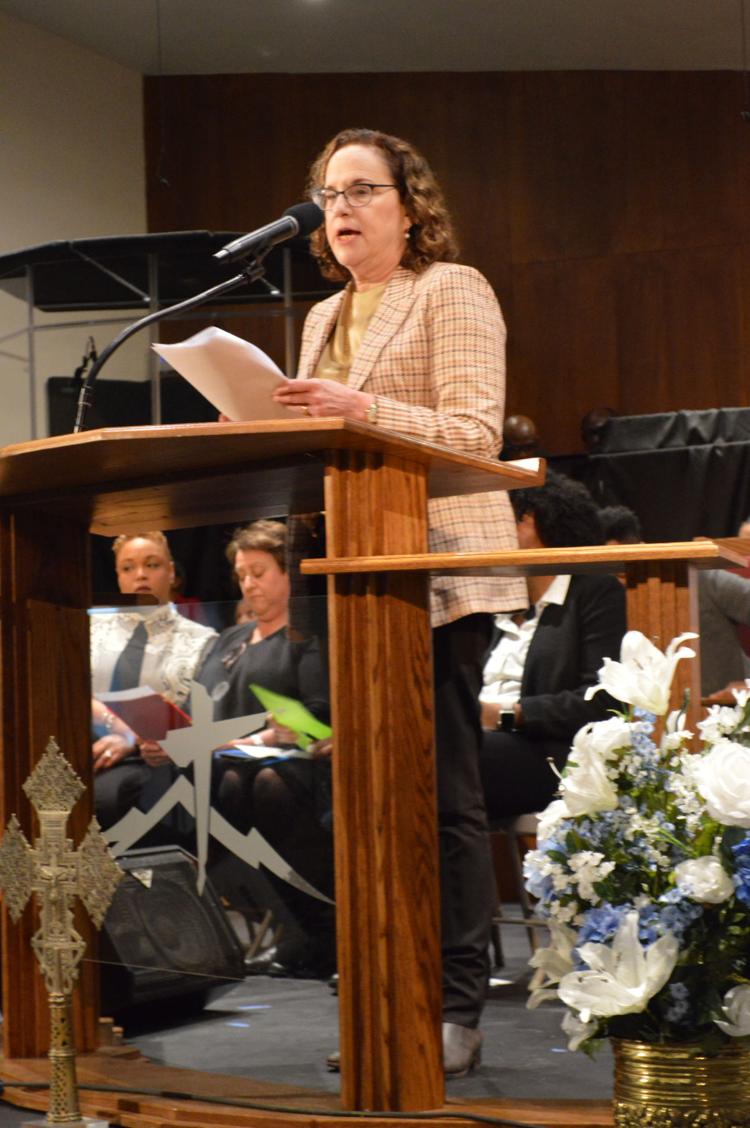 Donna Weinberger, criminal justice project coordinator for GCC, explained the concept of a diversion center.
"A crisis diversion center is a place where people with mental illness and or substance abuse issues can go when they are in crisis," she said. "Think of it a bit like an urgent care center for mental health and addiction. They're accredited centers run by medical centers. People can be brought by family members or walk in by themselves and be seen very quickly who will do a mental health assessment and treatment plan. Those who have gone off their medicines can be restarted on those meds in a safe environment. Those who are in crisis can be stabilized without having to go to an emergency room. There's an emphasis around providing wraparound services to those who need them, like connection to providers or housing. Our crucial component is that law enforcement can drop off people very quickly. Those officers are often in the front lines of dealing with people in crisis."
Weinberger said a typical stay would be 24 hours, but diversion centers would have the capacity to house people longer if necessary. 
"We know that these centers save money. We know that these centers save lives." There was applause. "We also know that they keep mentally ill and addicted people out of jail."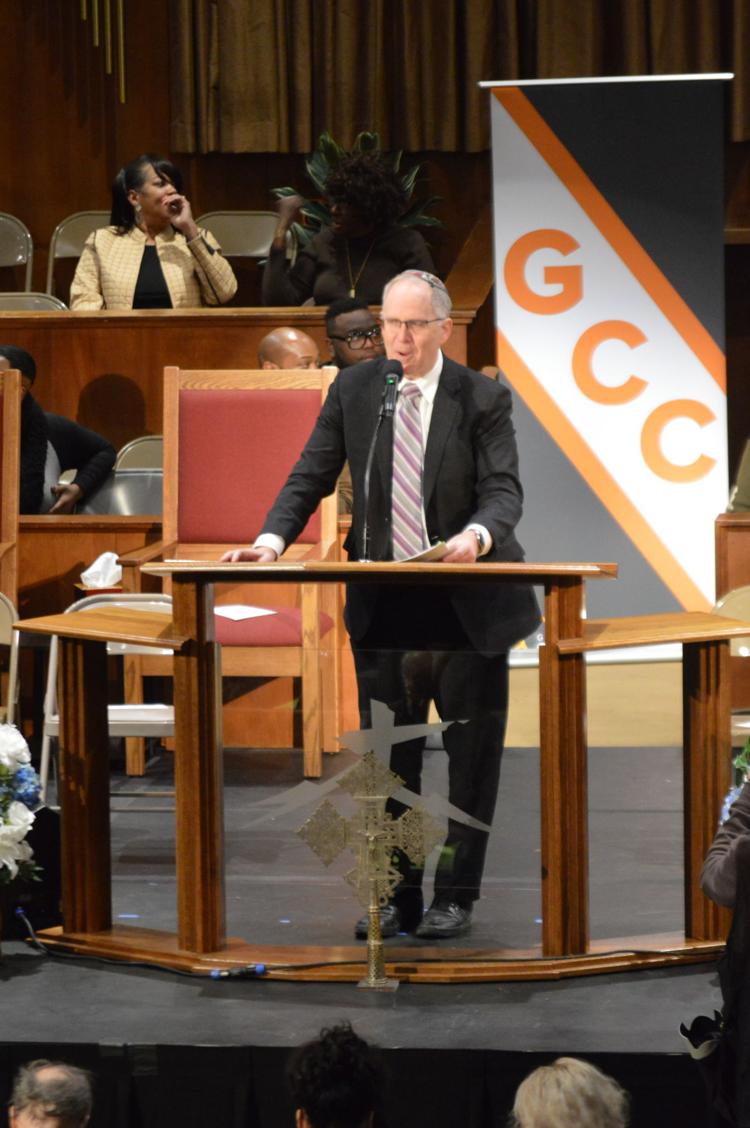 Rabbi Stephen Weiss is on the strategy team at GCC. The senior rabbi of B'nai Jeshurun Congregation said Cuyahoga County has committed to spending $2.5 million on the diversion centers, and MetroHealth has agreed to spend $1 million.
"It will take much more than that to make this happen but it's a really good start," he told the Cleveland Jewish News. "We haven't priced it out exactly yet. We are hoping that's something that will happen in this next phase now that we have brought partners to the table who are on board."
Franklin County has committed $50 million to building a diversion center. 
"First up is getting us all on the same page," Weiss said. "It was kind of a victory dance tonight ... (But) we're not leaving this battle until those centers exist and they meet those criteria and we know that they are actually achieving their goals." 
During the program, Cincinnati Mayor John Cranley took the podium to highlight Do Not Stand Idly By, an initiative by the U.S. Conference of Mayors, which advocates for smart-gun technology, such as fingerprint recognition.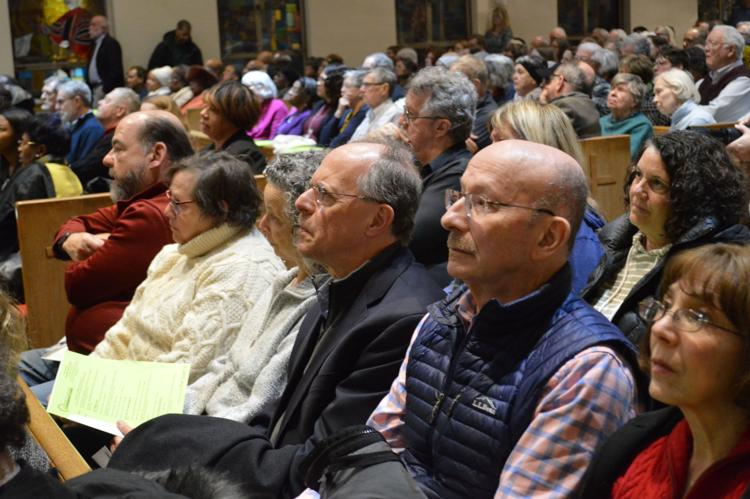 "On Sept. 6, 2018, roughly a year and a half ago, Cincinnati became sadly one of many cities of mass shootings," he said, referring to a shooting in a Fifth Third Bank that killed three people and injured several people before police killed the gunman. "When this happens, the world descends, the media descends, emotions explode. Lives are ruined."
"When it comes to background checks, red-flag walls, assault weapons bans, we are on the side of cops, we are on the side of law enforcement. And those like, the NRA trying to stop us, they are on the side of the shooters. They are on the side of the terrorists. They are on the side of the criminals." There was applause. "The fact is we've got to get these guns off the street." 
Bill Mason spoke on behalf of Cuyahoga County Executive Armond Budish, who was out of town.
Mason, Cuyahoga County executive's chief of staff, said when he was county prosecutor 15 years ago, there was talk of opening a central booking facility. 
He said Budish has literally cleaned and sanitized the jail and repairs are taking place.
"It's a better place," he said. "It's not a place where these people should be."
When Mason said that Cuyahoga County needs a diversion center, those in the audience began yelling "Two."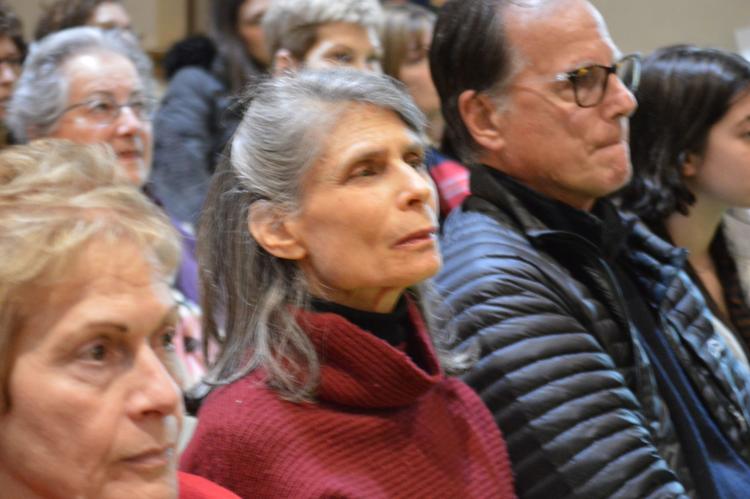 "Currently there are very limited places that we take these people who are in crisis, and they generally end up in jail because there's nowhere else to take them, no alternatives," he said, adding a recent study found that as many as one-third of those incarcerated at Cuyahoga County jail are suffering from mental illness.
Mason said Budish has floated a request for information to providers on their best ideas about how Cuyahoga County's two diversion centers might operate. Responses are due March 20. At the same time, he said a central booking facility should be running by September "diverting people before they're booked in jail." There was applause.
Mason also said he and Budish were in Columbus seeking funds for a diversion center and for a central booking facility. 
"With your prayers, we will receive funding for both of those activities," he said. 
Dr. Akram Boutros, CEO of MetroHealth, said MetroHealth took over medical services at Cuyahoga County Jail a year ago.
"And I am delighted, I am proud, we worked really hard providing services to individuals for mental health and addiction early on and today we can say we have gone an entire year without any deaths in the county jail," Boutros said. There was applause. 
In addition to MetroHealth's $1 million commitment to the diversion centers, Boutros said he is personally committed to working on the plan.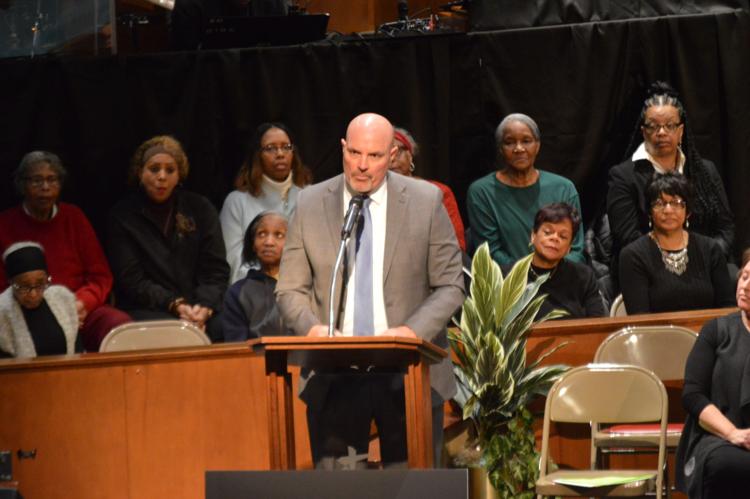 County Prosecutor Michael C. O'Malley spoke of the need to focus on violent crime as well as diversion centers.
"This has been a very long road," O'Malley said, recalling that he first began to speak with GCC about diversion centers four years ago. "And we began the effort to move this forward."
O'Malley said there were 147 people killed in Cuyahoga County from Jan. 1 to Dec. 7, 2019. Of them, 130 were African Americans. 
"We have an epidemic of gun violence, and unfortunately, part of the job that I have to face, is when people do bad things with guns, people have to go to jail. We have to stop the senseless gun violence, much of which is perpetrated by youths, and bring safety to every neighborhood in this county," he said to applause.
Both Cuyahoga County Judge John J. Russo and Cuyahoga County Administrative Judge Brendan Sheehan praised the work of GCC.
During the event, Weiss made a call to action taking the structure of the Dayenu section of the Passover Seder, asking the audience to respond to the list with "Dayenu," which he translated as "it would have been enough."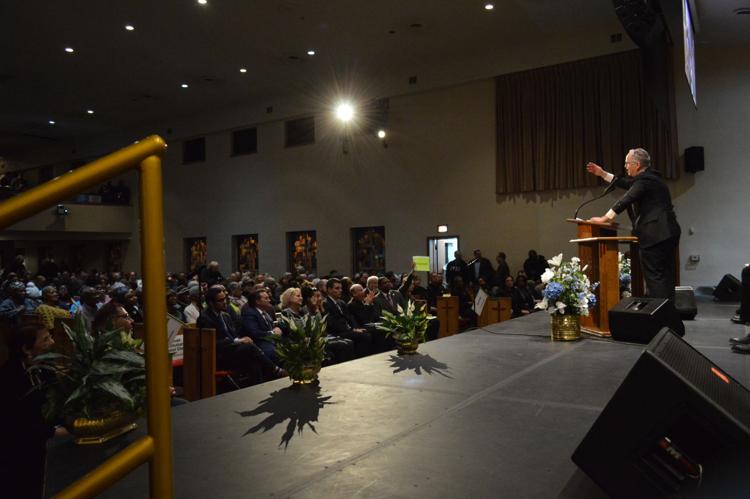 He listed GCC's spotlight on the Cleveland Police Department's inappropriate use of deadly force, its help to write the consent decree that forced reforms, its help to bring about a 25% reduction in the practice of overcharging defendants and its help to create a drug court with criteria that would "allow African American defendants the same chance at rehabilitation and a new life that has been available to whites."
Weiss also added a caution, "For all the victories we have under our belt, they are not really enough." 
Today, at age 27, Barr's son is in a sober living house.
Reflecting on the concept of diversion centers, she said,  "I don't know how many lives it could save. It could have saved my son a lot of time in jail. He's spent so much time in jail."
She said she found speaking at the event to be a positive experience.
"It was amazing: the spirit, the energy and the hope," Barr said. "I feel it here. I think it's going to happen."