As Charlotte Wasserman sat on her yoga mat surrounded by 180 girls in RedSpace in downtown Cleveland Feb. 1, she hid her smile.
Her goal in planning the second GET GRITTY event with the San Diego-based GRACEDBYGRIT foundation and her mother, Hallie Wasserman, was to bring together local teen girls and to help them find a sisterhood, learn a growth mindset and self-care regimen, encourage them to find confidence and to believe in themselves.
Due to the fact that her age of 16 fits her grades seven to 11 event requirement, Charlotte was sitting front row for the five unique speakers she brought in, doing her best to get gritty while sneaking looks every once in a while at those next to her.
Her first GET GRITTY event brought in 115 girls.
This year's event raised $22,000 through Charlotte's 25-member teen board and corporate donations. The money will go toward a college scholarship for a Cleveland female-student athlete who overcame adversity determined by GRACEDBYGRIT, GET GRITTY programming, including paying for the girls who could not afford their $25 ticket to the event and to UH Rainbow Babies & Children's including its new Angie Fowler Adolescent and Young Cancer Center.
"I really hope everyone had as much fun and was as inspired as I was," said Charlotte, of Hunting Valley and 10th grader at Hathaway Brown School in Shaker Heights. "I'm so glad I was able to bring these local Cleveland speakers in and to inspire these girls, tell them about themselves, open up and be living examples of grit, because that's really important to me. Today was a great day, and I'm so proud of it.
"Seeing that 180 girls wanted to come to an event that I planned myself was truly inspiring. Knowing that people wanted to hear what I wanted them to be taught, and then sitting through it – that was just so cool to me."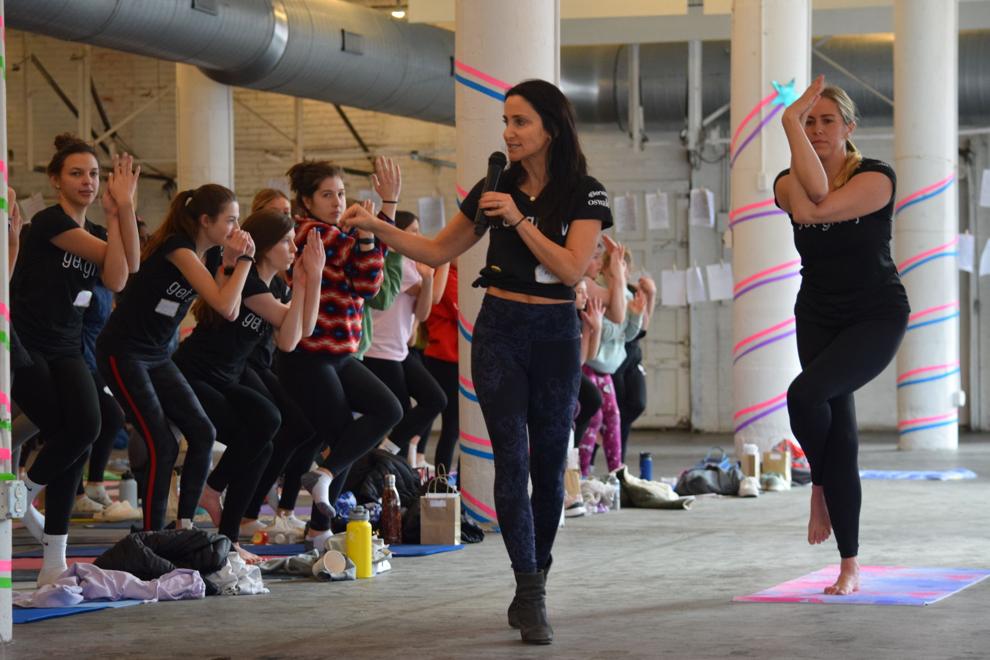 This year's theme, devised by Charlotte, was "mind, body and heart," and it featured keynote speaker Lindsay Gottlieb, an assistant basketball coach with the Cleveland Cavaliers; Tira Stebbins, clinical psychologist; Allison Meyer, creator of online storytelling platform "Never, Ever Give Up Cleveland" and "Letters of Hope" project; Sindy Warren, life coach, yoga instructor, lawyer and author; and Abigail Taft, registered dietitian, nutritionist and author.
From describing what their five senses were experiencing to learning about a growth mindset and mindfulness with Stebbins: responding with letters of hope to ones of grief to open up and allow for growth with Meyer; performing yoga to learn about physical fitness and meditation with Warren; understanding the different food groups to create a positive, healthy relationship with food with Taft, the girls worked their minds and their bodies leading up to Gottlieb's speech.
Gottlieb described five moments of grit she had to persevere through, that, while some were tough and some happy, were necessary in her journey to make her the woman she is today: tearing her ACL during her first basketball game her senior year in high school; her mom suddenly getting sick and dying during her sophomore year of college; moving across the country with her then-boss — the head coach of the University of California — who offered her an assistant job with the team, becoming head coach of UC Santa Barbara from 2008 to 2011 and University of California from 2011 to 2019 before coming to the Cavaliers as an assistant coach in 2019.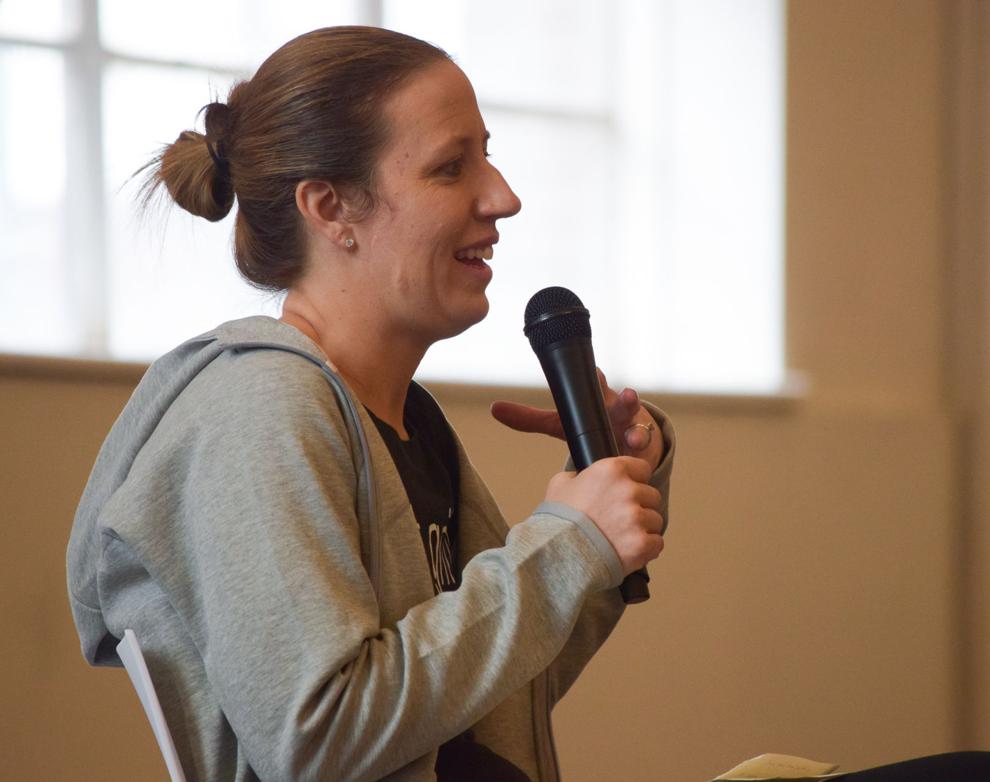 "Challenges in life are going to come," Gottlieb told the girls. "The main thing is to be equipped to handle those challenges. You guys showed up here beginning that process of building those skills. If you build those skills, you'll find that not only will you be able to handle your gritty moments, your seminal moments, your 'what-should-I-do,' 'how-am-I-going-to-make-it' moments, but they will help you define a purpose.
"When you get in that uncomfortable spot, you go to your gut and you say, 'What really am I about' or 'What really do I want to do?' I think that helps you – what today's event is about – discover, ignite and embrace the real you, what makes you strong, what makes you beautiful and what makes you, you. It doesn't have to be what the next person thinks or what they want to do, because I think real strength and beauty is being authentic and finding what matters to you."
Gottlieb, who joked she was more nervous appearing in front of teenage girls than large corporate events she'd spoken at, jumped at the opportunity to provide her wisdom to a group she closely related to.
"I get asked to do a lot of different things, but I was so excited immediately when Charlotte asked me (through Instagram)," Gottlieb told the Cleveland Jewish News. "I think the fact that it was put together in the brainchild of a student, of a young woman, was so cool to me. Charlotte's whole mission was really impressive to me that I wanted to be a part of it. I think this was me, you know, a seventh through 11th grade girl, just trying to find my way, and I think women need each other as allies.
"I think having grit is the most important thing 'cause that'll last throughout your life. Everybody's life involves things that happen – good things, bad things, and it's your ability to handle those things and kind of the support system you put around you and your own growth mindset that help you handle everything. I think young women in particular need that to kind of come into their true selves and be the ones who lead us in this world going forward."
Gottlieb's speech, combined with the event as a whole, resonated greatly with GET GRITTY teen board member and Hathaway Brown 11th grader, Emma Weber, who attended the event last year.
"I remember the application (for GET GRITTY 2020) came out, and I think I submitted it five minutes within it being out because I was just so excited to come back," Emma said. "I especially learned something from Lindsay to just be your authentic self, and it doesn't matter that you could be the only woman in a male-dominated workforce – you have to let yourself shine through and not try to be someone else or try to be like a male version of yourself in order to cater to the people you're working for or with."
The most important aspect Emma learned was how to have a growth mindset and to remember your mental well-being.
"Having a growth mindset is really important, especially now with social media," she said. "It's so easy to go through an entire week or month even without checking in with yourself and noticing how you're feeling and how everything is making you feel. By really kind of getting in touch with yourself and your mind, it makes you a lot more free and just happy to be here."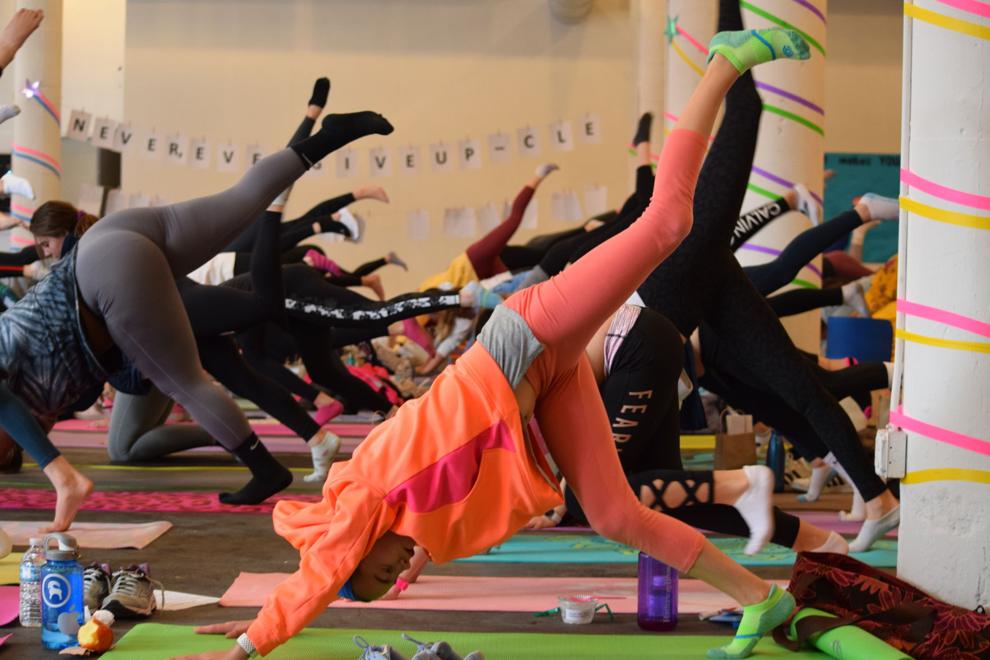 As the event came to a close and the girls took their complimentary yoga mats home, Charlotte's smile continued. While the logistics of next year's GET GRITTY are just thoughts swirling in her head, Charlotte knows she wants another event to happen.
"I'm open – that's all I'm going to say," said Charlotte, who attends Park Synagogue in Cleveland Heights and Pepper Pike. "I don't really know where the year is going to take us. We have some different ideas on what we think might be better, but those are all just beginnings of ideas. In the next few weeks, we'll take a deep dive into how the event went to see how we can make it better to make it another great day for girls, so people who came to this event or last come again and people who are newcomers can still come."
The CJN was a media sponsor of the event.