The Chagrin Documentary Film Festival will return for its 11th year with at-home streaming and in-person viewing options from Oct. 6 to Oct. 11.
The festival will feature 101 documentaries from 32 countries, including 19 world premieres and 21 Ohio premieres, according to a news release.
Films can be viewed at home through single purchase or package options, or attendees can visit two outdoor film viewing locations following Centers for Disease Control and Prevention guidelines at Riverside Park in Chagrin Falls, and an adapted drive-in at Chagrin Cinemas in Bainbridge Township. At Riverside Park, attendees can view films on an LED screen for free.
The festival will also offer free special panel events and filmmaker question-and-answer-sessions open to the public.
"Like nearly everyone, we had to pivot plans to accommodate this new normal," festival director Mary Ann Ponce said in the release. Ponce founded the festival in honor of her late son, David, an aspiring filmmaker who died from cancer at age 20 in 2006. "While there's still so much we're uncertain of, here's what we do know – we want to give our audience a much-needed break and escape into movie magic. This festival always has and always will belong to the community. Now, more than ever, there is so much divisiveness in our world and people are feeling disconnected. We believe in the power of documentary film to bring us together and to get us thinking and communicating with each other, even if it's virtually. And right now, film's superpower is to connect us on a deeper level as a community to experience some great films."
National Council of Jewish Women/Cleveland is sponsoring virtual showings of the 36-minute film, "Activized." It depicts seven Americans who abandon their comfort zones and shift their energies to work on political causes for the first time, according to a news release from NCJW.
NCJW/Cleveland is also sponsoring a real-time, virtual discussion from 7 to 8 p.m. Oct. 7, with the film's director, Eric Stange, and one of its starring women, Gail Weinstein.
"Like many of our NCJW advocates, these are people who never saw themselves as advocates but were inspired to step up, put themselves on the front lines and make a decision to defend American values and democratic institutions they believe are under threat," NCJW/Cleveland president Michele Kaminsky said in the release. "'Activized' epitomizes the spirit of the strong women in NCJW who learn to use their powerful voices for change in causes that impact lives for women, children and families."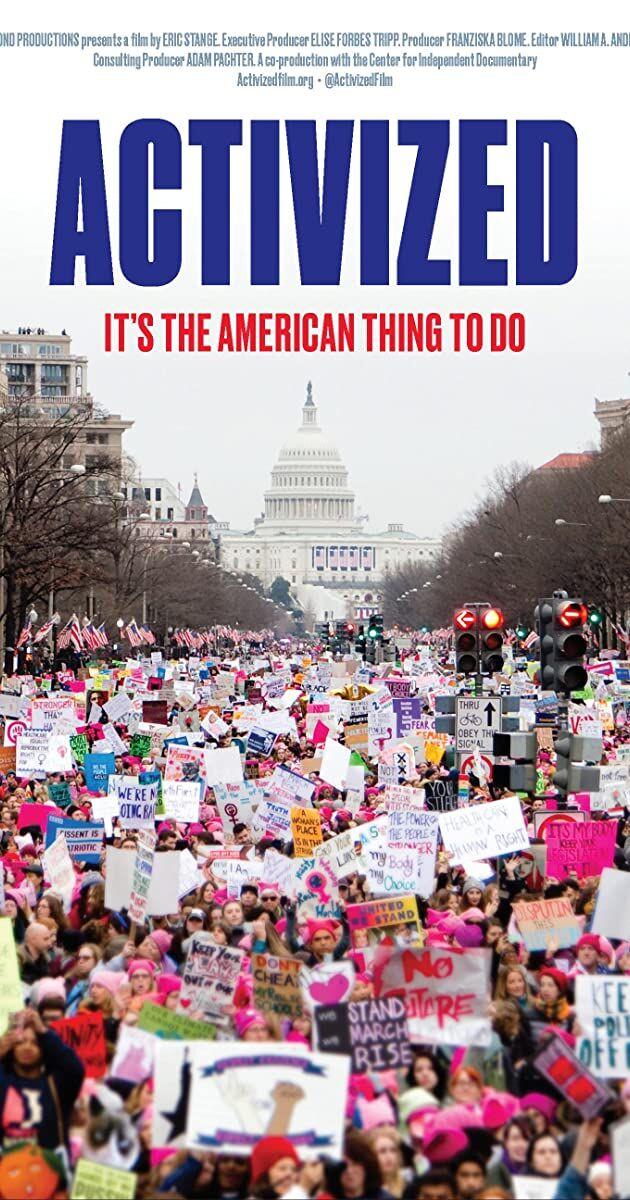 This year marks NCJW/Cleveland's fourth year as a silver sponsor of the film festival, Ponce said in the release.
Another film featured at the festival is "Determined: The Story of Holocaust Survivor Avraham Perlmutter," as the documentary opens for the first time in the Midwest.
"Determined," an award-winning film, follows filmmaker Keren Perlmutter's father, Avraham Perlmutter, and his journey to escape the Nazis during World War II, according to a news release from Keren Perlmutter, the film's director. The film highlights those paramount to his survival, such as the Beijers, a Catholic family who kept Avraham hidden in the Netherlands for over a year.
The feature-length film was based on Avraham Perlmutter's best-selling autobiography he wrote of his experiences during the Holocaust.
"For the last several years, my father and I have jointly given talks to thousands of people at schools, museums and other venues to share his inspirational life story," Keren Perlmutter, said in the release. "We have been so moved to see how audiences have responded to his story and messages about the importance of helping others in need, being determined to overcome obstacles to pursue one's dreams and obtaining an education. We hope this documentary will enable his messages to inspire a wider audience."
The film will be competing for the Emerging Filmmaker award, according to the release.
Here are the featured documentaries with Israeli or Jewish ties, as provided by the Chagrin Documentary Film Festival: 
'Golda'
• Sponsored by the Jewish Federation of Cleveland – Cleveland Israel Arts Connection
• Synopsis: Shortly before her passing, Golda Meir was interviewed for Israeli television. After shooting ended, the cameras kept rolling, recording an intimate talk with the first and only woman to ever rule Israel. As she lit one cigarette after the other, Meir spoke freely, pleading her case for her term as prime minister – five turbulent years that secured her place in history, albeit at a high personal cost. Based on these never-before-seen materials, testimonies of supporters and opponents, and rare archival footage, "Golda" tells the story of Meir's dramatic premiership –
from her surprising rise to power and iconic international stature as "queen of the Jewish people," to her tragic and lonely demise.
• Trailer: go2films.com/films/golda
'Once Upon a Boy'
• Sponsored by the Jewish Federation of Cleveland – Cleveland Israel Arts Connection
• Synopsis: Ron is intelligent, charming and full of life, but every day, his movements are increasingly limited by cerebral palsy. The film follows a remarkable family's struggles as the parents do everything in their power to raise three children who are happy with their lot, despite the unfathomable gap between them, and reveals the incredible power to live with one's fate.
• Trailer: bit.ly/2RQe9Ry
'Determined: The Story of Holocaust Survivor Avraham Permutter'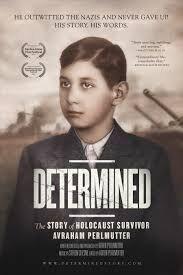 • Synopsis: Avraham is 10-years-old when his life changes forever. After the Nazis arrive in his hometown of Vienna, Austria, his parents send him to the Netherlands. But the invading German army soon follows. During the ensuing years, Avraham braves harrowing captures, daring escapes, torturous hiding and heartbreaking losses. Yet he also experiences the goodness of humanity through the strangers who help him.
• Trailer: bit.ly/2ZYQC5v
'Liberation Heroes: The Last Eyewitnesses'
• Synopsis: Heroic World War II veterans vividly share their liberation journeys, drawing parallels between the past and present. These powerful eyewitness accounts from Steven Spielberg's USC Shoah Foundation Visual History Archive share a cautionary tale and compelling reminder of what can happen when insidious hatred remains unchecked.
• Trailer: bit.ly/3cicwpr
'100 Years of Music: Trudy and the LA Phil'
• Synopsis: Gertrude "Trudy" Lehrer was born in Austria in 1919. She left Vienna as a teenager, a refugee from Hitler on the eve of World War II. For a century, Trudy has built her life around two things: family and music.
• Trailer: bit.ly/3mDbHMC
'A Head Shorter'
• Synopsis: A Head Shorter" is a 2-D animated documentary short narrated by filmmaker Sasha Sivan Bortnik's great-uncle, Naftali Deutsch. The film begins in the spring of 1944 when Naftali and his entire family are sent to Auschwitz. Naftali recounts his harrowing journey as a 12-year-old boy during the World War II era and shows us how he found himself faced with the decision to kill a Nazi guard to save his own life.
• Trailer: bit.ly/2ZZpwvf
'Abigail Yvonne: The Face Before You'
• Synopsis: After the 2015 Paris attacks, Abigail Yvonne Briggs begins painting portraits and narrative paintings of Syrian refugees to combat reactions of hate and Islamophobia.
• Trailer: bit.ly/3hQjGSQ
'Anatomy of Hate'
• Synopsis: It was a triple-murder fueled by rage – but was it a hate crime? Five years ago, three Muslim college students were gunned down in their home, in Chapel Hill, N.C., by a white neighbor, Craig Hicks. Police labeled the crime a parking dispute, sparking outrage among Muslims around the globe. This film sheds light on the way the nation is responding to rising levels of bias-fueled violence and how we define what constitutes a hate crime under the law.
• Trailer: bit.ly/3kvTVJg
'Robin Food'
• Synopsis: Robin Food is a nonprofit and pay-as-you-feel restaurant with a mission: rescue, cook and serve food that otherwise would go to waste. The restaurant is saving fruit and vegetables from markets and farms to raise public awareness on issues of food waste, sustainability and climate change in the most tangible and delicious way possible: a tasty meal. Robin Food is located in Haifa, Israel.
• Trailer: bit.ly/32MWUai
'Zaida'
• Synopsis: Henri Parens escaped from the Holocaust at the age of 12, and went on to become a globally recognized psychoanalyst, dedicating his life's work to the prevention of prejudice. With her documentary "Zaida," his granddaughter celebrates her grandfather's legacy and pleads with her own generation to continue his life's work.
• Trailer: bit.ly/33IYeKy