The Cleveland Jewish Publication Company captured 18 awards, including 11 first-place honors, in the 2019 Ohio Society of Professional Journalists contest, awarded Aug. 17 at BrewDog's Beer Museum, Brewery and Taproom in Canal Winchester.
The CJPC competed against all daily and weekly newspapers in the state with a circulation of under 75,000 and against all publications in Best of Ohio categories. Winners were recognized for work produced in 2018.
Top print winners were: The Columbus Dispatch with 32 awards; Cleveland Jewish Publication Company with 18; Cincinnati Enquirer with 17; Akron Beacon Journal with 14; The Plain Dealer with nine; The Blade of Toledo with eight; Columbus Alive with eight; and Dayton Daily News with seven. All of the above are daily newspapers, except for the CJN and Columbus Alive, which became a digital-only product this summer.
"That our editorial and design teams consistently produce award-winning work – across a variety of platforms, including the CJN, Jstyle, Canvas and Balanced Family – is simply remarkable," said Kevin S. Adelstein, CEO and publisher of the Cleveland Jewish News and president of the Cleveland Jewish Publication Company. "Add to those publications the CJPC's digital products and it's no wonder the Ohio SPJ saw fit to reward our efforts with 18 awards, second most among competing media companies. Our guiding principle is to meet the needs of our readers, and it's always an honor when our hard work is recognized along the way by our esteemed journalistic peers."
CJN Columnist Regina Brett was named the Best Columnist in Ohio, earning first place for a body of work in Best of Show. Her submissions were: "Blame the Jews again? Enough is enough," "Feagler gave voice to Clevelanders, fellow journalists," "Finally, Chief Wahoo is out at the old ballgame," "Good graces make for a great gift on Mother's Day," "Here's hoping hope prevails over hate" and "It's time to vote – what's your excuse?"
Judges' comments were: "Common sense applied to the crazy world – well done. I especially liked the column on voting. This should be required reading for everyone every year. Excellent work."
CJN Arts and entertainment critic Bob Abelman was selected as the Best Critic in Ohio for a body of work in Best of Show. His submissions were: "'Hair' at Beck Center confirms the aging of Aquarius," "CPH leads with expressionistic, heavyweight drama 'The Royale,'" "Dietz's road-not-taken tale, 'Bloomsday,' given a delightful turn at none too fragile," "Dobama's 'Ella Enchanted' brims with bibbidi-bobbidi-boo," "Great Lakes Theater treats Austen's 'Pride and Prejudice' with austerity" and "Touring 'Aladdin' is the catnip of screen-to-stage Disney musicals."
Judges wrote of Abelman's work: "This critic can write ... and think. His reviews were a pleasure to read, filled with surprising turns of phrase and lush descriptions. But his work also reveals the breadth of his knowledge of the arts he covers. He places the material before him in deep context, without slighting the details of the specific production he is reviewing. He is able to pan a play with conviction but also with laudable constraint."
The CJN was named winner in the Best Special Section category in Best of Show for its coverage of the shootings at Tree of Life Congregation in Pittsburgh under the direction of Managing Editor Bob Jacob. The section, "Pittsburgh: Stronger than Hate," was cited by judges as having "excellent presentation. Its purpose and meaning to society will live on long after the tragic event."
Canvas, under the direction of Cleveland Jewish Publication Company Lifestyles Editor Michael C. Butz, earned first place for Best Special Publication in the Best of Show category.
Columbus Bureau Chief Amanda Koehn, a former CJN staff reporter, won first place for Best Education Issues Reporting, K-12, for her body of work: "Legacy of learning," "Parkland survivors talk 'ruthless' advocacy, life after school shooting" and "Think Jewish Cleveland."
Koehn earned first place for Best Minority Issues Reporting for "Cleveland conversion connection: Local rabbis help Israeli fathers' baby become Jewish." The judges said: "Fascinating story about a couple and their effort to have a family. Well-written and presented in a way that clearly explains the struggle of Jewish gay people to be accepted by Israel."
Koehn's story also received first place for Best Religion Reporting.
CJN Staff Reporter Ed Carroll captured first place for Best Sports Profile for "Crafty veteran: Cleveland Heights native among oldest living MLB players, recalls pitching career." Judges' comments were: "I really enjoyed this story – it was like taking a trip back in time. Very well-written."
Carroll also earned first place for Best Children's Issues Reporting for "Fostering Family: At a time when Northeast Ohio has a growing need for foster parents, a Vermilion family provides a loving example for aspiring families to follow," which appeared in the spring issue of the CJPC publication, Balanced Family. Judges' said: "I enjoyed reading about the Yost family. Great way to put a face on this issue and perhaps attract more families to foster care."
Butz earned first place for Best General Story in the Trade Publications category for "Sandwich Tzedakah: Temple Israel Ner Tamid's Peanut Butter & Judaism has helped sustain Cleveland's homeless and hungry for 10 years, inspiring countless congregants along the way," which appeared in the winter 2018 issue of Jstyle. Judges remarked: "A very well-written feature on a unique program."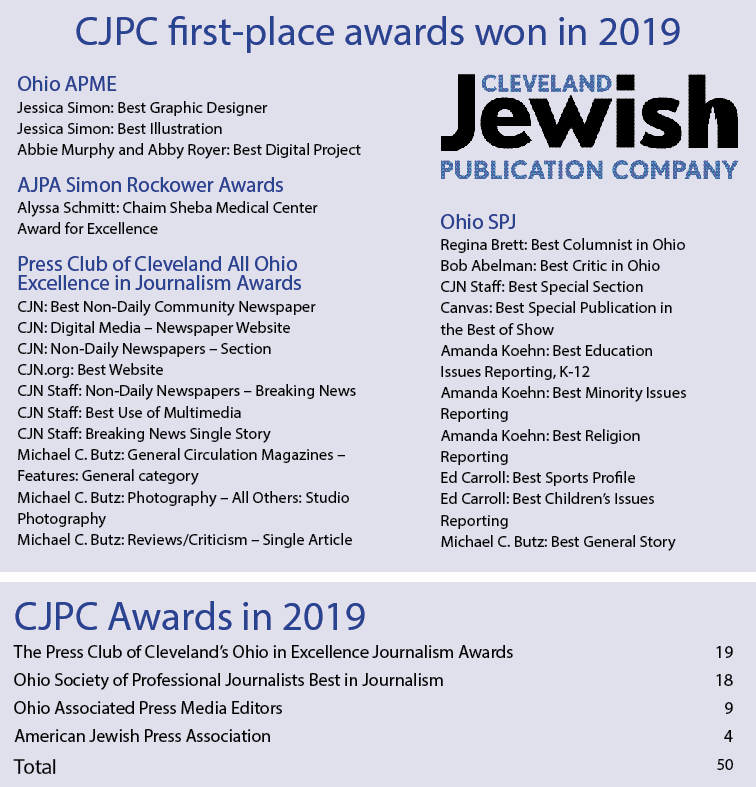 Butz received first place for Best Arts Reporting for his body of work that appeared in Canvas, also a CJPC publication: "Call to action: HEDGE Gallery's 'Don't Be Still' stirs emotions, spurs conversation about gender inequality," "Peak performance: CityMusic Cleveland strives for more as it approaches its 15th season" and "Change Agents," a profile package of artists effecting social change through their work." Judges said: "'Change Agents'" is how a profile on an artist should be. The fact that Michael Butz did this for seven such collectives and with the right amount of character and information shows how much passion he has for the arts. His CityMusic Cleveland preview is also tops. It's not a stale preview that a reader would just check for concert dates. He gets behind what the group is presenting for the year."
Butz also earned second place in the Best Public Service Journalism category for "Sandwich Tzedakah."
CJN Staff Reporter Jane Kaufman received second place in Best Education Issues Reporting, Higher Ed, for her body of work: "Fifth BDS vote at Ohio State defeated," "KSU vigil evokes feelings of compassion" and "Sands lays out lofty goals for CSU."
Alyssa Schmitt, former staff reporter and now digital content producer, took second place in the Best Human Interest Writing category for "History-preserving Holocaust hologram: Survivor shares story that will live for generations to come."
Canvas won second place for Best Trade Publication and for Best Special Section in Best of Show for "Change Agents," which appeared in the winter issue.
CanvasCLE.com earned second place in the Best Trade Publication Website category.
The CJPC Design Staff, under the direction of Design Manager Stephen Valentine, earned second place for body of work in the Best Feature Design category for trade publications. Designers Jessica Simon and former Designer Lillian Messner contributed to the body of work.
Sponsored by the Cleveland, Cincinnati and Columbus chapters of the Society of Professional Journalists, 301 awards were presented from 624 entries.
SPJ, founded in 1909, is the nation's most broad-based journalism organization, dedicated to encouraging the free practice of journalism and to stimulating high standards of ethical behavior.
With this being the final journalism competition this year, the CJPC has won 50 awards in 2019, including four awards in the American Jewish Press Association Simon Rockower Awards competition, nine awards in the Ohio Associated Press Media Editors contest and 19 awards in the Press Club of Cleveland's All Ohio Excellence in Journalism awards. The latter included being named the best non-daily newspaper in Ohio for the second consecutive year and fourth time in the last five years. This is the most awards the CJPC has won in a single year, and in the last three years combined, the CJPC has won 145 awards.