As people began to board buses at the Jewish Federation of Cleveland in Beachwood bound for the "No Hate. No Fear." solidarity march in New York City at about 11:30 p.m. Jan. 4, Cleveland City Councilman Basheer S. Jones stopped by bearing a resolution decrying anti-Semitism.
"Gathering together in unity will not be a solution to anti-Semitism, however it is a reminder to all of us that our community is filled with much more love than hate; a reflection that good can triumph over evil when people stand up in solidarity," the resolution reads in part.
It names the key organizations that staged the march and rally in response to recent anti-Semitic attacks in and around New York City: the United Jewish Appeal-Federation of New York, the Jewish Community Relations Council, the ADL New York / New Jersey, the AJC Global Jewish Advocacy, the Americans Against Antisemitism and the New York Board of Rabbis. 
"Be it resolved that this council is pleased to join … in solidarity… as they raise awareness to the rise of anti-Semitism and to demonstrate that these crimes against Jews are a crime against humanity, and that people are united in their belief that these crimes must cease," it states.
Jones, who is Muslim, said he learned of the march from Rabbi Lauren Werber of Temple B'nai Abraham in Elyria.
He said at first he wanted to go to the rally. However, he said his commitment to his studies, a hybrid master's of religion program at Claremont School of Theology in Claremont, Calif., precluded him from being able to take the time to attend.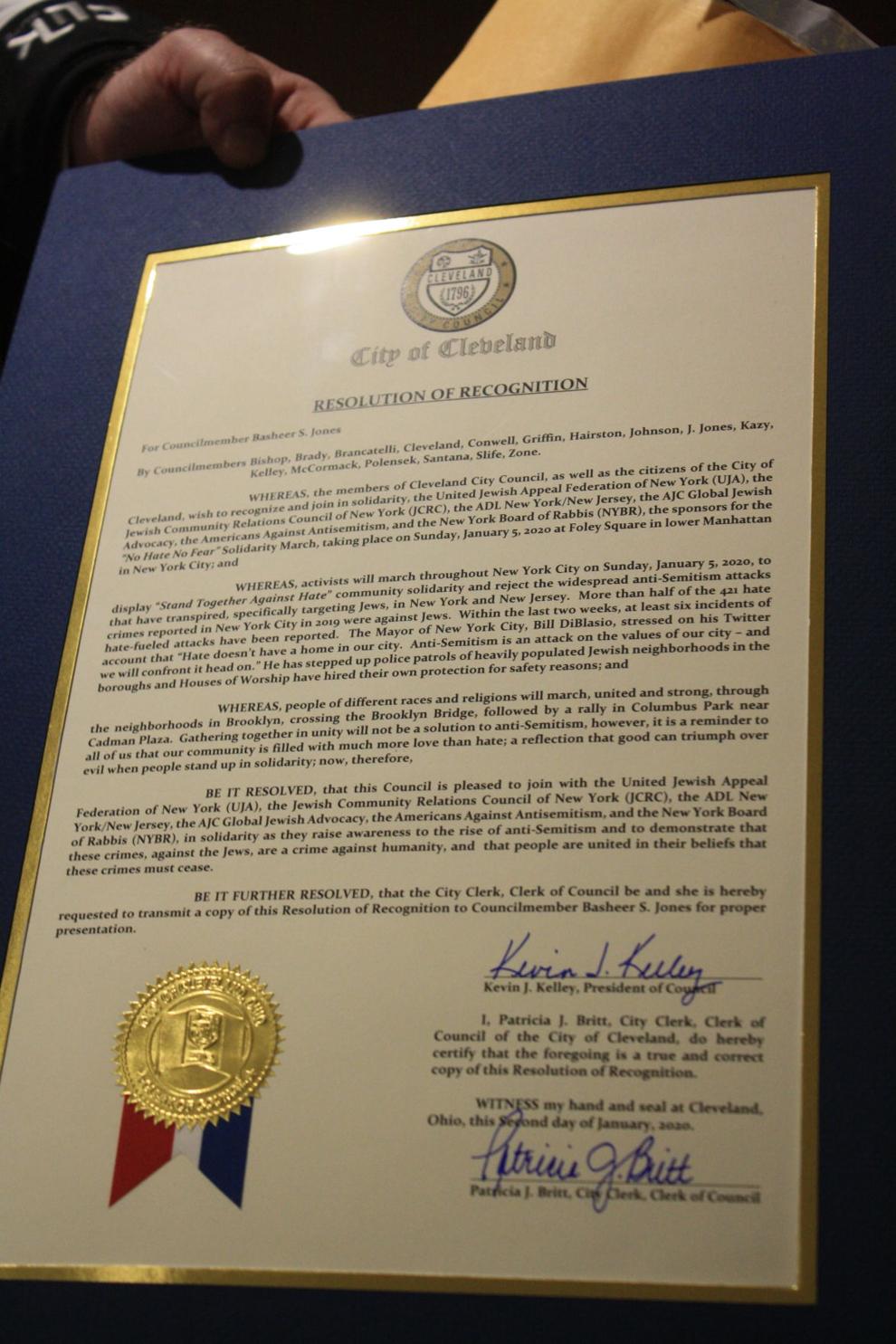 Jones, who represents the city's Ward 7, and Werber first connected when Werber offered prayers at Jones' installation as a city councilman. Since then, Werber's daughter, Tess, 19, a student at Cleveland State University in Cleveland, served a summer internship with Jones. 
The two hugged when Werber arrived to greet Jones Jan. 4.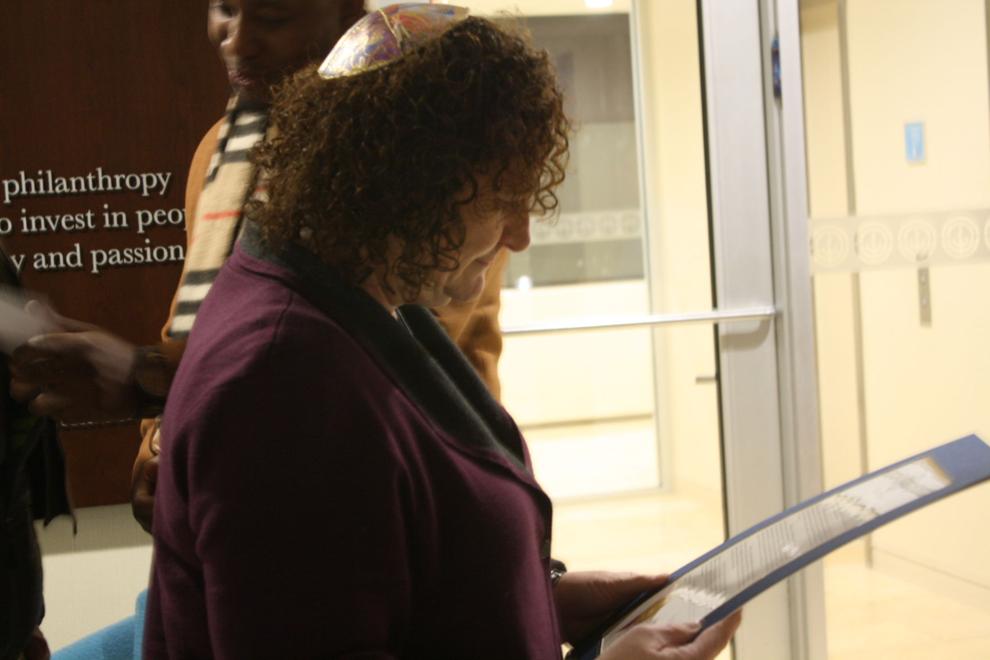 "Rabbi Lauren, she's a good, good friend of mine and told me about the trip," Jones said. "And (I) knew I couldn't be physically with you. I just wanted to show my love and appreciation for the Jewish community and trying to figure out, we're talking about, what are some things that we can do when everyone returns, what are some things we can do consistently to bridge the gap between the African-American community and the Jewish community, bridge the gap between the Muslim community and the Jewish community, wherever the gaps are, happily bridge them together.
"My degree from Morehouse is African-American studies," Jones said. "And if you study the African-American experience, you find that the Jewish community and the African-American community have always been standing side by side fighting against oppression and fighting against these type of things. So I think it's time for us to bring that back. I'm not saying it left. I'm just saying in Cleveland, I just think it needs to be more intentional. That's what Rabbi Lauren and I are working on. We actually are working on trying to work out a trip to Israel where we can bring Muslims and Jews together and say, hey, this is what we have in common. Let's not discuss where our differences are. Let's focus on the enormous amount of similarities instead of one or two differences."
Werber said she was moved by the gesture.
"I was incredibly touched by it," she said. "He had asked me what he could do for the community and what city council could do. We talked about a couple ideas, but a resolution never came up, so he called me later in the day and told me he had done it. And then when I saw it tonight, I was kind of teary just looking at it and that he went through that for us. The funny thing was right afterwards he texted me thanking me for this touching moment that he was able to have. That's backwards. He really did something for our community."
Rudin-Luria said she appreciated the gesture by Jones.
"I think it's wonderful that Councilman Jones wanted to make a statement in support of the Jewish community and against anti-Semitism," she said. "We need as many partners, we need everyone to be our partner in this fight against anti-Semitism."