The Cleveland Community Mikvah is tiled, carpeted, mirrored and undergoing floor grouting in the final weeks of construction of what will be Northeast Ohio's largest mikvah.
With 14 preparation rooms, including a handicap accessible room and a suite for a bride and her mother, the 6,100-square-foot building at 2588 S. Green Road in University Heights, has a paved driveway and exterior lighting in its parking lot. It passed its electrical inspection Feb. 10.
According to Rabbi Avrohom Adler, vice president of the Cleveland Community Mikvah, construction is expected to be substantially finished in the next two weeks, with the final punch list to follow. Once a temporary certificate of occupancy is received for the building, the rainwater collection can begin from the roof and gutters. Sometime after that, an estimated two months, the mikvah will open for women to use at night.
Designed by architects Erica Drogan Hillow and project designer Sarah Schwarz at Cleveland-based Vocon, the mikvah was designed by and will be exclusively for women.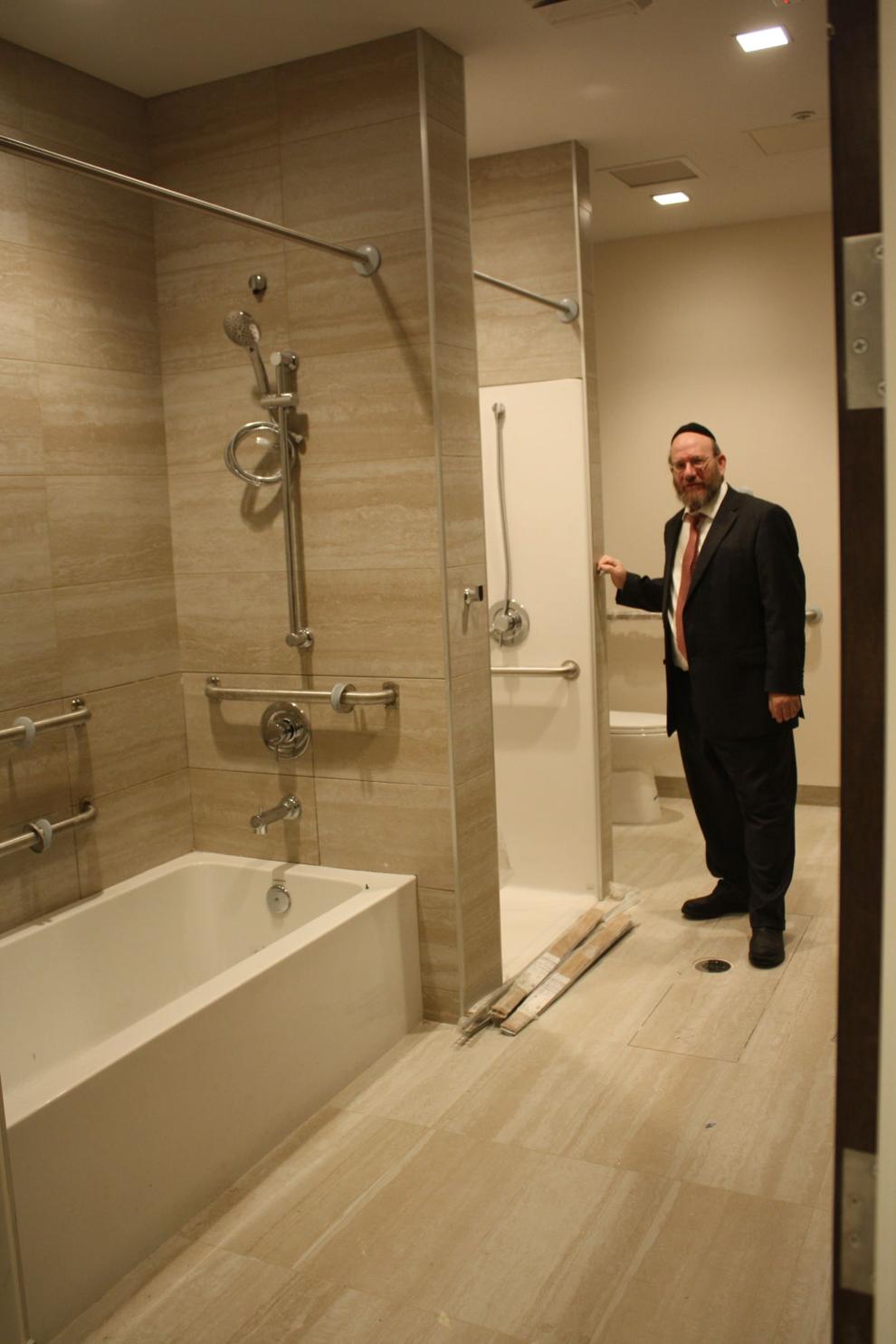 It will open for business sometime after Pesach, said Adler, who is attempting to raise the final $150,000 in a $4 million capital campaign to pay for the building. To bolster the coffers, a $1 million loan was used as part of that total.
Planning for the mikvah began in 2015. Each step has taken a little longer than planned, partly because of the complexities in constructing a building that, by design, entails inherent challenges in the areas of plumbing, heating, ventilation and air conditioning.
"Building a mikvah is more expensive than building a surgery center," said Jeremy Steiger, building chair of the Cleveland Community Mikvah. "It's not something that your average architect or engineer has ever built before. So there's a learning curve. … We spent a lot of time talking about things in a theoretical way so that we can get all the engineering correct on it, get all the architectural work correct before we execute it. That was time well spent. It's an expensive project. You don't want to rush it. You want to get it right. You're dealing with people's tzedakah money and you have an obligation to the community also to not make mistakes on anybody's dime."
Steiger said the building does not have a specific life span.
"The building was built with really high-grade commercial equipment, he said. "It's the type of building that's built to last, everything from the brick veneer to the type of HVAC units we used are built for longevity. So it's something where there's just a really high concentration of really expensive materials, really expensive equipment, and it all serves an important purpose."
The mikvah's plan also expanded as the Orthodox community has expanded in Greater Cleveland.
"We even had to change the plans from the original plans because the community has just grown by leaps and bounds and the other mikvah could not keep up with that," said Rachel Rothner Stark, who is helping fundraise and market the mikvah through social media. "So even that added to that time, but it was anticipated for years and years and years, and it can accommodate growth in the community, which we are seeing."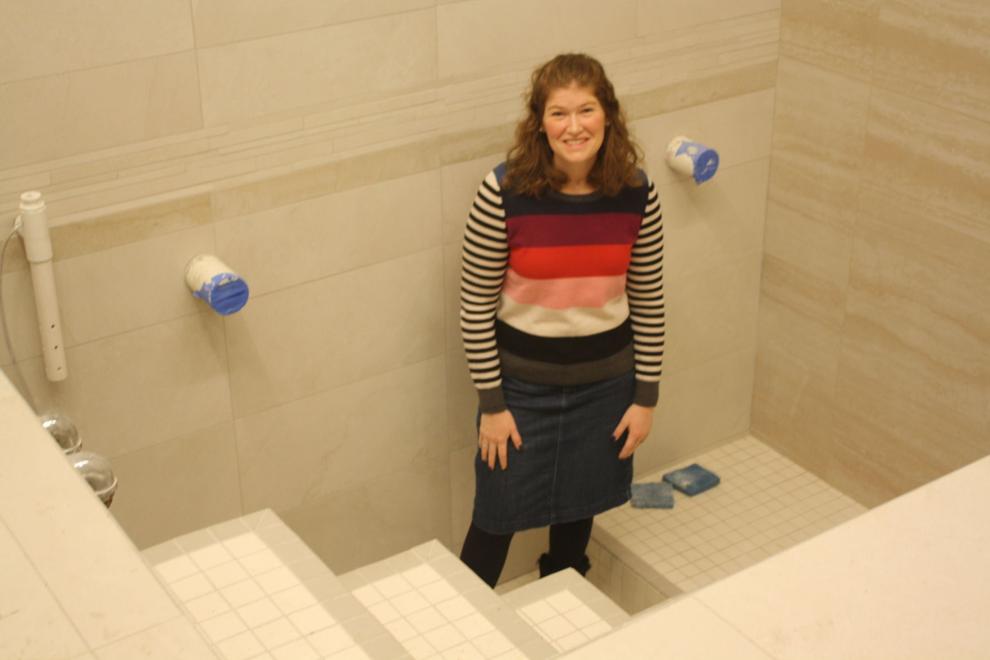 The building is set back on the site, with the parking lot closer to the street. In front of the building are bollards, and the entrance is on the side with an outer vestibule leading through a door to the reception area.
The building is set up along parallel dry and wet halls, with preparation rooms in between them, and the two immersion pools. The dry halls, public space, are carpeted. The wet halls, private space leading to the mikvah, are tiled.
"We found some hiccups, hurdles that kind of thing, but all in all I'm pleasantly surprised and satisfied with the way everything has gone," said Ray Millstone, field superintendent for Millstone Management Group in Chester Township. "The MEPS (mechanical, electrical and plumbing) were definitely a huge obstacle in this for us. … I can tell you that the way this building was constructed, the amount of engineering that's gone into it, it should last longer than all of us."
Workers were preparing to install floor grouting on Feb. 10.
In addition, James McReynolds, University Heights building commissioner, conducted the electrical inspection.
"This is for the electrical inspection only," he said. "We're not ready for the final."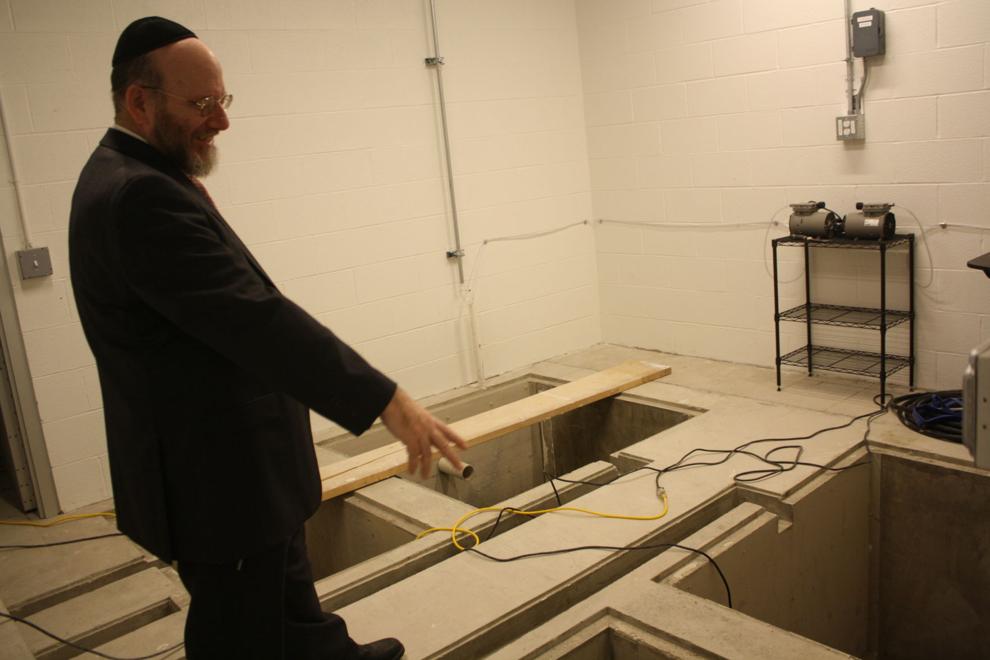 McReynolds said the building is likely to get a temporary certificate of occupancy at first, since the landscaping won't be finished until after the construction is complete.
"There's still the landscaping," he said. "That would have to be completed before we give the full (permanent) certificate of occupancy. So what we're planning to do is give a temporary certificate of occupancy, which means that there's no hazards and everything pretty much is done. "
The mikvah will be open at night, typically two to two and a half hours, Adler said.
Women will be able to schedule their appointments online or over the telephone. There will be a receptionist, two attendants and a cleaning woman staffing the mikvah. Each use will cost a woman $25.
"A new mikvah in this city is very important because you want the latest state-of-the-art finishes," said Stark, who belongs to Green Road Synagogue. "You want a clean, nice, spa-like experience. You want it to feel fresh. You want to be excited to go. You don't want to dread going to somewhere where maybe it's not the cleanest or that there's been issues with chlorine regulation and that's not so pleasant for women. You don't want to sit there and wait a long time when your kids are at home or you're paying a babysitter. We've more or less guaranteed that there will be zero wait time, a pleasant experience, a clean experience, a spa-like experience."
Cleveland Community Mikvah
Stark said she wanted to work on the mikvah for several reasons.
"I was excited to participate because it was a project for the women," said the mother of five and Beachwood resident. "This is not going to be a mikvah for men. This is not a mikvah for dishes, and it was really important to back up something that was just for women. The committees were women, one of the main architects was a woman. And the women worked on the design and they worked on the finishes, and they were very heavily involved in discussions and conversations from the architecture and planning stage through the social media, through the marketing through the finished project."