When Rabbi Joshua Caruso of Anshe Chesed Fairmount Temple in Beachwood first received an email from Elroy Amrani and Yonatan Mozison, he thought it could have been a scam.
It was kind of odd that the Tel Aviv couple was attempting to get in touch with a Northeast Ohio rabbi to convert their soon-to-be born baby here – essentially meaning, as Caruso notes, a baby with two Israeli fathers would need to come to the U.S. to become Jewish. 
He said he soon found the request was completely serious, potentially necessary for the baby to have "right of return" in Israel and  a special process on which he was about to embark. 
"It was clear these were real people who really wanted to be parents," he said. 
Elroy Amrani, 37, and Yonatan Mozison, 31, are life partners who have been together for five years and have tried to have a baby via surrogate for more than three years. Same-sex marriage is not legal in Israel, nor is adoption or having a baby via surrogacy for same-sex couples. 
They reached several dead ends with potential surrogates, including securing a surrogate in Nepal in 2015 that did not work out due to a massive earthquake that led the country to close its doors to surrogacy. The couple then signed a contract with an agency in Mexico, which they said was also closed off for surrogacy soon after. 
"Since we dreamt about it for a long time and we were still in the process, we decided even though it would cost much more money, we wanted to continue," Mozison said via telephone from Tel Aviv, adding they then decided to try to identify a surrogate in the U.S. 
DREAM COME TRUE
Eventually, via an agency, they connected with Summer LoPresti, a non-Jewish mother of two based in Brooklyn, Ohio. They secured a non-Jewish egg donor in South Africa, meaning both via surrogate and biological mother, the baby would not be born Jewish. 
Once LoPresti became pregnant, the couple planned to come to Northeast Ohio for the birth. Since the baby would need a Jewish identity card to ensure his right of return in Israel, they sought to meet an
LGBTQ-friendly rabbi in the Cleveland area. That's when Caruso received the email and he soon set up a Skype session with the couple.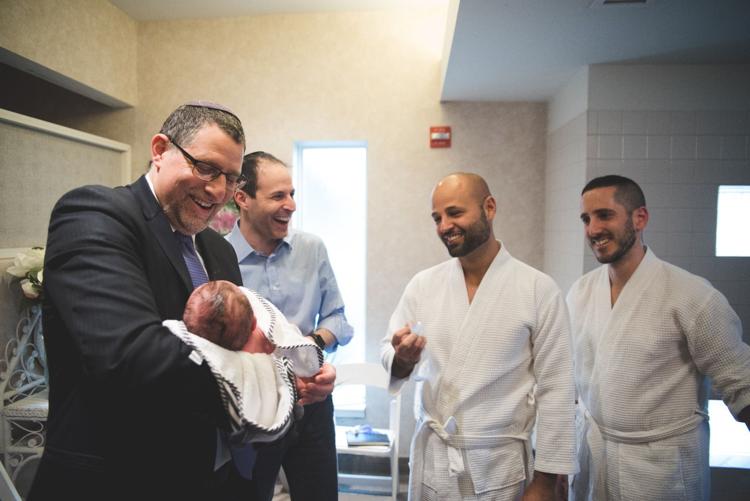 The couple stayed in Berea in the days leading up to LoPresti's due date. Caruso met them in person at Tommy's Restaurant in Cleveland Heights, which he chose since the couple is vegan. 
The couple said although they stopped in New York City for a fun trip before coming to Cleveland and becoming parents, they found that Cleveland was the place they could finally relax and make meaningful connections. 
"We traveled all over the world – a lot of countries in Europe and countries in Asia – but Cleveland was one of the best places," Mozison said. 
A 'BIG' BABY
Amrani and Mozison's son, Atai Amrani-Mozison, was born via emergency C-section March 24 at University Hospitals Rainbow Babies and Children's Hospital in Cleveland. He was a "big baby," they said –
at 9 pounds, 4 ounces – and due to complications during birth was placed in the NICU.  
"I think she did something very heroic for us," Mozison said of LoPresti. "We really cried when we saw her cry in the delivery room."
Just a few days later, the family of three had an outing to Caruso's home for a Passover seder. 
The conversion was April 15 at the Charlotte Goldberg Community Mikvah at Park Synagogue in Cleveland Heights. Although Atai was circumcised in the hospital, the conversion process for babies consists of a ritual of a pinprick of blood from the area of circumcision and immersion in a mikvah. Dr. Justin Lappen, an OB-GYN and certified mohel – one who is certified in the circumcision ritual – assisted. Caruso also asked his colleague, Rabbi Scott B. Roland of Congregation Shaarey Tikvah in Beachwood, in a somewhat vague manner, to assist. Only after Roland agreed, Caruso elaborated on how unique the situation was. 
"I was excited but still didn't understand just how special it was going to be until I got there and met them," Roland said. "They are just so happy, they were just radiating with joy that this had finally happened for them." 
The couple diligently documented the conversion via photos, a video circulating on Facebook, and a certificate signed by the rabbis, both for the memories and to prove Atai's Judaism upon return to Israel.
"That's sort of their license there (in Israel) to be able to not just have a card that identifies you as a citizen, but as a Jewish citizen," said Caruso, adding that LoPresti as well as a photographer were at the conversion. 
In the video, Amrani and Mozison are shown with Atai in the mikvah. After repeating the prayer, the rabbis asked the fathers to dunk Atai twice to complete the conversion process. Amrani at first is hesitant to put the baby's head underwater, afraid he could stop breathing, to which Roland replies, "It's hard to be Jewish, you have to get him all the way under." 
IMPOSSIBLE IN ISRAEL?
Roland said such a conversion may have been difficult, if not impossible, in Israel. 
"Being that the surrogate mother is not Jewish, it would have been difficult to find a rabbi who could legally perform a conversion in Israel (or) who would for a gay couple," he said. 
Amrani said they wanted to ensure their son's Judaism not only for his life to be easier in Israel, but also because of how the religion and culture defines their lives, despite discrimination they face from some in Israel who consider them "not good Jewish people" because they are gay. 
"We believe in the power of God, that someone created us, and it is amazing to share our Jewishness with our son and his family one day," said Amrani, adding it was especially meaningful to have in Caruso and Roland a "rabbi who doesn't judge you and criticize you, (but) who gets you even closer to the religious life, instead of taking you far from it."
"You can't believe how exciting it was to see everybody happy for us," he said. 
RETURNING TO ISRAEL
Days after the conversion, Amrani, Mozison and Atai returned to Israel eager to introduce Atai to their own families. Now more than 2 months old, Atai is doing well. Amrani and Mozison joke about how many people and processes in different countries were involved in his birth. 
"Our baby is kind of from all over the world," Mozison said.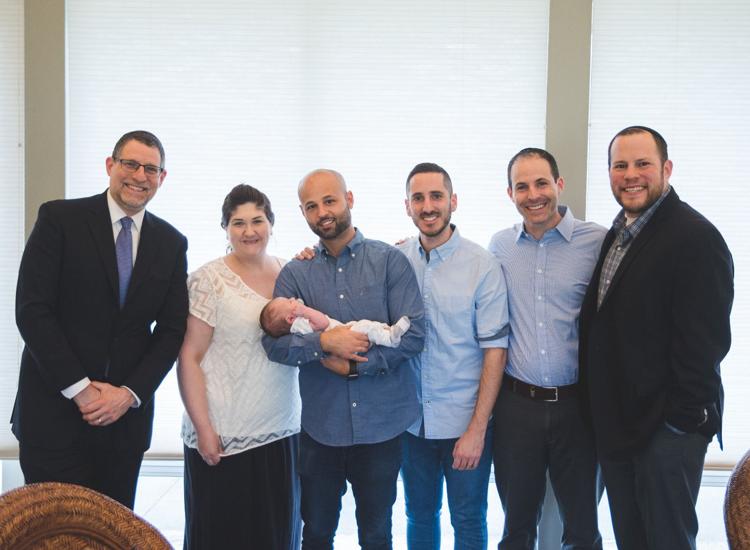 The couple said the culture in Israel is "kind of gay friendly," however, "without any laws that prove it." They said the Israeli authorities are "taking their time" to recognize Atai as a citizen, however they are working with lawyers and believe he will be approved. With the Tel Aviv Pride parade taking place June 8, the couple said demonstrating to the government the need for equality is vital. However, they are not optimistic things will change soon.
Not lost on the couple – or the rabbis – is the irony of Atai having to become Jewish in the U.S. despite both of his parents being Jewish Israelis. Roland said he's hopeful such a partnership between American rabbis and couples like Amrani and Mozison will become more commonplace in such situations. 
 "The opportunity to do this for such a special family and for an Israeli couple, it's one of the more unique and special and honorific things I get to do in my work, and I hope these men will be an example for others who want to partner with Americans and American rabbis to start their Jewish life together," Roland said.