Congregation Shaarey Tikvah, Menorah Park and Montefiore will all be contained within an eruv, a bounded space that will extend from Cedar Road south to westbound lanes of Shaker Boulevard and from Richmond Road east to the edge of Interstate 271.
The new eruv in Beachwood, or designated domestic space, will be marked by power lines and utility poles, and will connect to the existing Cleveland Eruv along its easternmost edge, Richmond Road.
An eruv has a single function: It allows observant Jews who would otherwise not carry or push objects outside their homes on Shabbos to do so as long as they are within its confines.
Cheryl Gordon, Orry Jacobs and Carol Stein, all members of the Beachwood East Eruv Society, said they have been working for the past year with a Teaneck, N.J., rabbi who is an eruv consultant to design the Beachwood East Eruv. They also applied for and received nonprofit status.
Now the group is attempting to raise $25,000 to install lechis, or virtual doorways, and to pay for supervision, maintenance, weekly inspections and other costs associated with safeguarding the Beachwood East Eruv.
"We hope to get it installed in October," Jacobs said, with certification coming soon thereafter.
The Cleveland eruv
Cleveland's existing eruv is one of the largest in the country, according to the Cleveland Eruv Society. It binds portions of Beachwood, Cleveland Heights, Shaker Heights and University Heights, roughly from Mayfield Road south to Chagrin Boulevard and from Coventry Road east to Richmond Road.
But, to date, it hasn't included the two Jewish assisted living facilities in Beachwood or Shaarey Tikvah.
"The expansion is going to be good for the city," said Miriam Berkowitz, treasurer of the Cleveland Eruv Society. "It's going to include Menorah Park, and it's going to include other areas, which will help bring more housing available within the eruv."
The Cleveland Eruv was started in the 1980s, Berkowitz said, and has expanded over the years. One of the latest expansions, she said, added Oheb Zedek Cedar Sinai Synagogue in Lyndhurst.
"There are a lot of expenses," Berkowitz said. "We have our weekly checker, we have insurance, we have a maintenance company that fixes the poles. People don't realize that things break. Landscapers could have hit a pole. … Car accidents misalign a pole. All of these things have to be fixed. The public doesn't necessarily hear about it because we just fix it.
"We have our website. We have our phone line, a hot line that people can call every Friday. They find out the status whether it's up or not up."
Immediate impact
"I think this is really exciting for our congregation," said Rabbi Scott Roland at Congregation Shaarey Tikvah. He said some congregants have grandchildren who are observant and they hope to be able to bring their grandchildren to Shaarey Tikvah.
"Though Conservative synagogues haven't traditionally made a big deal over the mitzvah of eruv, I think it's a great opportunity and a great opportunity for our congregation as they're considering our learning, our Shabbat observance and how this might affect our members personally in their own Jewish practice," he said.
Roland said it is his preference to live within an eruv.
"I was told when I first came here that this was a possibility and a likelihood, and I'm just thrilled that now three-and-a-half years since I moved here that my home will be included in an eruv," he said.
Rabbi Howard Kutner is the director of spiritual living at Menorah Park and the head rabbi at the campus.
He abides by the no-carrying rule in Jewish law on Shabbos.
"So that means, because once we cross over Richmond Road, the current eruv ends," he said. "And I'm not able to carry anything on Shabbat in my pockets or in my hands, which would mean you can't carry your tissues. And you can't carry keys to the house. On a very, very hot day, you can't carry a water bottle. If you wanted to carry a book to use at services, you can't carry a prayer book or your tallit bag."
Kutner said Orthodox or observant Jews who wish to visit their families at Menorah Park or Montefiore can't push strollers.
"If they come to visit, they were in the same predicament that I was," he said. "They were not able to carry anything in their pockets. Or if they wanted to take a grandchild to their grandparent, they weren't allowed to push the baby carriage or the stroller because pushing the stroller is the same thing as carrying."
"Now, if the eruv will cover those areas on the other side of Richmond Road and it'll encompass the entire Menorah Park campus, then … these families will be able to take strollers, children, things in their pockets, maybe a bag of food they want to take with them – they want a snack later on," Kutner said.
Some may not wish to cross the line into the expansion because they believe it does not meet standards to be kosher, but Kutner said he trusts that it is.
"Not everybody may be in agreement, but I spoke to a number of the community rabbis in the Orthodox rabbinate here in Beachwood. They have given me their approval and their endorsement, that this eruv is in fact a reliable, kosher eruv. … So, even though not everybody's in agreement, we're going to go with this."
Rabbi Akiva Feinstein, director of spiritual care at Montefiore, said the linkage is important to families and to residents.
"Cleveland has been blessed with a very nice eruv that connects Cleveland Heights, University Heights and Beachwood and makes a lot of things possible on Shabbat," he said. "But from a nursing home perspective – Montefiore, Menorah Park – we've always been outside that eruv. We have a very nice eruv that surrounds our whole campus. So the idea of connecting our campus to the greater eruv through this extension is a tremendous thing. We feel that it's a very common need that we have a sick person in our facility who would like to bring food or transfer stuff between the neighborhood and the nursing home, and they are not able to do that on the sabbath. So, having this eruv extension will be very beneficial."
The Beachwood East Eruv
Rabbi Chaim "Howard" Jachter will be the supervising rabbi for the Beachwood Eruv once it is installed. He will certify it initially as well.
The key question was how to accommodate bodies of water, which under most circumstances aren't permitted in the eruv.
"We would allow this because it adds to the aesthetics of the community," Jachter said, who works as an eruv consultant across the country. "You have to get the permissions, a little bit of construction that we have to do. We have a good group of people involved. We're making it happen. We look for solutions."
Jachter said the Beachwood East Eruv Society has a simple goal.
"We want to be good neighbors on all levels," he said.
Jachter first connected with the group when he was a guest speaker at Young Israel in June 2018. About a year later he returned to survey a route for an extension of the eruv at the invitation of the Beachwood group. At that time, he met with Rabbis Binyamin Blau, Naphtali Burnstein and Ari Spiegler.
Meanwhile, in March the group incorporated in the state of Ohio, and in June gained nonprofit status.
Motivation for the eruv
Gordon, Stein and Jacobs all have children and grandchildren who would benefit from an extension of the eruv. All three live east of Richmond, just over the current line.
They speak of wanting to be able to host guests for whom the lack of an eruv is a barrier.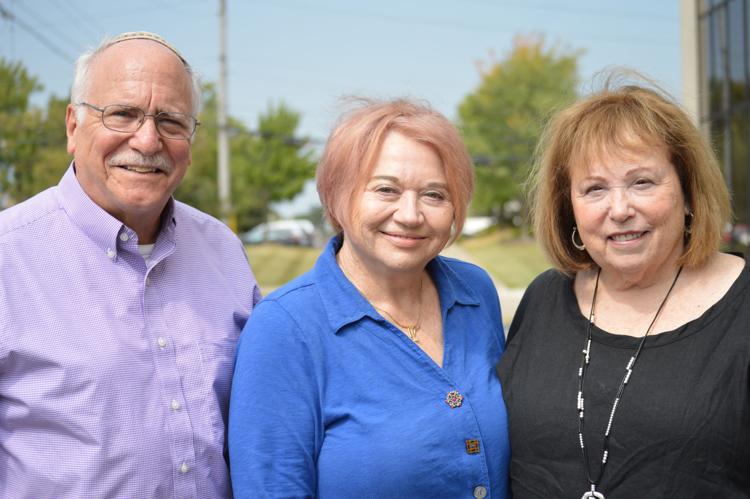 "Essentially, it's part of a viable cohesive Jewish community," said Gordon, who relocated to Cleveland from El Paso, Texas. "In my view, it's minimally or even noninvasive way to improve their quality of life. … I think it's a requirement in a healthy Jewish community to have this because I believe in everyone feeling comfortable."
Stein, who is president of the Beachwood East Eruv Society, sees another benefit.
"I believe it is a hardship for the Cleveland Orthodox community to be so boxed-in, and … one of my aspirations is that this will open up housing options without the inflation – the boxed in housing inside the eruv, the prices are just skyrocketing. Not because the house itself is any different than a house elsewhere but because there's a shortage. So, for our community as a whole, I think it's a really good thing to allow for additional housing options."
Jacobs, the treasurer, agrees with that sentiment.
"The community has been heading east, but the eruv is serving as somewhat of a barrier for Orthodox Jews who want to look on the eastern side of Richmond because it's not in the eruv," he said.
He said he also feels strongly about the benefit to families who want to visit residents at the two nursing homes – or the apartments off of George Zeiger Drive near Beachwood Place.
"We need to have an eruv," he said. "We need to make it easier for families to visit one another, visit the residents of the nursing homes on Shabbos if they choose to do so."