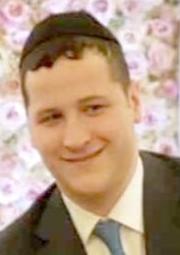 Yossi Kohn of Cleveland Heights, who was among the 45 people killed in the April 30 tragedy during a Lag b'Omer festival at Mount Meron in Israel, was remembered as a caring man who reached out to others, even in his final moments.
"My sons were at the funeral in Israel and called to say how exceptionally inspired they were after hearing the eulogies," Rabbi Simcha Dessler, education director of Hebrew Academy of Cleveland in Cleveland Heights, a Cleveland suburb, wrote in an email to the Columbus Jewish News May 3.
Kohn, 21, was the son of Chaya Gitty Kohn and the late Menachem Kohn. Chaya is the seventh- and eighth-grade principal at the Hebrew Academy's Beatrice Stone Yavne High School in Beachwood, another Cleveland suburb.
He attended Mosdos Ohr Hatorah, which is now Yeshiva Derech HaTorah, in Cleveland Heights, and then Telshe Yeshiva in Wickliffe, also in Northeast Ohio. Kohn was in Israel studying toward ordination at Yeshivat Mir in Jerusalem.
More than 150 people were injured during the stampede, where more than 100,000 worshipers had gathered.
Kohn was buried May 2 in Bnei Brak, Israel. The two-hour funeral was attended by thousands and was livestreamed.
"To me, especially compelling and a tribute to both his character and to that of his mother who raised him as a single parent, was in the feedback provided by peers who were with him in his final moments," Dessler said. "They shared a number of examples how he physically made room for others, how he gave up his water bottle to someone in need and how he went out of his way to help a friend who had an allergic reaction. Amid the horrific tragedy emerges a living memorial, an incredibly meaningful lesson that Yossi continues to teach us all."
Rabbi Mordechai Kaplovitz, a friend of the family, told the CJN Kohn was a "very honest, straightforward young man" and was a caring individual who went out of his way to assist others.
"He was very helpful whenever any of the neighbors needed any help with putting up a sukkah or taking down a sukkah," Kaplovitz said, adding Kohn did heavy lifting as well.
Dessler sent a statement to families of the academy:
"The Torah world was shocked beyond words to hear of the horrific tragedy that took place in Meron," Dessler wrote. "Particularly heartbreaking is when such news hits closer to home. … Words alone could never express our deepest pain and heartfelt condolences to the Kohn family upon their devastating loss. Yossi was particularly blessed with a unique sense of … charm. He endeared himself to all, was beloved by all and will be remembered by all.
"Lag b'Omer is the day that we celebrate the resilience of Klal Yisrael (the people Israel) who lost 24,000 (students) of Rabbi Akiva and immediately proceeded to build a new world of (scholars).
"As we usher in Shabbos, the day of (rest), let us all think of and (pray) for the countless families who are also ushering in Shabbos, but sadly, without their loved ones."
Just as news of the tragedy had traveled to the U.S., Dessler told the CJN April 30 Kohn "endeared himself to whoever he met – so much so that one individual posted after his passing that he only met him once in his life and he feels like he was a friend for life, which is something unique about him."
The stampede erupted around 1 a.m. as people began to leave and thronged a narrow, tunnel-like passage, and according to witnesses, people began to fall on a slippery ramp, causing others to trip and sparking panic, according to The Associated Press.
Kohn's father died several years ago in a car crash in New York's Catskills.
"His family's been through a lot," said Dessler, who was on his way to visit Kohn's mother in New Jersey, where she was ready to board an El Al flight to Israel for mourners the evening of May 1.
"I'm going to meet her … just to offer whatever humble consolation that I could to let her know that the community is there for her," he said.
In addition to his mother, Chaya Gitty Kohn of Cleveland Heights, Kohn is survived by three brothers: Ari (Ahuva Stepner) Kohn, Pinchos (Esther Schondorf) Kohn, both of Lakewood, N.J., and Moshe Kohn, who is a student in New Jersey; and five sisters, Kayla (Elimelech) Leshkovitz, Malya (Heshi) Blumenfrucht, Chavi (Yosef) Blumenkrantz, Esther (Meir) Landau, all of Lakewood, N.J., and Sorah Kohn of Cleveland Heights.
The family belongs to K'hal Yereim in Cleveland Heights.