There was no shortage of standing ovations and roaring applause when the Cleveland Heritage Medal honored its three 2022 recipients – Milton S.
Maltz, Alex B. Johnson and Joan E. Southgate – with a celebratory dinner and program on Nov. 17 at the Cleveland City Hall Rotunda.
With music provided by Saint Cecilia Strings, attendees enjoyed a cocktail reception, dinner and program. Each honoree was presented with a medal, which recognizes individuals who have made impactful contributions to the welfare and development of Greater Cleveland and its citizens. According to the event program, recipients are "true role models," and represent the core values of service to others, teamwork, courage, respect, inclusion and diversity.
Created in 2016 and modeled after the Presidential Medal of Freedom, each year's recipients are chosen by a nomination and selection committee made up of community and corporate leaders, and also taken from community nominations.
In opening the program, event emcee Russ Mitchell, anchor and managing editor of WKYC, invited Cleveland Mayor Justin Bibb to address attendees ahead of the program, speaking of architect Daniel Burnham's 1903 Group Plan with Arnold Brunner and John Carrère to beautify and raise the standards of city living, including the construction of Cleveland City Hall as part of the Cleveland Mall. Bibb equated this plan, which strived for the betterment of city centers in metropolitan areas like Cleveland, to the event honorees who work towards the same goal in different ways.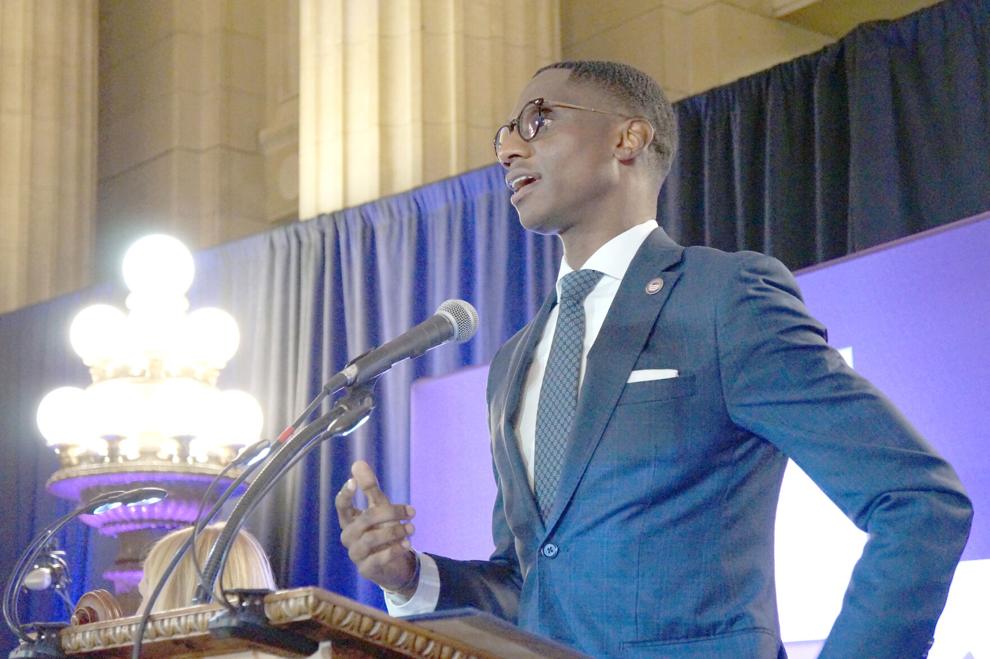 "In many ways, Burnham's plan represents the bold, audacious, amazing visionary civic leadership this city has always had," he said. "And this evening's honorees are a fitting tribute and symbol of that great civic vision. Dr. Alex Johnson, Milton Maltz and Joan Southgate – you truly represent the best and brightest of our city. On behalf of our residents, congratulations on a job well done."
The Rev. Courtney Clayton Jenkins of the South Euclid United Church of Christ led attendees in an invocation, followed by dinner.
"We come before you today because, within our community, you have placed three pillars that have made us better," Jenkins said in her prayer. "A pillar of education in Dr. Johnson, a pillar of faith in Mr. Maltz, and a pillar of freedom in Mrs. Southgate. When communities are committed to education, faith and freedom, they are better. ... Today we give thanks, praise and honor because you saw fit to place down in our city the pillars that make us remarkable."
Mitchell took to the stage to recognize the past 24 winners, with Maltz, Johnson and Southgate making up its seventh class and rounding out the total number of honorees to 27.
In presenting the awards, Mitchell read each honoree's bio from the event program while a photo slideshow of their lives and contributions to Cleveland played for attendees.
PHOTOS: Cleveland Heritage Medal honors 'true role models'
Maltz is the co-founder of the Maltz Museum in Beachwood, in 2005, alongside his wife, Tamar, and also created Malrite Communications Group, Inc., in 1956, which became one of the most successful radio and television companies in history before it was sold to the Walt Disney Company and Raycom Media in 1998. He also helped create the International Spy Museum in Washington, D.C., and the Maltz Jupiter Theater in Florida. Throughout his life, Maltz has held both local and national roles in many nonprofit and civic organizations. He and Tamar were honored by the Cleveland Jewish News in 2019 as recipients of the CJN 18 Difference Makers Sam Miller Lifetime Achievement Award.
Johnson is president emeritus of Cuyahoga Community College, a role he served in from 2013 until his retirement in 2022. Before leading Tri-C, he also served as president of the Community College of Allegheny County in Pittsburgh; chancellor of the Delgado Community College in New Orleans; and president of Tri-C's Metropolitan Campus. Johnson has also served on several local boards and citywide committees.
Southgate is a retired social worker who went on a 513-mile walk of the Underground Railroad at 73 in April 2022. The path went through Ohio, Pennsylvania, New York and Ontario, Canada. Along the way, she gave presentations at schools and visited Underground Railroad sites. Since the walk, she established Restore Cleveland Hope, a grassroots nonprofit dedicated to telling the story of Cleveland's role in the Underground Railroad. Through the organization, she has preserved one of the local stops, the Cozad-Bates House in University Circle, which was scheduled to be demolished for a parking garage. It is now home to the Underground Railroad Education and Resource Center.
Once all honorees were presented with their awards, the crowd gave one last standing ovation.
"We thank you all for, once again, being a part of this and for coming tonight," Mitchell said in closing.