About 500 to 550 COVID-19 patients were in hospitals in Ohio last week. This week, about 650 COVID-19 patients are hospitalized.
This isn't the number of admissions each day, but the number of patients in beds, Ohio Gov. Mike DeWine said during a June 29 press conference. 
The number of standard hospital beds occupied by COVID-19 patients had peaked in late April and early May at about 1,000 and reached a low of 513 on June 20, DeWine said.
The increase in hospitalizations is most apparent in the Cleveland, Cincinnati and Dayton regions, he said.
No region has reached the concerning threshold of 80% capacity, DeWine said, but this can fairly quickly change, as has been evident in New York City, Houston and Arizona.
Since testing has now expanded beyond those who are exhibiting symptoms and anyone can get a test, health officials would expect the positivity rate of tests to drop, DeWine said. If the spread of the virus remained at a low level, more testing should show a lower positivity rate because there wouldn't be as many cases to pick up with testing.
While the positivity rate has not gone up dramatically since expanding testing, it has not dropped, which would indicate we are seeing an increase in COVID-19 community spread in Ohio, DeWine said. 
"When we started this (COVID-19 testing), we were very restrictive in regard to who got tested for many, many reasons ... so the people who were tested were people who had symptoms. You had symptoms, you got tested," DeWine said. Today, anyone can get tested, "so when you go from a group of people who all have symptoms, to a group of people who maybe some have symptoms, one would assume that if everything is staying equal, that as you expand your universe, the (positivity rate) is going to go down. Our number has not gone down; it has gone up a little bit."
The positivity rate was reported at 5% on June 27.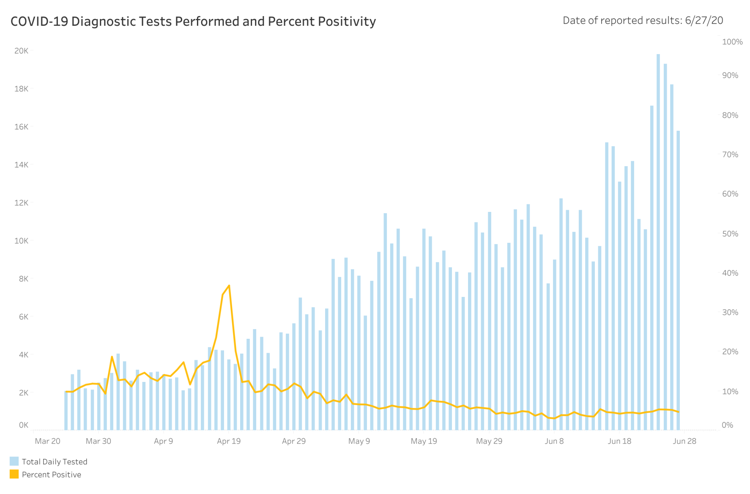 The governor said they remain concerned about Hamilton County, which was highlighted in the June 25 press conference. At the end of May and into early June, Hamilton County was holding steady at an average of 30 cases per day per 100,000 population. As of this past week, the average new cases per day increased to approximately 100 cases per 100,000, DeWine said. Due to delayed diagnosis, this number may be higher.
In Montgomery County, there is a noticeable increase in cases over the last month from an average of about 10 cases a day at the end of May, to about 40 cases a day in the most recent week, DeWine said.
Vice President Mike Pence said in a June 29 phone call that the federal government would provide additional help to Hamilton and Montgomery counties, DeWine said.
Health experts are using seven different metrics to determine what precautions need to be taken in different counties or regions, DeWine said. Montgomery County is going the wrong way on four of the metrics, and Hamilton County on five. 
"We're not liking what we're seeing in Cuyahoga County either, but they haven't reach that stage, according to the health people who are looking at this data every single day," DeWine said.
Franklin County has the highest number of COVID-19 cases in the state, with 8,982. DeWine said it's not that they don't have a concern about Franklin, but that it is not in the top tier today.
They will continue to watch the numbers and will alert residents of these counties and surrounding counties to let them know the data is not looking good, DeWine said.
One way to impact the numbers and trends is increased testing, but the most important thing we can do is what individual Ohioans do, DeWine said
"If we want to be able to go out and live our lives, this mask is a symbol of freedom," DeWine said. "It's a symbol of freedom because if we wear these, if we get 75% to 80% of the people who are out in public who are wearing this mask, we are going to see these numbers get better."
Any restrictions on businesses and gatherings – such as those implemented in other states that have seen recent surges – will not have to be put in place if most Ohioans wear masks in public, DeWine said.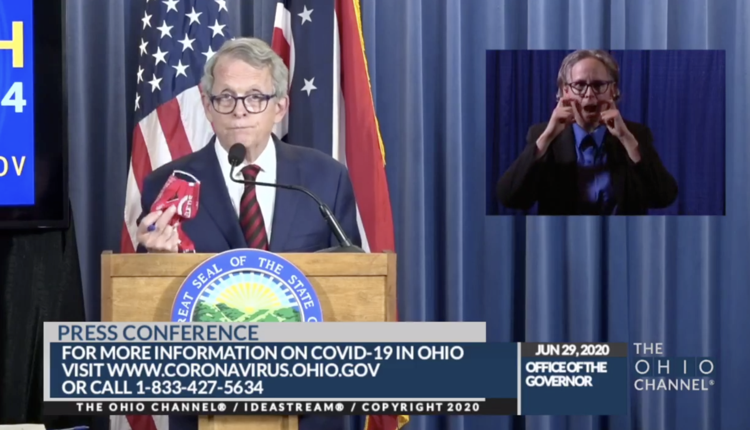 The state will be announcing plans for the upcoming school year on July 2, DeWine said, so existing health orders will be extended through the week.
DeWine said the seven metrics the health experts are using also will be further discussed on July 2.
Ohio has 51,046 total cases of COVID-19 and 2,818 total deaths, the Ohio Department of Health reported June 29.
The total number of individuals who have been tested in Ohio is 770,860.
The ODH reports 7,746 individuals have been hospitalized, and 1,961 have been admitted to the ICU due to the coronavirus.
The individuals who have tested positive range in age from less than 1 year old to 109 years old, with a median age of 46.
Cuyahoga County accounts for 6,694 of the cases, 1,437 hospitalizations and 352 deaths.
If you have questions regarding COVID-19, call 833-4ASKODH (833-427-5634) or visit coronavirus.ohio.gov.