The author of an anonymous letter calling a key witness in the Cuyahoga County corruption investigation a "snitch" has been named. 
Cuyahoga County defense lawyer Roger Synenberg admitted June 4 to writing the letter to Huron's city manager May 13 calling Cuyahoga County Auditor Cory Swaisgood a snitch, according to a story by cleveland.com.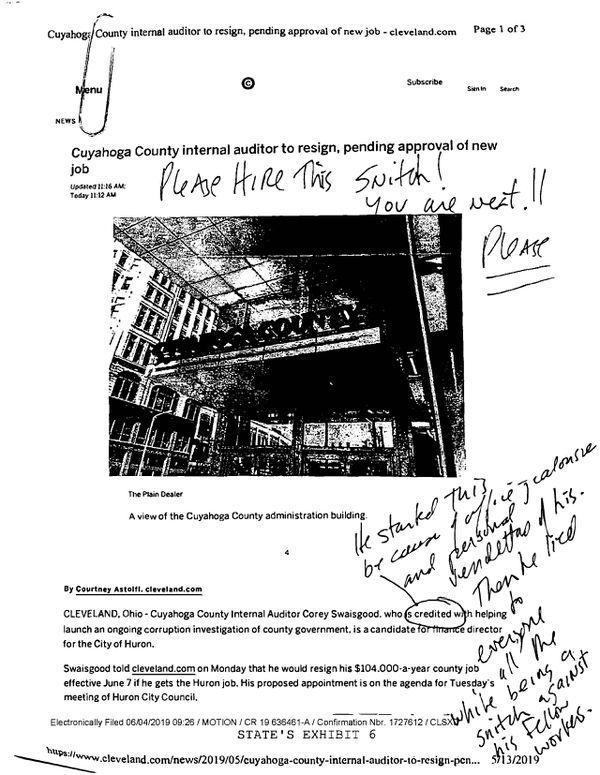 The letter was written on a printout of a cleveland.com story about Swaisgood stepping down from his position as county internal auditor to take over as Huron's finance director, according to court documents. Swaisgood is credited with helping launch the ongoing corruption investigation of county government, which led to the indictment of information technology general counsel Emily McNeeley on contract-steering charges, according to the story. McNeeley was Synenberg's client.
"Please Hire This Snitch! You are next!!" the letter read. "He started this because of office jealousie (sic) and personal vendettas of his. Then he lied to everyone all the while being a snitch against his fellow workers."
Synenberg told cleveland.com June 10 that he reported his conduct in McNeeley's case to the Ohio Supreme Court's Office of Disciplinary Counsel. Synenberg files a motion June 7 asking to withdraw from McNeeley's case.
Synenberg declined to comment to the Cleveland Jewish News for this story.