As COVID-19 cases and deaths continue to rise in Cuyahoga County, Medical Examiner Thomas Gilson is preparing a request for refrigerated units to manage more virus-related deaths in coming weeks.
At the Cuyahoga County Board of Health briefing Dec. 4, county leaders explained how COVID-19 has surged at an unprecedented level in the last month, leading to the request for refrigerated units and needing to triage patients in hospitals and contact tracing.
"Unfortunately, the numbers in our county continue to rise and the hospitals continue to be strained," said County Executive Armond Budish.
Gilson said ordering the refrigerated units will be a "proactive measure." He said the death threshold that his office relies upon is three sustained days of 30 or more deaths, which was achieved in the last week. That means the office's disaster plan kicked in and the request for the refrigerated units will be submitted to the state through an emergency management agency. He hopes they will arrive sometime next week.
Funeral homes are "busy, but not overwhelmed" yet, Gilson said.
Cuyahoga County was placed on the COVID-19 "watch list" on the Ohio Public Health Advisory System, according to data released Dec. 3. The county qualifies for the purple level – the highest level on the system – but must stay on the watch list for two straight weeks before it is moved up.
The county has averaged over 600 cases a day the past week, Board of Health Commissioner Terry Allan said, while there are 200 cases a day for the city of Cleveland (which reports separately from the county board of health) – meaning there are over 800 cases county-wide each day this week. Each person testing positive typically has about two to three contacts who are at risk, meaning the numbers will grow.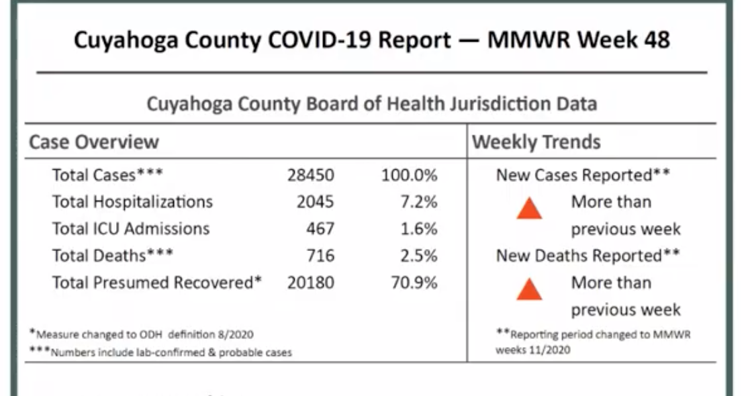 The county is now seeing over seven-times the rate of high incidence of the virus as outlined by the Centers for Disease Control and Prevention. Hospital visits are increasing, and hospitals are triaging to help the most urgent, deadliest cases first. Beds and staff shortage are major concerns, he said.
Romona Brazile, Board of Health co-director of prevention and wellness, began crying as she described the rise in cases and the need to triage medical care as a result – "despite everything we are doing, it wasn't going to be enough," she said she realized during the latest surge.
"I knew when we saw those cases we would have to begin triage," which she said as a nurse is "horrifying," but necessary at this time.
The Ohio Department of Health advises how to prioritize and triage patients and contact tracing, she said. She described how the county has also dealt with a backlog of test results and "some erratic" reporting of cases.
"We want to contact everyone, but we do need the community's help," she said of contact tracing.
Those who test positive for the virus are to immediately isolate and contact all of the people they've come into contact with and could be at risk, as they are likely to be able to get in touch before contact tracers.
Most of the purple-categorized counties in the state are in Northeast Ohio, Allan said. He said "the writing has been on the wall for some time" that Cuyahoga County could go purple, which was a factor in issuing a stay-at-home advisory a couple weeks prior.
"Hospitals have had to delay other medical care to make room for COVID cases," he said. "We are reaching a capacity everywhere … this is very serious business."
Those over 65 should not enter any indoor public or private spaces where anyone is not wearing a mask, he said, describing CDC guidelines. Younger individuals should assume they are carrying the virus and behave accordingly. He said residents should not celebrate the upcoming holidays in-person with people outside their household.
"I'm pleading with everyone to follow the personal protective measures that we all know well," he said, noting masking in public and any private space when interacting with any individuals outside one's household.
This week, the rate of positive tests rose to almost 25% throughout hospitals reporting – an all-time high, meaning almost a quarter of all tests administered by the hospitals reporting are positive.
"We have more than four-fold increased the number of cases we are receiving per day," said Jana Rush, Board of Health director of epidemiology.
Fifty new hospitalizations have been reported this past week, Rush said. More than 700 deaths have occurred since the pandemic began, and 32 new deaths occurred this week.
Geographic and demographic incidences of cases have remained similar over the course of the pandemic. Nursing home positivity rate is now at 14.2%, she said, and also growing.
"Transmission is occurring very rapidly throughout the county," Rush said, adding hospitalizations and death come in the weeks following the influx of positive tests.
Hunger and restaurant assistance
Budish also spoke of challenges restaurants are having during the pandemic, as well as families who are increasingly food insecure. He said the Greater Cleveland Food Bank reported 45,000 families – twice as many as last year – are in need, and noted the county's recent funding to the food bank. Budish is also proposing $500,000 in funding to the Hunger Network of Greater Cleveland, he said at the press conference.
As far as the restaurant industry, Budish announced an extension of funding under the county's Small Business Stabilization Fund created to support restaurants impacted by the pandemic. An additional $1.2 million has been identified and designated from the County's Coronavirus Aid, Relief, and Economic Security Act Funding for grants of up to $10,000 each to restaurants in Cuyahoga County for unpaid rent, utilities and COVID-19 safety-related costs incurred from March 1 to Dec. 31, he described at the conference and sent in a news release.
"Our locally owned restaurants are a key part of our community and our culture. Many of them have experienced terrible losses or closed forever because of the virus," Budish said. "Several restaurants that have applied for and received funding earlier on in the pandemic have exhausted their funding assistance. We are providing an additional $1.2 million in grant funding to help our restaurants catch up on unpaid rent and utilities and any COVID safety-related costs they've incurred."
Grants will be administered by Destination Cleveland and distributed by Cleveland Neighborhood Progress, the release said.
"Destination Cleveland is incredibly appreciative of Cuyahoga County's continued efforts to help preserve the Cleveland experience for residents and visitors alike," said David Gilbert, president and CEO of Destination Cleveland, in the release. "Our locally owned restaurants play such an important role in illustrating our ethnic diversity, history and creativity and help define what makes Cleveland a destination city. We are proud to partner with the County and Cleveland Neighborhood Progress to offer this much-needed relief to our restaurant community."