As Ohio again surpasses its record-breaking coronavirus cases for the second consecutive day, Gov. Mike DeWine called for Ohioans to come together and wear their masks saying that "it is now serious."
Cuyahoga County is among 38 counties out of the state's 88 that have been deemed "red" on the Ohio Public Health Advisory System indicating very high exposure and spread.
The county was also added to the watch list, indicating that it is approaching the "purple" level 4, the highest level in the system. "Purple" indicates severe exposure and spread.
Cuyahoga County is joined with Clark and Hamilton counties on the watch list. DeWine noted that the three counties all qualify for "purple" level 4 but must qualify for two straight weeks before they are moved up.
In addition to exceeding the CDC's threshold for high incidence, Cuyahoga County has a sustained increase in new cases, outpatient visits and hospital admissions. 
DeWine said local health department officials report that they are seeing double the case volume compared to just two weeks ago. They also report that hospitals are seeing increased inpatient and outpatient volume and that social gatherings continue to be a problem.
Former New Jersey Gov. Chris Christie joined DeWine during a press conference Oct. 22 to warn Ohioans that he only let his guard down for a short moment, but it was enough time to contract the virus.
"I thought I was safe, and I was wrong," he said.
He explained he did not wear a mask while at the White House when helping in presidential debate preparations or during an event for Supreme Court appointee Amy Coney Barrett.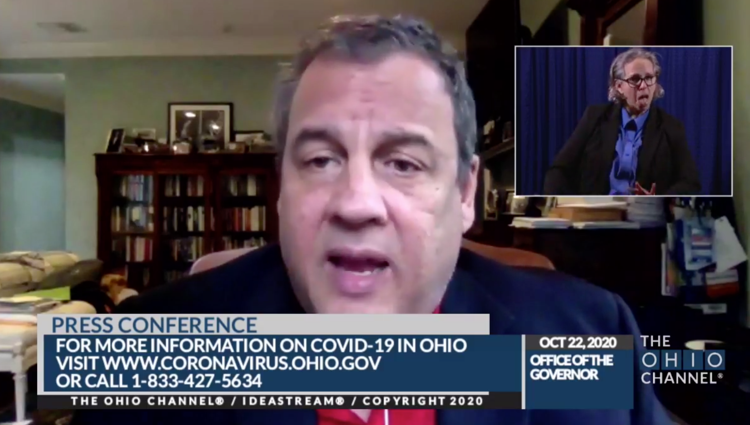 Christie, who tested positive for the virus earlier this month, was in the ICU for more than six days and explained his doctors were not sure if his symptoms would worsen.
"This is one of the most unpredictable random and brutal viruses you'll ever see," he said.
Christie added, "There's no place to hide from this virus if you're not going to take the commonsense steps that the CDC and the NIH have recommended to us."
Ohio has had 190,430 total cases of COVID-19 and 5,161 total deaths, the Ohio Department of Health reported Oct. 22.
The number of reported cases increased by 2,425 from Oct. 21.
The total number of individuals who have been tested in Ohio is 4,044,119. The new daily percent positive cases 6.0%, with a seven-day moving average of positive cases of 5.0%, according to data from Oct. 20.
The individuals who have tested positive range in age from less than 1 year old to 109 years old, with a median age of 41.
The ODH reported 12 new deaths Oct. 22. The median age of those who have died is 80.
The ODH reports 17,682 individuals have been hospitalized, and 3,657 have been admitted to the ICU due to the coronavirus. The median age of those hospitalized is 65.
The ODH reports 155,181 individuals are presumed recovered – defined as cases with a symptom onset over 21 days prior who are not deceased.
Cuyahoga County accounts for 19,706 of the cases, 2,722 hospitalizations and 682 deaths.
If you have questions regarding COVID-19, call 833-4ASKODH (833-427-5634) or visit coronavirus.ohio.gov.