Cuyahoga County Executive Armond Budish urged Ohioans to wear masks July 31.
"The evidence is clear: face masks work," Budish said. "Remember, these are face masks, they're not chin masks, they're not mouth masks – please wear them correctly." 
He used his own mask to exemplify correct and incorrect ways to use the personal protective equipment before taking it off.
"Because there's nobody within six feet," he said, smiling. 
Budish said, in the past two weeks, over 28,000 people have visited the mask map at cuyahogacounty.us/masks to submit and see ratings for personal protective equipment and social distancing compliance at different establishments in Cuyahoga County. 
Budish addressed the upcoming elections.
"Yes, they are on, despite some individuals stating that the elections will be delayed," Budish said. "That is not going to happen, but these elections are definitely going to be different due to our pandemic and we all need to be prepared."
He reminded citizens to get registered and urged citizens who already are registered to check their registration.
"If you've moved or haven't voted in a while you may need to update your records," Budish said. 
That can be done at boe.cuyahogacounty.us/. 
He said applying for an absentee ballot and voting from home is the safest and most convenient way to vote this year. 
"I know there's great satisfaction for people going to the polls and casting your vote in person, but if we can all vote from home we'll keep each other safer during the pandemic," Budish said. "And let me be clear, there is no evidence, in Ohio, that there's ever been widespread voter fraud by mail voting – no evidence of fraud."
He said polling places will be open, but that the Board of Election anticipates Cuyahoga County will suffer from a shortage of poll workers this November. He noted poll workers are often older people most at risk for COVID-19, and without sufficient poll workers, polling places may be consolidated and closed.
"That will lead to long, long, long lines at those that remain open and that's bad for voting," Budish said. "That's bad for all of us, no matter our party affiliation."
Budish announced plans to put legislation before council next week that would allow Cuyahoga County employees to work the polls, get paid for working the polls and get paid for their usual eight hours of work.
He said the Cleveland Cavaliers have declared Election Day a company holiday so that their employees can also man the polls. 
"I want to urge every leader of an organization here in Cuyahoga County, whether large or small, to support the urgent need for poll workers," Budish said. "Please let your employees take the time to work the polls; we need this election to go smoothly."
Board of Health Commissioner Terry Allan said the widespread community transmission of COVID-19 continues in Cuyahoga County and across the state.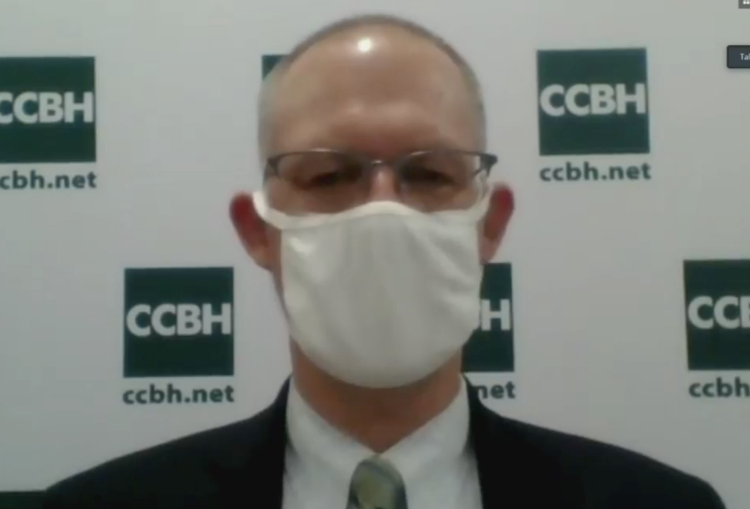 "We're seeing some of the highest numbers, statewide, of COVID reports in Ohio," Allan said, noting Cuyahoga County remains in red level 3, with purple level 4 being the highest level of emergency in regard to COVID-19 cases. 
"Over the month of July we averaged, in our jurisdiction, 120 cases of COVID per day, with over 1,600 in just the last couple weeks," Allan said. "This week, while we've seen a decline in new cases, we continue to average at least 100 cases per day in just our jurisdiction."  
There have been about 2,100 cases countywide over the last couple of weeks which, according to Allan, is almost 20% of Cuyahoga County's total case reports since the beginning of the pandemic. 
Allan reminded citizens influenza season is right around the corner and said continued vigilance is essential.
"We're concerned about influenza and COVID circulating at the same time in the fall, along with other seasonal viruses," Allan said. 
He noted the flu is currently circulating in the Southern Hemisphere in places such as Australia and said good news has been reported there as flu cases are "below average to date this year."
"The positive trend has been associated with the increased use of masks in the Southern Hemisphere during flu season, which protects against flu and COVID, since they're both spread by respiratory droplets," Allan said. "This new information adds to the already existing evidence to support the preventive value of masks in our community and across Ohio."
He said the Centers for Disease Control and Prevention have reported there will be about 180 million doses of flu vaccine available this year and that the United States has the potential to set new records for flu vaccination. 
In addition to flu, Allan said families must get their children caught up on any routine vaccinations prior to returning to school to protect Cuyahoga County's children. 
Board of Health Medical Director Dr. Heidi Gullett said Cuyahoga County saw 717 new cases this week. Last week there were 855; the week before that 919.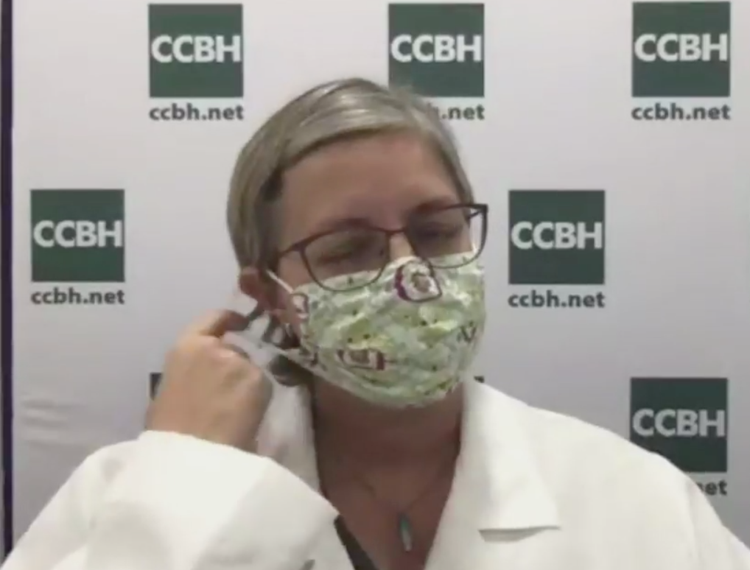 "While this is encouraging that we had fewer new cases this week, the month of July has brought every single week with substantial increases in the number of cases over where we had been every week between March and June," Gullett said. "While this is improving, I want folks to have cautious optimism about where we are." 
Gullett said there were seven COVID-19 related deaths this week. Last week there were 34. 
Gullett said the recommendations the Cuyahoga County Board of Health gives the public are the same ones they give to their families, friends and loved ones, and follow themselves. 
"We care about every single person in this community," Gullett said. "The recommendations we give are based on science and the best data we have, but please understand, the personal challenges associated with these recommendations are difficult for all of us, ourselves included."
Gullett is a parent of two children, one in elementary school and one in middle school, who both attend public school.
"I have been personally, incredibly, deeply into the tension that comes between understanding what is best for the health of the public and understanding what my children need with regard to their learning and their social and emotional development," Gullett said. "I feel that tension every single day and so do parents all over this community, so I want you to understand that these decisions do not come easily for us and we are in them with you as people, as parents and as fellow citizens in Northeast Ohio."
She noted mental health and behavioral health have been a big concern during the pandemic.
"This has stretched every single one of us in ways we probably never dreamed we could be stretched, I know that's true for me, personally," Gullett said. "If you are struggling in any way, it is not weakness. We have resources available for you."
She said those who need support can call the ADAMHS Board of Cuyahoga County 24 hours a day, seven days a week at 216-623-6888 or text '4 HOPE' to 741-741.