The Cuyahoga County Board of Health announced a recent county-wide spike in COVID-19 cases and deaths during a May 22 press briefing.
"The deaths are rising in Cuyahoga County," said CCBH Health Commissioner Terry Allan. "Ohio saw its largest daily increase in cases since May 8 just yesterday."
County Medical Director Heidi Gullett announced Cuyahoga County has 2,084 lab-confirmed cases of COVID-19 and 158 lab-confirmed deaths. CCBH's data excludes Cleveland due to it being out of its jurisdiction.
Cuyahoga County also has 495 probable cases of COVID-19, meaning an individual isn't a lab-confirmed case but has had close contact with someone who has tested positive and exhibits symptoms.
In the county, 893 cases are recovered.
Gullett presented a slide comparing the total cases, deaths and recoveries from March 13 to May 22.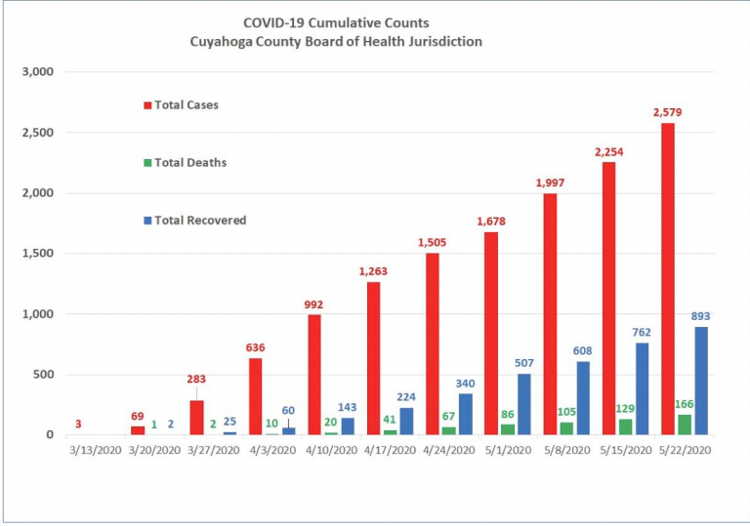 Of those 2,579 total cases (including probable cases), individuals are between 1 week and 101 years old and were infected between Feb. 28 and May 18. The median age for those infected is 51. Those infected are 55.7% female and 44.3% male, Gullett said.
She then broke down race and ethnicity data for the total COVID-19 cases for both lab-confirmed and probable in the county with individuals identifying as white at 48.9%, followed by black at 38.4% and Asian at 1%; 3.1% identified as a different race and race data for 8.6% is unknown; 74% is non-Hispanic/Latino, 2.6% is Hispanic/Latino and 23.4% is unknown.
Breaking down the 158 lab-confirmed case deaths and 10 probable case deaths, individuals are between 49 to 99 years old and passed between March 20 and May 21. The median age for Cuyahoga County's deaths is 79. Half of the deceased individuals are female and 49% are male.
Gullett then broke down race and ethnicity data for the total COVID-19 deaths in the county with individuals identifying as white at 67.2%, followed by black at 23.4% and Asian at 1.2%. Less than 1% identified as other, and 7.4% are unknown. Of the deaths, 84% are non-Hispanic/Latino, 1% are Hispanic/Latino and 15% are unknown.
Gullett then presented a slide containing Cuyahoga County's epi-curve, showing how the county's efforts to curb the virus stacks up with testing. 
"Don't take an absence of red as an absence of cases — it's actually quite the opposite," Gullett said. The graph was created May 20 and has not yet been filled in to include the increase of cases since on May 21 and 22.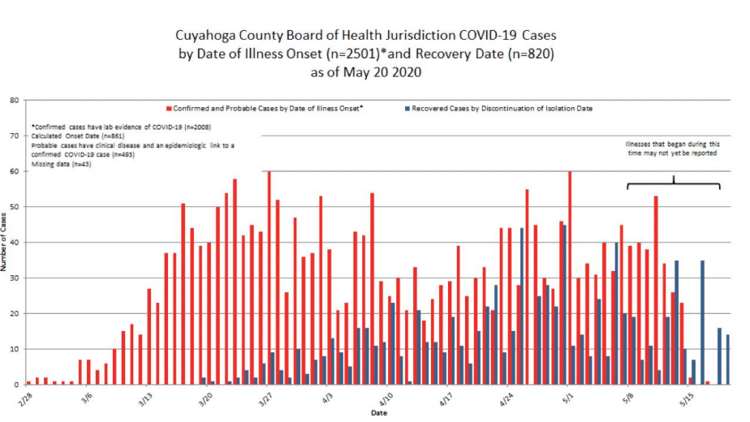 She then showed a distribution map of Cuyahoga County by ZIP code. ZIP codes 44105, 44102, 44128, 44122, 44120, 44118, 44124, 44121, 44133, 44103, 44130, 44134, 44135 have the highest cases, with between 122 and 178 in the county.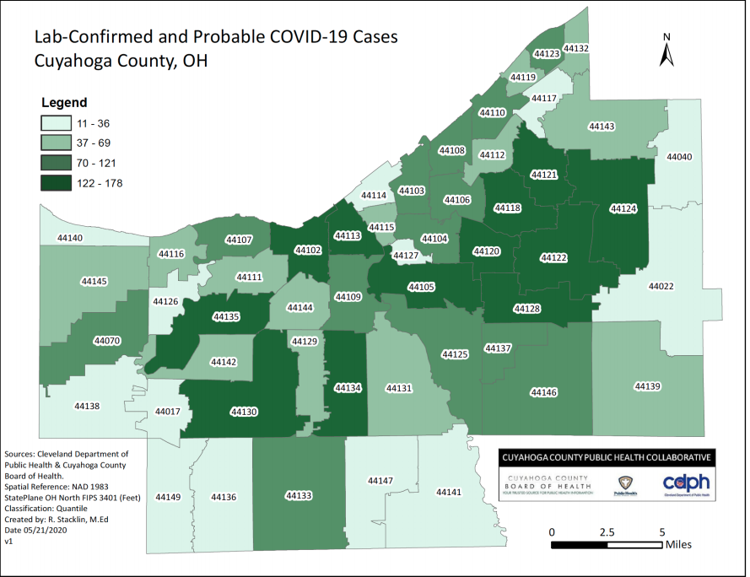 She also broke down Cuyahoga County surveillance data throughout the county's hospitals:
70% utilization of adult medical surgical beds 
52% utilization of pediatric medical surgical beds
77% utilization of critical care adult beds
33% utilization of available ventilators
Gullett then announced 22,356 tests were done last week. Of those tests, 7.1% were positive. This data does not include information from private labs, like testing completed through a drive-thru. The data mainly comes from hospital labs. 
Both Gullett and Allan stressed people practice social distancing, wear face coverings, practice hand washing and do regular cleaning/ disinfecting.   
"We have flattened the curve, but that is changing," Gullett said.
As the state continues to reopen and people leave their homes, Allan urged those in at-risk groups 65 and older and those with chronic health conditions to stay at home as much as possible. 
Less than 5% of county residents have been exposed to COVID-19, so "we will continue to see new cases and fatalities," Allan said. "We have a long way to go"