Cuyahoga County Executive Armond Budish addressed Ohio Gov. Mike DeWine's COVID-19 test results during an Aug. 7 media briefing. 
"Usually it's a bad thing when a politician flip-flops, but when Governor DeWine tested positive for the coronavirus, and then flipped to test negative, well, that's a good thing," Budish said. "Governor, stay healthy, please. We're grateful for your leadership and your courage during this crisis."
Board of Health Commissioner Terry Allan said Cuyahoga County again saw widespread transmission of COVID-19 this week. He said the county remains in red level 3, with purple level 4 being the highest level of emergency in regard to COVID-19 cases.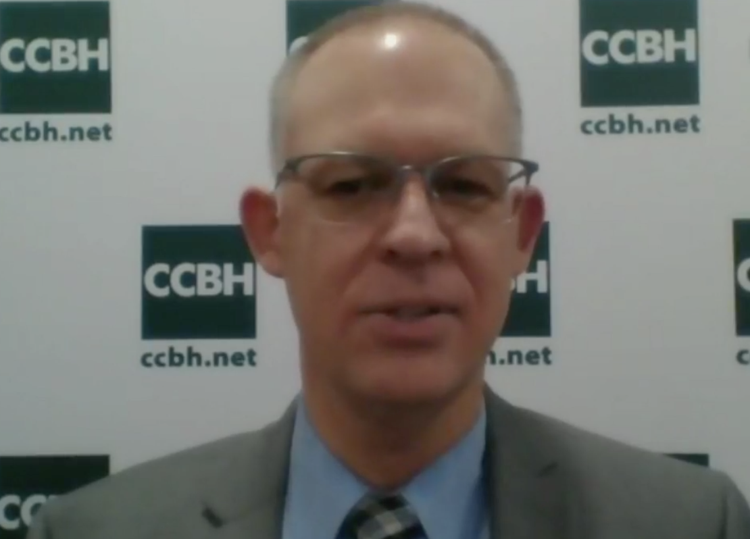 "We're considered to be at a point where transmission risk is high in our community," Allan said. "As of yesterday, countywide, we had over 13,000 cases – 13,141 cases of COVID-19 reported in Cuyahoga County, including the City of Cleveland, with 16.5 of those cases requiring hospitalization." 
He reiterated COVID-19 spreads easily between people who are unaware they have the virus. Allan noted Cuyahoga County continues to see cases in non-congregant settings with clusters in childcare environments and longterm care facilities.
"Masks, social distancing, remote work, surface cleaning, hand hygiene - they all continue to be key prevention activities," Allan said. 
At the present time, Allan said there are major limitations in testing availability for the community, particularly in regard to testing kids.
"It's very difficult to be tested if you're asymptomatic and, generally, it's very difficult to be tested if you're a child," Allan said. "We've been advised by numerous lab and governmental partners that this is a national problem and isn't likely to change in the coming weeks and months."
Board of Health Medical Director Dr. Heidi Gullett showed off her new mask.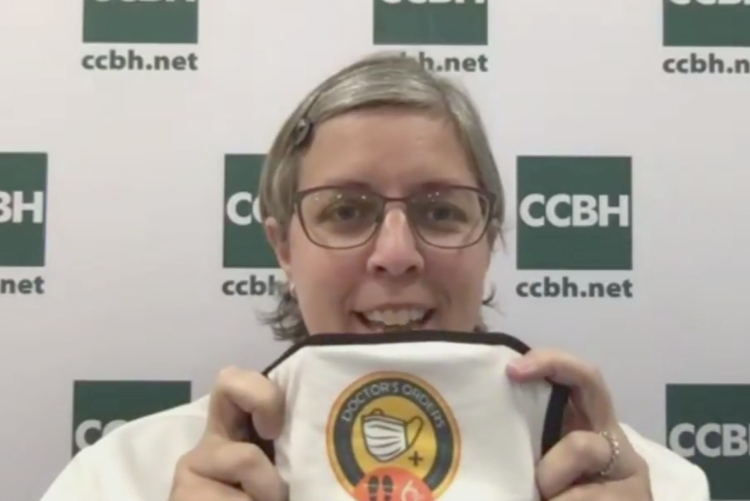 "It says, 'Doctor's orders,' and underneath it has a mask and it has a six and a pair of feet," Gullett said. "The reason that I share that is: many of you know I'm a public health physician, but I'm also a family physician with a clinical practice here in the community and a lot of what we learn how to do in medical school is to treat illness, to treat disease and to use medications and procedures to do that." 
Gullett noted one of the most important things doctors do in medical practice out in the community is prevention. 
She said the Ohio Academy of Family Physicians in Columbus, along with others, have put together simple infographics such as the one on her mask "to remind us that medical orders don't just have to be medicines that you pick up at the pharmacy or surgeries that you have done."
She spoke about testing.
"In the last day, we certainly have learned a little more about testing, and what we call test characteristics, that help us understand why a test could be a false positive or a false negative," Gullett said. "Given that Governor DeWine had this initial test, and as our county executive pointed out, we're incredibly grateful that it indeed was negative and that he can continue to lead our state in this response."
Gullett said no cases are reported in Cuyahoga County without being lab confirmed. 
She said Cuyahoga County saw 699 new cases this week. Last week there were 717, the week before that 855 and the week before that 919.