For Marla Berkowitz, Ohio's only certified deaf interpreter and one of three featured in Ohio Gov. Mike DeWine's daily press conferences about the COVID-19 pandemic, her profession and responsibility at a time of crisis is sacred.
"The responsibility is enormous when it comes to interpreting for the public, especially during crisis times," Berkowitz told the CJN via email. "Deaf people who use American Sign Language deserve to have firsthand information at the same time as their hearing counterparts about their health (and) safety."
Berkowitz, who is deaf, lives in Columbus and is a senior lecturer at The Ohio State University in Columbus. She is married to Charisse Heine, who is also deaf. They're not members of a local synagogue, but Berkowitz was an active member of B'nai Jeshurun in Manhattan for 20 years before she moved to Columbus.
She has a master's degree in deaf studies from New York University and another in Jewish studies from the Jewish Theological Seminary in New York.
"When I lived in NYC, I did some interpreting work within the Jewish community," she said "Being Jewish (affects my work) because I've always loved learning, being inquisitive and being a cultural bridge between deaf/hearing worlds."
In 2008, she was the president of the Jewish Deaf Congress, an organization that serves people who are Jewish and deaf, primarily in North America. She also co-wrote a book with Judith A. Jonas, titled "Deaf and Hearing Siblings in Conversation."
Berkowitz said she was chosen to be an interpreter for DeWine's press conferences because she has experience in high-profile work.
"I've done conferences internationally, nationally, statewide and (on) local levels," she said. "In addition, I've done court-related work which includes a murder trial. There is no room for error such as saying, 'Can you repeat?' or 'Hold on, can you explain that again?'"
According to Berkowitz, there are other deaf interpreters doing similar work during press conferences in Hamilton County and the Cincinnati area.
For Ohioans, watching press conferences with Berkowitz and the other two interpreters – Christy Horne of Deaf Services Center in Worthington and Lena Smith of Opportunities for Ohioans With Disabilities, both of whom are hearing – has become a daily ritual, full of information and fascination.
"Some of us deaf people are native ASL users; language is clear and accessible to those who use the language, too. For other deaf people, who rely on English – spoken and/or print, can use closed captioning to stay informed, whereas other deaf people who are ASL users do not have an equivalence with access to information to make informed decisions in their lives," she said, adding that "deaf audiences culturally can relate more to deaf interpreters."
Viewers often comment on Berkowitz's dramatic facial expressions, which she said is part of ASL.
"In addition to the emotions/affect, we also have grammar markers which indicate whether the speaker is authoritative, calming, sarcastic, etc. All of these are heard as vocal intonations which deaf people do not hear. In other words, it adds nuance," she said. "To convey a message such as 'stay home' requires a stern face to emphasize it."
Hearing people have told Berkowitz she's a "theatrical" sign language interpreter.
"It is our language, not the performance part, that makes us seem theatrical," she said. "I think people just have never seen us in the spotlight (and) assume it's a performance, but we are just doing our jobs."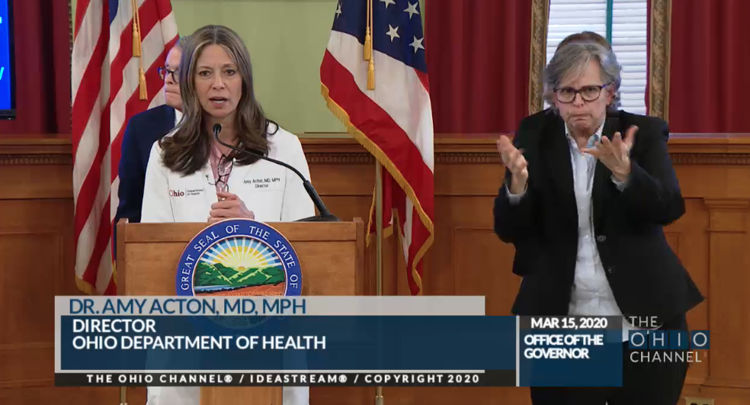 Before working as part of a tag team at the governor's press conferences, Berkowitz and Horne met through Hallenross and Associates, LLC, a Columbus-based ASL interpreting agency. She and Smith met last May doing the Deaf Literacy Program.
"Deaf interpreters and hearing ASL interpreters are part of a close-knit community where respect for ASL and deaf perspective, humor and willingness to communicate openly and honestly were our best practices for the deaf-hearing team to work efficiently," she said.
Because the press conferences run at least an hour – sometimes more – and the messages being relayed are complex, the three interpreters generally take turns. When Berkowitz is interpreting, Horne and Smith listen to the governor and other speakers, and then sign the information to Berkowitz who conveys it on camera to viewers.
Some viewers are referring to the three interpreters as "a social media phenomenon," which Berkowitz said gives her "a great feeling," and she "never imagined" there would be a Facebook page dedicated to their work: "COVID-19 Marla Berkowitz (and other amazing interpreters) Fan Group."
"I think as long as people are having fun, feel inspired, sense the calm in (the) midst of the storm, and are feeling less scared for what they need to know to protect themselves. To me, if that's what it takes, I can sleep at night knowing I have made a difference," she said.