Ohio Gov. Mike DeWine outlined tentative plans for how the COVID-19 vaccine will be distributed throughout the state during a Dec. 4 press conference.
Vaccine supply will be limited during the first phase and vaccine administration will be focused on reaching critical groups.
The first groups to receive the vaccine include health care providers and personnel routinely involved with the care of COVID-19 patients, EMS responders, residents and staff at nursing facilities, residents and staff of Ohio's veterans homes, patients and staff at psychiatric hospitals, people with intellectual disabilities and those who live with mental illness who live in group homes and their staff.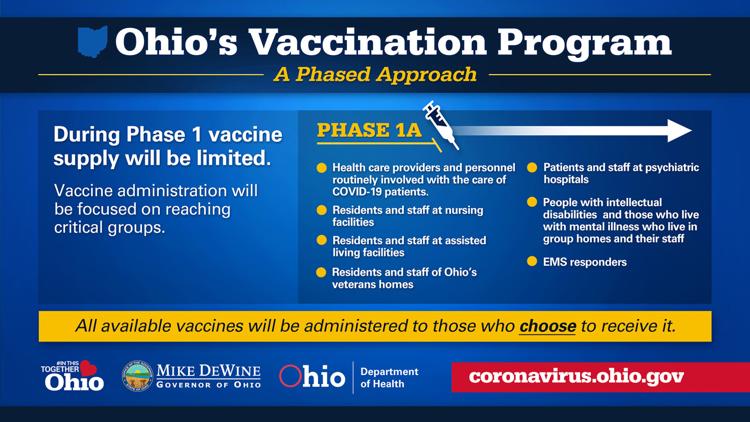 The federal government has made clear that the state will not know for sure how many vaccines are coming until closer to the time the shipments are coming, which could be around Dec. 15 assuming the vaccine receives emergency approval. DeWine said the number of vaccines and the dates the state will receive them are tentative.
The vaccine contains two doses and the first shipments of vaccines will include the first dose. DeWine said shipments in January are expected to carry the second dose of the vaccine. 
The current understanding is that Ohio will receive its first shipment from Pfizer which will include 9,750 vaccines for hospitals and 88,725 vaccines will go to Walgreens and CVS for congregate care settings.
On Dec. 22, the state anticipates a shipment of 201,000 vaccines from Moderna. These will go to 98 hospitals and 108 health departments.
Hospitals will be able to vaccinate those dealing with COVID-19 patients. Health departments will be able to vaccinate people like EMS or home healthcare professionals.
The state is also expecting a shipment on Dec. 22 from Pfizer. The tentative number of vaccines in this shipment is 123,000 and will be sent to Walgreens and CVS for vaccination of those in congregate care settings.
A few days later, DeWine said the state expects to get another 148,000 vaccines from Pfizer and 89,000 from Moderna.
Even as the vaccine is administered to the public, DeWine said people will still need to wear a mask, practice social distancing and frequently wash their hands. 
DeWine said he and Ohio First Lady Fran DeWine would receive the vaccine when it is their turn.
"I will take it, absolutely, as soon as I can take it," he said.
As more is learned about the coronavirus, the Center for Disease Control of Prevention has reevaluated its quarantine recommendations.
Dr. Bruce Vanderhoff, chief medical officer at the Ohio Department of Health, explained that due to a growing confidence in testing, there are two new options for quarantining.
One option is a 10-day quarantine that does not require testing, provided there are no symptoms. The other option is a seven-day quarantine with a negative test, provided there are no symptoms.
Vanderhoff explained people should quarantine and stay in their home for several days after they have had close contact with someone with COVID-19.
He noted staying home for 14 days after contact is still the safety way to limit possible spread of the virus.
"When you quarantine, you are protecting your community," Vanderhoff said.
The number of reported cases increased by 10,114 from Dec. 3, though the data is incomplete.
The individuals who have tested positive range in age of less than a year to 109 years old; the median age is 42.
The total number of individuals who have been tested in Ohio is 6,324,803. The daily percent positivity is 15.7%, with a seven-day moving average of 15.5%, according to data from Dec. 2. 
The number of reported deaths in Ohio increased by 129 from Dec. 3, though the data is incomplete. The median age of those who have died is 80.
The ODH reports 28,673 cumulative hospitalizations, and 4,847 individuals have been admitted to the ICU due to the coronavirus, though the data is incomplete. The median age of those hospitalized is 66.
The number of COVID-19 hospitalizations reported in the last 24 hours is 392, with 33 ICU admissions, though the data is incomplete. There are currently 5,092 patients hospitalized with the coronavirus – 1,208 are in the ICU, and 714 are on ventilators.
The ODH reports 306,950 individuals are presumed recovered – defined as cases with a symptom onset over 21 days prior who are not deceased.
Cuyahoga County accounts for 44,501 of the cases, 3,482 hospitalizations and 780 deaths, though the data is incomplete.
If you have questions regarding COVID-19, call 833-4ASKODH (833-427-5634) or visit coronavirus.ohio.gov.