Chef, restaurateur and television personality Michael Symon released his sixth cookbook, "Fix It with Food," in late 2019.
After it rose to The New York Times bestseller list, the Cleveland Jewish News spoke with the man behind the scenes, freelance writer, editor and author Douglas Trattner, who co-authored five of Symon's cookbooks.
Each new book begins with a brainstorm between Symon and the publisher – they'll "decide what form it will take and what recipes will be in there" and about a year later, the book is likely to appear on shelves, Trattner explained.
"What typically happens in most big books, and I'm using air quotes over here, is there's an author, and that's Michael Symon, there's a writer, and that's Doug Trattner, there's a recipe tester and also, of course, photographers and food stylists and copy editors," Trattner said in a Jan. 7 interview.
After Symon puts together a first draft of the book's recipes, his recipe tester refines them, making sure they're attainable in a home kitchen. Symon's next step is writing the book's copy and content, which then gets sent to Trattner.
"I'll take all the words that Symon wrote in the beginning of the book and kind of rejigger it," Trattner explained. "He'll be the first one to tell you that he's a chef, not a writer. So it takes folks like me to kind of refine it and expand it and often do a lot of research too."
Recalling "Carnivore: 120 Recipes for Meat Lovers," the first cookbook he worked on with Symon, Trattner attributed their partnership to his tenure in the Cleveland food scene.
"I wear a lot of hats," Trattner said.
Beyond his role as dining editor of the Cleveland Scene, Trattner has appeared in Food Network magazine, Cleveland Plain Dealer, Eater, Miami Herald, Globe and Mail, Tasting Table and Wine & Spirits.
After nearly 20 years of writing weekly restaurant reviews and covering restaurant openings and closings, Trattner said, "You could say I'm a food writer and I'm a restaurant critic and I'm a dining editor and I'm a cookbook author."
His most recent endeavor is with WKYC as a food correspondent.
"That's a whole new arena for me," Trattner said.
Noting he's done numerous one-off television appearances "when, say, a guide book comes out or they're looking for a local expert to talk about where to take your date on Valentine's Day," Trattner explained, "now I'm doing a weekly segment on WKYC where I'm going to show people around to my favorite places."
Noting his editorial work has often taken him to Symon's restaurants, Trattner said, wanting to champion Cleveland talent, the chef reached out to him in 2011 to co-author "Carnivore: 120 Recipes for Meat Lovers."
"I think he appreciated the way that I have written about him and covered him over the years and thought that I might have a really good grasp of his voice and his style," Trattner said. "And that's really important when you're a ghostwriter, because it's not about me, it's about him."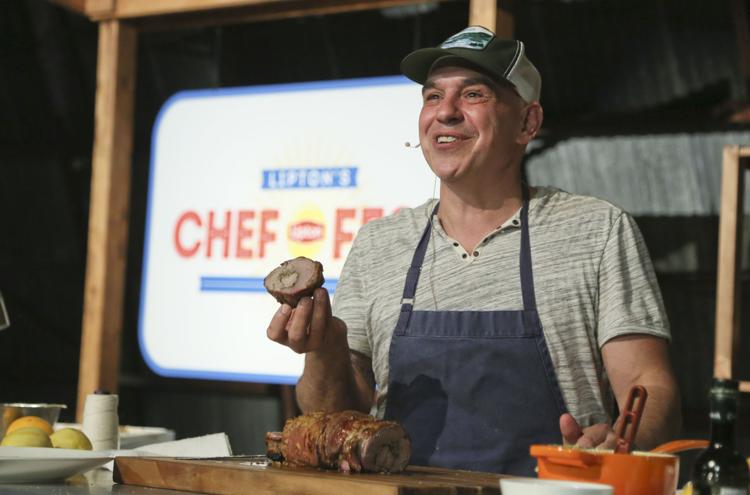 Shortly after Symon enlisted Trattner to work on the book, the chef joined the cast of "The Chew" on ABC as one of the show's five hosts.
"It was kind of really good timing for both of us because he (suddenly) became a lot busier with non-book stuff and then I was able to take an expanded role in the book process," Trattner said. "It was really nice to be able to work with him, but also to learn about the entire cookbook process 'cause that's something that I always knew I wanted to get into, I just had no idea how."
Their partnership has culminated in three New York Times bestsellers, including "5 in 5: 5 Fresh Ingredients + 5 Minutes = 120 Fantastic Dinners," which was published in 2013.
Speaking about their most recent endeavor, Trattner does not seem surprised the book gained popularity.
"I think Mike knew all along that it would do really well, which is why he kind of picked this topic," Trattner said. After being diagnosed with rheumatoid arthritis and external lupus, Symon suspected his diet could play a role in either improving or worsening his levels of inflammation and how he felt.
"So he did a thing called the reset or reboot – I think they might use those terms interchangeably – where he started by stripping away all typical triggers," Trattner said.
Noting typical triggers include flour, sugar, dairy and red meat, Trattner explained, "Most people find some of those somewhat troublesome. So by stripping away all of them for a period of time, you kind of establish this baseline. Then you can ... slowly introduce one at a time and see if that affects you."
Describing the concept as "the skeleton of this entire book," Trattner said "Fix It with Food" gives readers tools to do just that.
"Then once you find out what your triggers are, if you have them, you can select from a large number of recipes that avoid those triggers," Trattner explained.
Trattner described the topic as "very personal" to Symon.
"I think books that are more personal, especially for celebrities like Mike, they always do better because people really want to see (who) you are in your real life," Trattner added. "And that's what this book is all about."