A U.S. attorney's office is attempting to seize $2,197,323 in cash, houses, gold, a boat, a sports car, watches and other assets following a Sept. 22, 2020, raid at Tibor's Kosher Meats in University Heights. Also included in the raid were several homes in Beachwood, Moreland Hills and University Heights.
Six properties are on the list – including four homes in Greater Cleveland and two properties in Los Angeles – along with a vacant parcel on South Green Road, a 1996 Porsche 911, a 2019 Nautique G25 Boat with trailer, a Patek Philippe Rose men's wristwatch, three Rolex men's wristwatches, and a 1 Metalor kilogram gold bar.
A 40-page complaint dated Feb. 17 seeking civil forfeiture describes a pattern of activity in which Dank Vapes and Dankwoods – which manufacture and distribute THC cartridges in California – funnel funds through Tibor's Kosher Meats.
"The Major Crimes Task Force is conducting an investigation of Eyton Senders and Justen Balay and others who have been involved in an interstate drug trafficking and money laundering operation," U.S. Attorney Henry F. DeBaggis, II wrote in his complaint seeking civil forfeiture. "Tibor's is another entity in which (Eyton) Senders is using to launder his illicit drug proceeds. This business, similar to other businesses listed in this affidavit, allows Senders a place to legitimize his ill-gotten gains."
DeBaggis wrote that Senders, Balay and others manufactured and distributed more than 3.7 million THC vape cartridges from California to various other states, including the Northern District of Ohio, from July 2018 through July 2019.
"This is a conservative estimate," DeBaggis wrote of the number of cartridges distributed at an estimated value of $30 to $45 a piece. Dank Vapes online lists the price of cartridges at $25 each.
Tibor Rosenberg owned Tibor's Kosher Meats since 1986. He sold the business to Sendies Boys Limited LLC and executed a trade name assignment on Sept. 11, 2019, according to the Ohio Secretary of State, the complaint states.
According to the complaint, Sendies Boys Limited LLC received a $100,000 check on Sept. 9, 2019, "the holding company of Tibor's Kosher Meats which was purchased by a relative of (Eyton) Senders" the following day.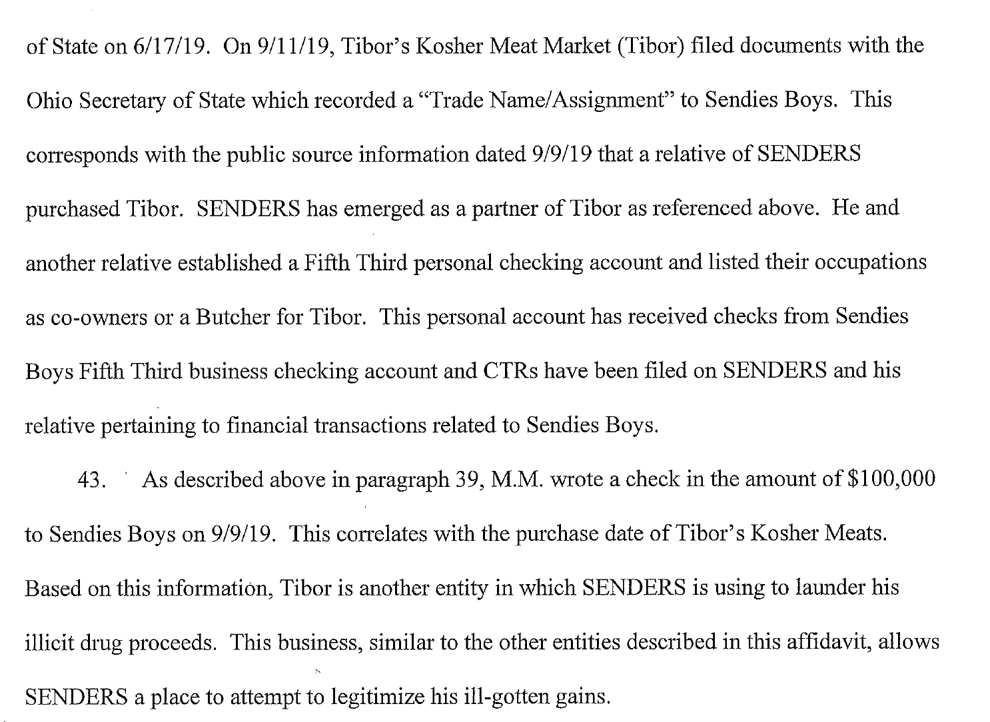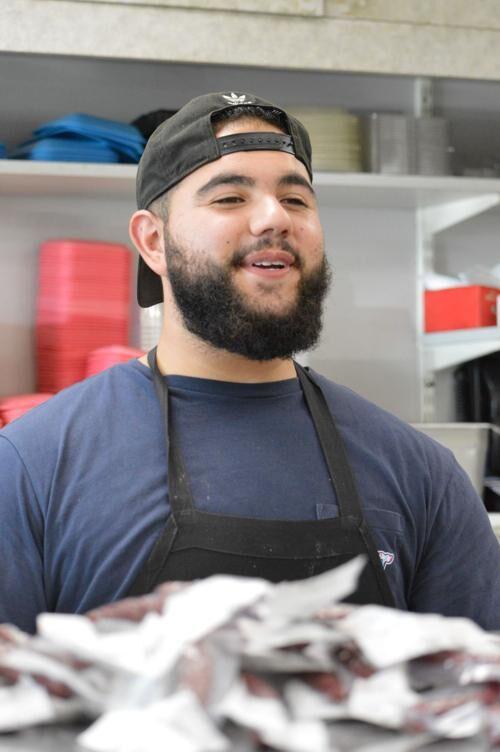 On Sept. 9, 2019, the Cleveland Jewish News reported the sale of the business for an undisclosed amount to Ilan Senders.
Eyton Senders, whose brother is Ilan Senders, "has emerged as a partner (at Tibor's)," DeBaggis wrote. "He and another relative established a Fifth Third (Bank) personal checking account and listed their occupations as co-owners or a butcher for Tibor."
As they set up bank accounts to launder money, Eyton Senders and Balay repeatedly listed their address as 13493 Washington Blvd., in University Heights, which is the address where Ilan Senders lives with his parents, Toni Dee and Cary D. Senders, according to court documents. That home was included in the Sept. 22, 2020 raid.
DeBaggis said the search of that home "revealed various amounts of suspected marijuana, THC vape cartridges, THC edibles in a clear vacuum sealed pouch, (2) loaded handguns, and financial records and documents for Tibor's Kosher Meats."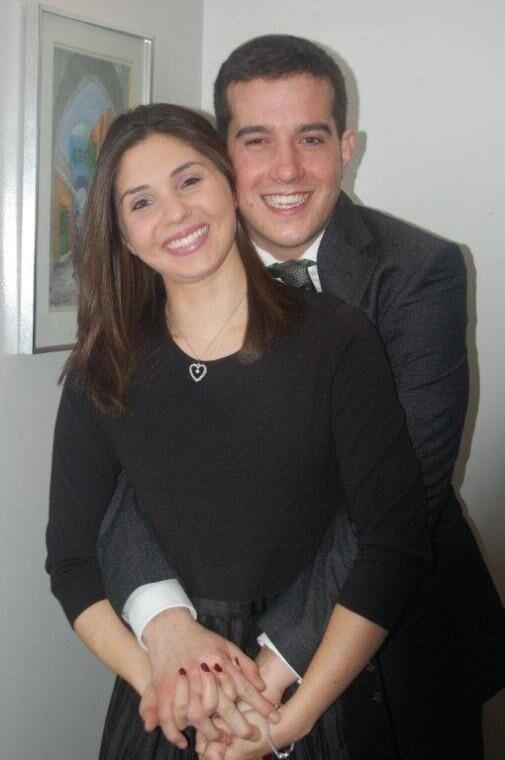 Rachel and Jason Zuchowskis' home on Larchmont Drive in Beachwood was also searched that day. According to social announcements in the CJN, Rachel Zuchowski is the sister of Eyton Senders and Ilan Senders, and Jason is her husband.
"Various amounts of suspected marijuana, THC vape cartridges, scales, grinders and financial documents for Tibor's Kosher Meats and $39,108" were found at the Zuchowski's home, according to court documents.
At 2543 S. Green Road in Beachwood, also owned by Rachel and Jason Zuchowski, the raid revealed "dry cleaning receipts for (Eyton) Senders, and $2,158,215 U.S. currency located inside two safes that were secreted inside the attic."
At 100 Mountain View Drive in Moreland Hills, purchased by one of Eyton Senders' LLCs, federal agents spoke with a contractor on site who was in the midst of a full interior renovation costing more than $2 million. The contractor had been paid $600,000 to date by Eyton Senders, according to the documents.
Among Greater Cleveland banks and businesses mentioned in the complaint is a Pepper Pike law firm. On Sept. 3, 2019, Wachter | Kurant LLC Trust was sent a wire transfer in the amount of $300,000 to an account at Key Bank.
Mark Wachter, member at Wachter | Kurant LLC, told the Cleveland Jewish News March 16 he had not seen the civil forfeiture.
He said his firm handled the initial sale, "where Senders purchased the butcher shop from Tibor. That's about as much as I know about it."
Wachter said he "believed" that the firm handled the creation of LLCs for Eyton Senders as well.
"This is a law firm," reads a footnote in the complaint, "that has created several of the LLCs used by (Eyton) Senders."
Under a subheading of vehicle transactions in the complaint, DeBaggis wrote about the Porsche Eyton Senders leased from Shaker Auto Lease in Warrensville Heights. From June 2018 to February 2020, Eyton Senders paid his car lease in 25 monthly cash payments totaling $93,014.10, and were conducted in person by Senders or a relative, according to the complaint.
On May 7, 2020, Eyton Senders paid off the car with a $120,000 wire transfer from Park East Investments LLC of Toms River, N.J., originating from a JP Morgan Chase bank account ending in No. 8827. The registered agent for Park East Investments LLC is a relative of Senders and the filing date of the LLC is Jan. 7, 2019, according to the complaint.
"The bank account contained drug proceeds from Dank Vapes," DeBaggis wrote, "Further this vehicle was titled to a relative of Senders to shield Senders as the true owner."
In addition, the complaint states "The financial activity described above is consistent with large scale money laundering operations."
Nineteen people and entities were put on notice that they are facing civil forfeiture, including Balay, Cary Senders, Eyton Senders and Ilan Senders, and Jason and Rachel Zuchowski. They each had 20 days to respond to the filing or risk automatic forfeiture.
When contacted by the CJN March 16, Rachel and Jason Zuchowski said they had no comment.
Balay's attorney Victor Sherman of Victor Sherman PLC in Los Angeles told the CJN March 16 his client would respond to the civil forfeiture notice.
The CJN was unsuccessful in reaching Cary Senders, Ilan Senders or Eyton Senders.
When contacted by the CJN on March 15, Daniel Ball, public information officer at the U.S. Attorney's Office for the Northern District of Ohio in Cleveland, said he could not comment on the case.
"Unfortunately," Ball said, "we are unable to comment on this case at this time."
---
This is a developing story. Visit cjn.org for updates.