The founder and CEO of The Gathering Place looked to the past and the future of the organization that has served more than 45,000 people in its 20 years.
Social worker Eileen Saffran, who created spaces in Beachwood and Westlake for people touched by cancer to get services and support free of charge, opened her remarks to the close to 1,000 gathered at the Huntington Convention Center of Cleveland Oct. 12 with a reference to her parents, Anita and Lou Spandorf.
Gratitude on tap
"My parents in their lifetime and in their death taught me about importance of some core Jewish values and that is tzedakah, tikkun olam," said Saffran, who will retire at the end of 2019. "Tzedakah is charity and tikkun olam is to help others. That is at the foundation of what this was about."
She asked founding board members to join her on stage, reading each of their names.
"These people sat through meetings," she said. "They opened their hearts. They opened their rolodexes. They opened their wallets. They got other people to do the same thing."
As she asked staff to stand, she said that all of the employees who began working at The Gathering Place 20 years ago – but for two, who retired – are still working there today.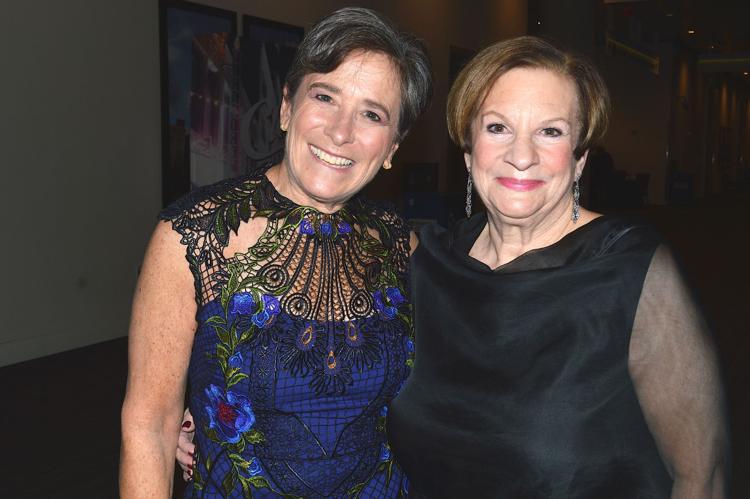 She especially thanked her ex-husband, Mark Saffran, for supporting her at the beginning, and Ellen Heyman, whom she called "the yin to my yang." Heyman recently retired as director of programming at The Gathering Place.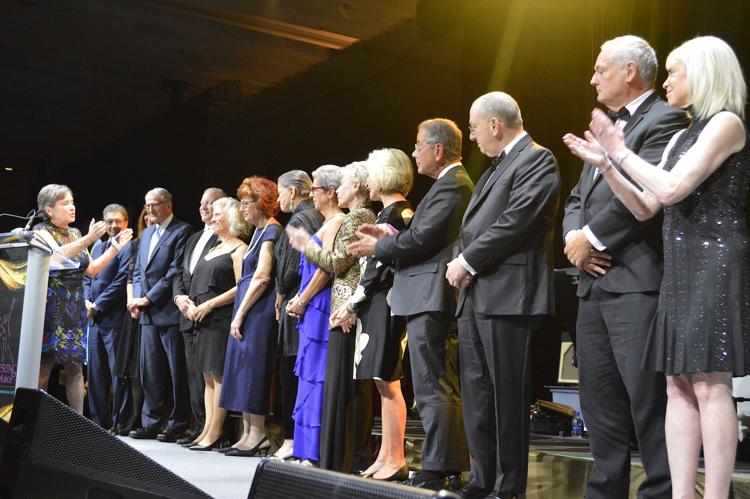 "As people know in this audience, I am a passionate person, and I'm passionate on both ends of the spectrum," she said. "And so people during the last 20 years helped me package that better and better and I am grateful for that."
She encouraged guests to view artwork in the hallway of the convention center, both photos and quotations of people helped by The Gathering Place and the artwork of participants and volunteers
Looking toward to the future, Saffran said she will leave the organization in a strong fiscal position and spoke of an initiative, Wellness Without Walls, to bring its services to both urban and rural residents of Northeast Ohio, for whom its suburban locations may be inaccessible.
She recognized the $250,000 lead gift made by Karen Lipman Steiger, a volunteer at The Gathering Place. And fundraising efforts during the evening's fundraising pledges focused on that concept through the Eileen Saffran Innovation Fund.
The ExtravaGathering included a live auction as well as direct pledges ranging from $20,000 to $100. The evening also ended with a band led by Cleveland Jewish News columnist Hal Becker, who is a survivor of cancer. He praised Saffran and had words of advice for those gathered.
"Look at the person you're with and enjoy the moment," he said. "We're always looking for that next thing."
A survivor speaks
Emcee Regina Brett introduced herself as an author and columnist for the Cleveland Jewish News.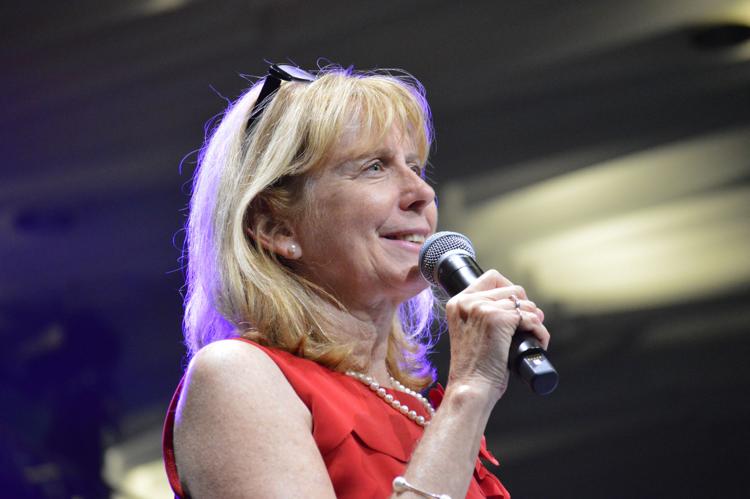 "But most importantly, like many of you, I'm a cancer survivor," Brett said. "When I had cancer in 1998, nothing like The Gathering Place existed. If you wanted a support group, you had to have the right insurance, and they checked your card. Yoga, reiki, massage – are you kidding? You had to navigate the wellness world alone and pay for it alone. The only support groups met inside the institutions where you had your treatments. We have great hospitals in Cleveland. But sometimes you need a respite from the hospitals. So do your family and friends, and that's why Eileen created The Gathering Place.
"She wanted to create a place where anyone touched by cancer could get every bit of support they needed, a place survivors and their families could do tai chi, massage, art therapy, Zumba, journaling, any kind of holistic aids to heal," Brett said.
Brett remembered a meeting Saffran led in 1998.
"I remember hearing Eileen say, 'We want to reach everyone touched by cancer.' And I remember thinking, this could never happen," Brett said. "And then she said, 'And I want everything to be free.' … And I nearly fell out of my chair. Free for everybody? I didn't believe it could become a reality. And I bowed out because I was too tired from cancer."
Brett spoke of Saffran's vision of creating a space that did not look or feel like a hospital.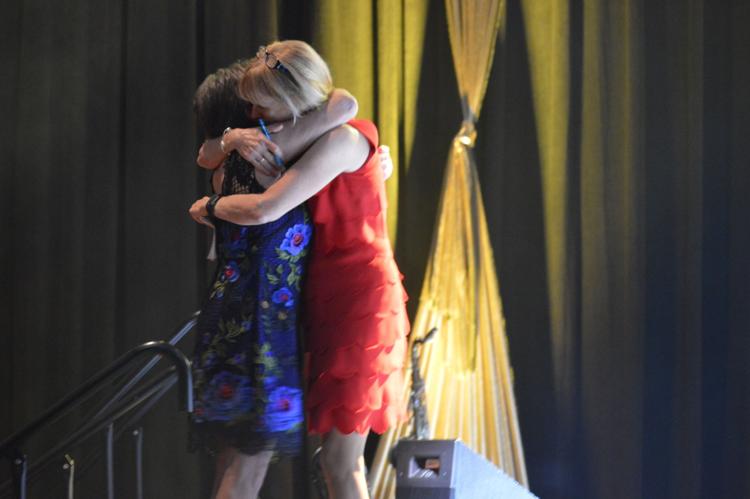 "She did all the leg work," Brett said. "She turned a mission into a movement, and it swept through Cleveland."
Brett spoke of what she called the small moments of cancer, and how The Gathering Place helps.
"Being touched by cancer means you're eating Cheerios and all of a sudden your bangs are falling into the bowl," she said. "Or you're with your husband, and he's got to help you shave your head. Or you invite your friends over for a chemo party because you don't know who you're going to be after that drug hits you. There are these little moments, and The Gathering Place makes them doable."
Looking to the future
In his introductory remarks, board chair David Ostro praised Saffran for her work.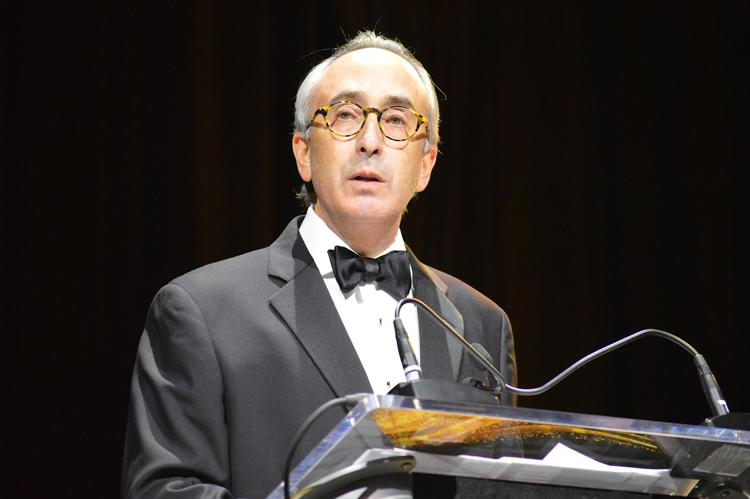 He also said the next CEO would be engaged "very shortly."
"Eileen, as you approach the next chapter of your life's journey …. my wish for you… is that you are imbued with a deep appreciation for all the good you have accomplished and that you are continuously challenged by your incredible sense of wonder, exploration and adventure, and that you remain steeped in the love and respect given to you by family and a circle of friends that seemingly has no end."