Montefiore resident Ronna (Delson) Leubitz noticed a difference in the way she was swabbed for a COVID-19 test on Oct. 23.
Having been tested in both a hospital and at Montefiore, Leubitz routinely forwarded screenshots of her negative COVID-19 tests to family.
That day, the 61-year-old resident of Montefiore texted her brother, Eric Delson in Brussels, wondering if there was a problem with the way tests had been conducted at the Beachwood nursing home.
"I think the doctors are here from the (Ohio) National Guard to do the tests the way they are supposed to do it, like in the hospital," wrote Leubitz, who was diagnosed with multiple sclerosis in her 20s. "The last couple of times the nursing staff did the tests, they didn't go up high enough in the nose."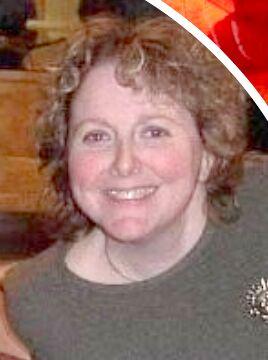 Leubitz texted Delson again Oct. 24, informing her brother that the director of nursing, the assistant director of nursing and administrator at Montefiore were "on suspension."
"When I had the last few tests here, the nurses barely swabbed the residents and staff," she wrote her brother.
Two weeks after that text, Leubitz died at Cleveland Clinic Hillcrest Hospital in Mayfield Heights Nov. 7 – two days after she tested positive for COVID-19 at Montefiore.
Delson and Kayla Leubitz, Ronna Leubitz's daughter, were among four family members of Montefiore residents to approach the Cleveland Jewish News with concerns about the care their mothers or sister received while at Montefiore. All three residents died after being diagnosed with COVID-19.
A Nov. 24 Ohio Department of Health investigation found that Oct. 13 COVID-19 tests were not conducted and under the direction of Montefiore's administrator, samples were forwarded to the lab by the Director of Nursing and Assistant Director of Nursing, potentially exposing all 183 residents at the nursing home.
Family members raised concerns after they learned of a problem with COVID-19 testing Oct. 13, which resulted in the terminations on Oct. 29 of Ariel Hyman, Montefiore's administrator; Tina R. King, director of nursing; and Marie Gelle, assistant director of nursing.
At least one of those three families has retained an attorney. The CJN also has learned families of at least two other residents that died have retained attorneys.
Howard D. Mishkind, founding partner of Mishkind Kulwicki of Beachwood, told the CJN Dec. 9 he is representing the children of a Montefiore resident who died Nov. 8 at Hillcrest Hospital.
"Certainly what happened to the residents that trusted Montefiore and the families that trusted them to keep them safe – certainly their trust was violated," Mishkind said. "It's tragic and unfortunate that they weren't protected."
Menorah Park reaches out
Jim Newbrough, president and CEO of Menorah Park, sent multiple emailed memorandums to families and residents about the mid-October spike in COVID-19 cases. Menorah Park and Montefiore, which share a campus, affiliated on July 1.
Doctors from the Ohio National Guard through the Ohio Department of Health were brought in to assist with testing at Montefiore, along with Cleveland Clinic staff, after several residents showed symptoms of COVID-19, but had negative test results, Newbrough wrote. In-person visits were suspended.
Tests conducted Oct. 23 identified six positive COVID-19 results, according to an Oct. 26 memo.
"The low number is a good indication that no additional spread of the virus has occurred," Newbrough wrote. "We are also able to reduce risk by taking the appropriate action that includes monitoring, quarantining, and tracking and tracing."
In an Oct. 29 memorandum to residents and families, Newbrough said there were 34 cases of COVID-19 identified among residents.
Beth Silver, Menorah Park's director of public relations and marketing, said she could not address questions for this story in a Dec. 4 email to the CJN.
"We are now addressing legal issues and investigations arising from our self-reports," Silver wrote. "Because of this, we are unable to provide any further comments about issues surrounding our COVID-19 testing protocols, or any other matters that might be relevant to these legal matters – including details of how we are caring for individual residents, census information at our various facilities or staffing assignments throughout our campus."
Family members 'worried'
Robyn Kulbarsh's mother, Marlene Finkenthal, died Nov. 9 at Hillcrest Hospital after she was diagnosed with COVID-19 on Nov. 3. The 81-year-old had lived at Montefiore since July.
"I'm worried about Montefiore and what's happening, and I don't want anybody else to be compromised," Kulbarsh told the CJN.
She has another relative at Montefiore who has also been treated for COVID-19.
"I want it fixed yesterday," she said. "I want them to get in the people necessary to fix it yesterday so that not one more person – not one – has to suffer."
Rob Singer's mother, Gloria Singer, lived at Montefiore for eight years.
Her COVID-19 test on Oct. 13 came back negative as did a test on Oct. 17. She tested positive on Oct. 21 and was asymptomatic, a staff nurse informed him, he told the CJN.
On Oct. 28, Gloria Singer developed a fever and was transported by ambulance to Hillcrest Hospital, where she was placed on a ventilator, her son said. She later returned to Montefiore, where she died Nov. 25.
After his 81-year-old mother's diagnosis, Singer, a Solon resident, sought answers.
What he learned convinced him that had residents showing symptoms been isolated, the spread might have been contained, he told the CJN.
State investigation
An Oct. 19 Ohio Department of Health investigation filed with the Centers for Medicare & Medicaid Services detailed a deficiency regarding quarantine, one Newbrough didn't identify when he notified families of the three staff terminations.
The 16-page state complaint investigation and COVID-19 Focused Infection Control Survey included a review of the 300 new admissions to Montefiore's 233-bed nursing home since June.
That review found seven new residents developed symptoms or tested positive for COVID-19 within 14 days of their admission at Montefiore.
State investigators interviewed King, the director of nursing, and Gelle, the assistant director of nursing, on Oct. 13, who "verified that all new admissions are only kept in quarantine for three days when admitted and then they are moved to their regular unit."
Hyman, the former administrator, told state investigators on Oct. 14 that since March, Montefiore quarantined new residents for 72 hours rather than 14 days under federal guidelines.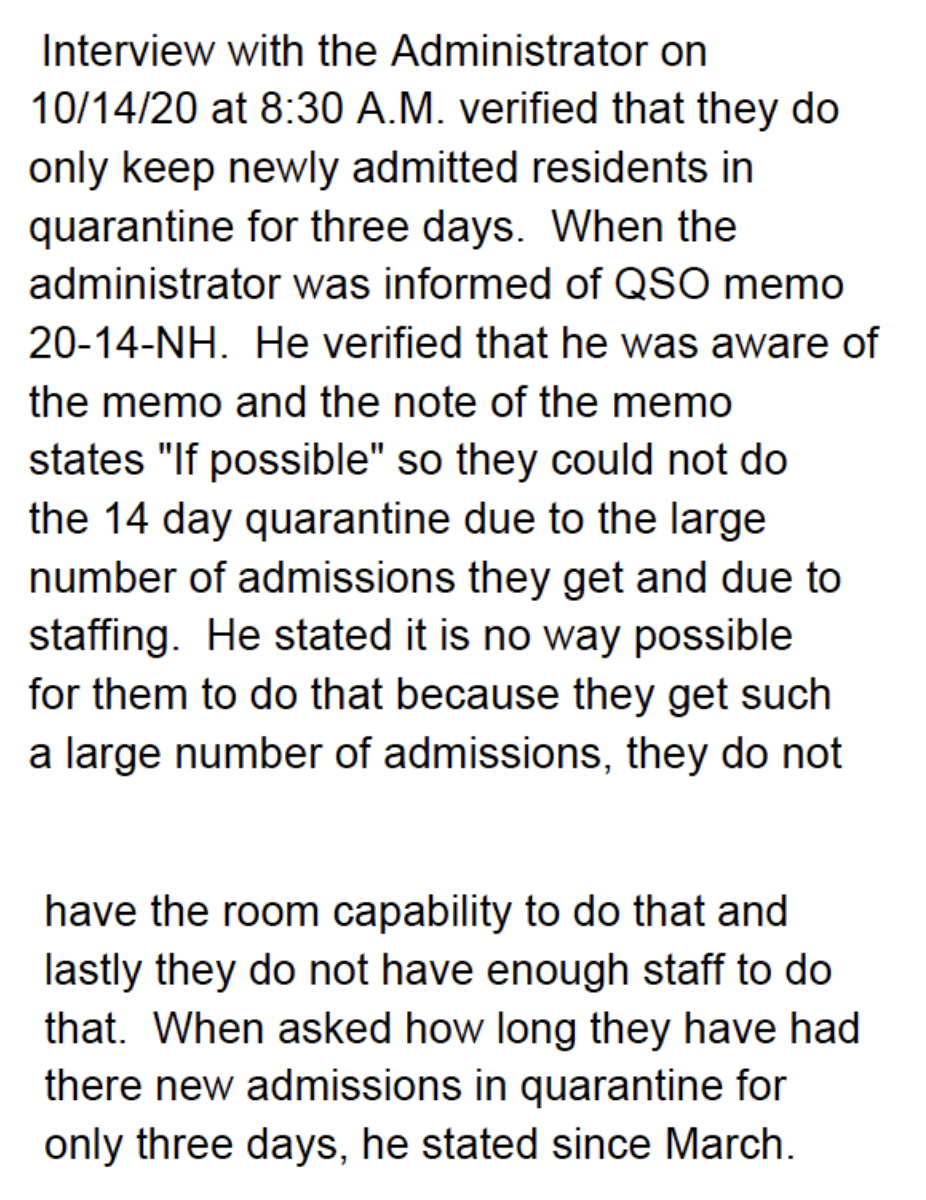 Hyman said it was not possible to quarantine new admissions based on limited room capacity, staffing and the large number of admissions, according to the investigation obtained by the CJN. Hyman said he was aware of a federal regulatory memo regarding quarantine for two weeks and pointed to the phrase in the guidelines that reads, "if possible."
Montefiore's admissions policy, dated Feb. 3, 2020, "revealed any admissions will be admitted to the post hospital wing and placed in isolation and monitored for 72 hours," according to the investigation.
The Ohio Department of Health declined to answer questions from the CJN about its investigations.
Diane Dietz, executive director of the Ohio Health Care Association, which represents nursing homes, said guidelines for quarantine have changed during the pandemic.
"Even if we test somebody at the door when somebody comes in, we still have to quarantine them for 14 days," Dietz said.
Quarantine policy changed
The Oct. 19 state investigation includes Montefiore's plan of correction. It reads, "The practice of quarantining new admissions for only three days was changed on Oct. 19. The current practice follows CMS guidelines of 14 days."
In a Nov. 19 memo to family members, Newbrough made reference to a 14-day quarantine in the midst of a surge in COVID-19 cases across Cuyahoga County, Ohio and the country.
"If you do choose to take your loved one from campus to your home for Thanksgiving, they will be required to be quarantined for 14 days upon return," he wrote.
Looking to the future, Newbrough's Dec. 3 memo to residents and families spoke of a COVID-19 vaccination.
"We are closely following the status updates for an authorized and approved vaccine in the United States," he wrote. "In addition to the preliminary timeline and information from the CDC shared last week, we are planning how to begin distribution in preparation for when it becomes available."
On Nov. 5, two days before her mother died, Kayla Leubitz talked with her mother hours after she received a call from a nurse about her mother's positive COVID-19 test.
Her mother was scared, and she tried to offer her reassurance, she told the CJN.
"They had experience now dealing with this, especially in the facility," she said. "Hopefully they should know how to take care of mom, to keep her separate from everybody and to hopefully help her kick this."
---
Managing Editor Bob Jacob and Staff Reporter Skylar Dubelko contributed to this report.