On June 24, what would have been his father's 93rd birthday, Bruce Baum of Beachwood arrived in a BMW at Langweiler, a resort in Germany near his father's native village.
It was Baum's first time driving a German-made automobile. Like many Jews in America, with and without Holocaust roots, Baum has boycotted German-made cars.
But, having flown to Frankfurt the day before, he didn't have much choice.
Baum chose to make a trip to his father's native village when he learned that Rabbi Joshua Skoff was planning a trip to Berlin with members of Park Synagogue.
On June 25, he and his wife, Marcy, drove to Stipshausen, a village of about 850 people.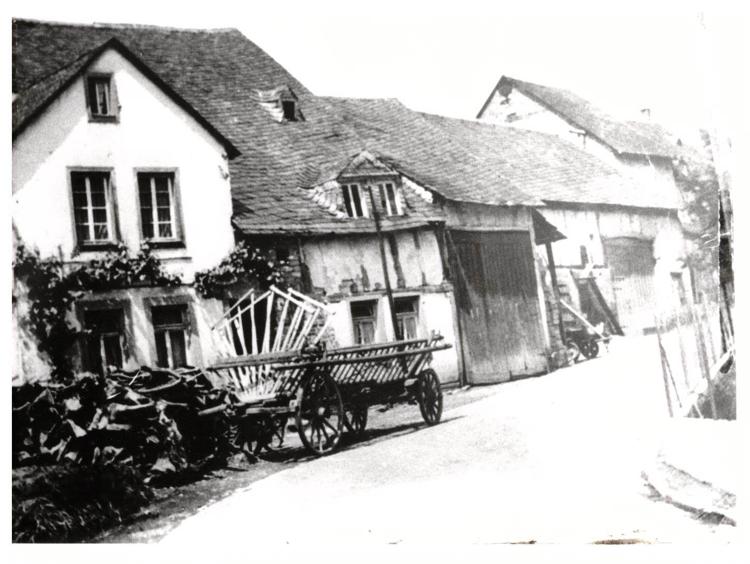 There they met Stipshausen's mayor, Frank Marx, and a small group of men who, in the spring, had dedicated a monument in memory of the families that lived on the village's Judestrassen prior to World War II.
The monument was dedicated May 18 and was designed by local sculptor Bernd Munsteiner. It is the centerpiece of a sculpture garden adjacent to the village's Jewish cemetery, which had become neglected in recent years.
"One day, they were putting in a sewer in a cemetery area and they looked at the adjacent cemetery, and they noticed that this Jewish cemetery was overgrown, wasn't being kept up," Bruce Baum said. "They said we've got to do something about this. … And I never would have known about this."
Names of members of Bruce Baum's family appear on the monument with the date of their departures from Stipshausen. The names of several Jews who were deported appear on the monument as well.
"If you look at the names on here, the top name on the sculpture is Simon Baum, who's my grandfather, who came here in 1938, and the remaining three on the top is my grandmother, Johanna Baum, and she came a year later with my dad, Arthur Baum, and his brother, Siegfried Baum," he said.
After Bruce and Marcy Baum ate lunch with the committee members in a nearby town, the town historian, Hermann Mostel, took the Baum's on a tour of the village, which included seeing Judestrassen and the school.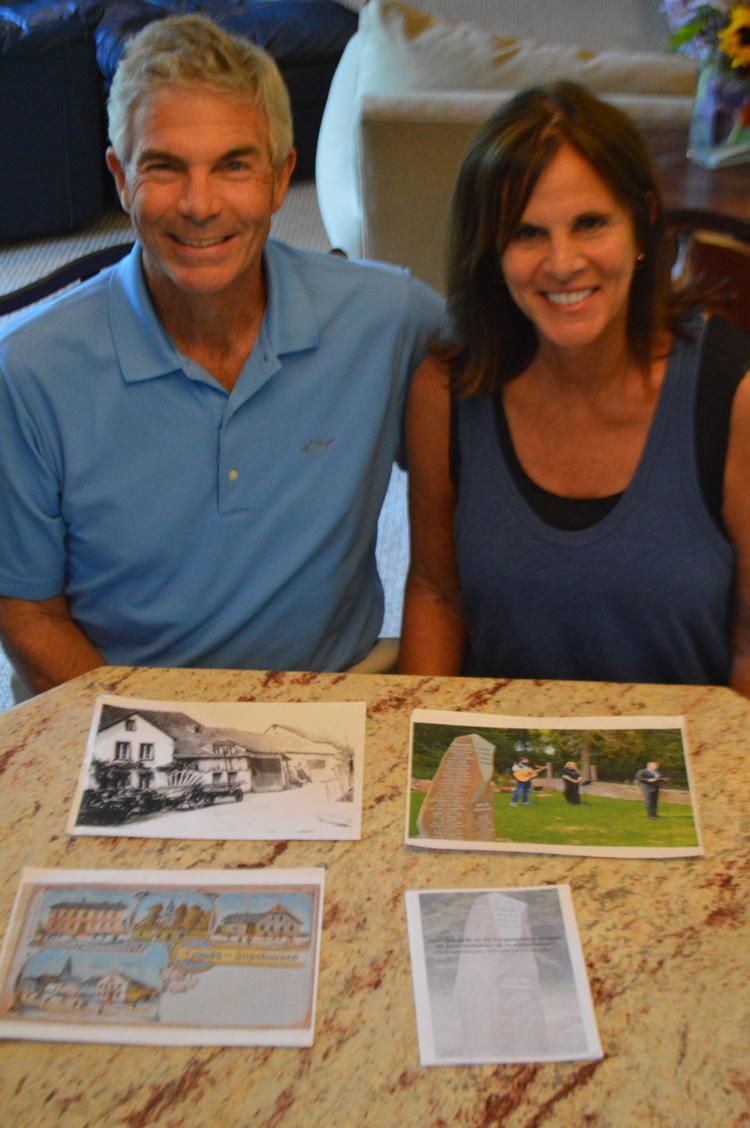 "I asked them, did your parents ever tell you, talk about the Holocaust, and they said, no they really didn't," Bruce Baum said. "They were totally ashamed. They knew what had happened and they were just ashamed to even talk about it. Maybe in a different manner my dad didn't want to talk about it. It was just horrific, so nobody wanted to really remember what happened. But you have to remember what happened."
Bruce Baum said his father had unhappy memories of being in school after the Nurenberg laws were passed in 1935.
"He had a difficult childhood before leaving," Bruce Baum said. "In school they would isolate the Jews in the corner of rooms and mistreat them. Clearly, they would not participate in daily classroom activities. They were forced to go in a corner and sit there until school was over. So he didn't talk that much about that."
Simon Baum came to America in 1938 on the SS Manhattan from Hamburg April 6, 1938, and arriving in New York April 15, 1938. His uncle, Leopold Baum, owned an ice cream manufacturing company in Cleveland and promised him housing and a job. A year later, in 1939, Johanna brought her sons, Arthur and Siegfried, who boarded the SS Volendam in Belgium arriving in New York City Sept. 21, 1939.
"At that time, you had to be sponsored by somebody, or you don't come here because they want, the United States government wanted to make sure that you had housing and that you had a job so you weren't a burden on the mainstream United States economy or whatever," he said. "Leopold sponsored his nephew. That was Simon."
Arthur Baum graduated from Glenville High School in Cleveland and served as a corporal in the U.S. Army. He later worked for Metropolitan Life Insurance Co. most of his life.
"You know we didn't know what to expect when we went there," Bruce Baum said. "And I have a somewhat, I mean there's so many people who never want to go to Germany. But I did want to see my dad's village. And I really came out of it feeling really happy doing the trip and the committee … that was formed for this dedication, all met us there, and they couldn't have been nicer at the time we went there."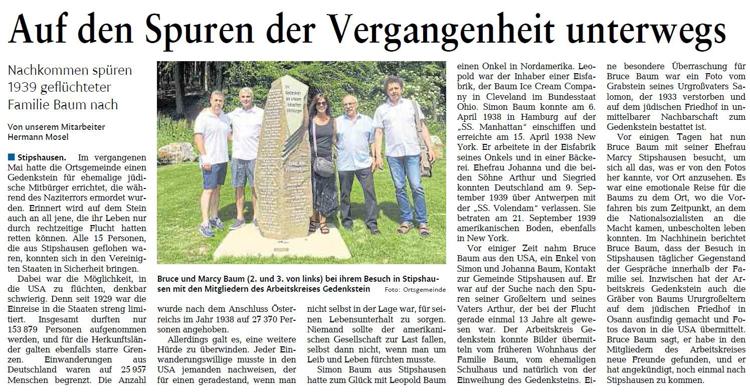 On Judestrassen, at the site of the Baum house, there is a bronze plaque, known as a stolperstein or stumbling stone, with the family members' names.
"So in all cases, they did do that," he said. "Every person that was either deported or forced to leave their residence, the German government decided we're going to commemorate these families by putting a plate, a name plate or a brass plate."
In the Jewish cemetery, Bruce Baum was able to find the grave of his great-grandfather, Salomon Baum, whose name he had not previously known.
"It was really emotional being on the grounds of where three generations of the Baum family lived," Baum said. "Just to be there. And it could have been more generations, but it was at least three generations that lived in that Stipshausen village. The documentation and the attempts to make, I wouldn't say restoration, but just to dedicate what they did to the few families, Jewish families that lived there, I thought was amazing and emotional."