Like many young adults, Cori, Quinn, Kyle and Jesse Schreibman returned to their childhood home in Pepper Pike to wait out the worst of the COVID-19 pandemic.
"It was the first time in a while that we've all been home, the four of us," said Cori, 20. "At the beginning of it all, we were kind of just like, 'What are we going to do to fill the time?'"
Their family had been using a grocery delivery service, but wasn't thrilled with the long wait times and unexpected cancellations. The siblings said the idea to start their own delivery service began as a joke.
"We were just throwing out ideas, coming up with names, and then we were like, 'Wait a minute, we could totally help people out and get them their groceries within 24 hours,' because that's what the majority of the people want," Cori said. "We thought this was a way that we could be productive, help out the community and do (something) as the four of us."
After settling on the name Schreibman Shoppers, the siblings made a logo and created a flier. They printed 50 copies, placing them in mailboxes around their family's home; after that, word started to spread.
"The big thing with us is that we are local and we deliver within 24 hours, I think that was enticing to people," Cori said. "That's how we kind of started booming."
Schreibman Shoppers deliver to Beachwood, Gates Mills, Hunting Valley, Moreland Hills, Pepper Pike, Shaker Heights and Solon. They shop exclusively at the Heinen's at 16611 Chagrin Blvd. in Shaker Heights.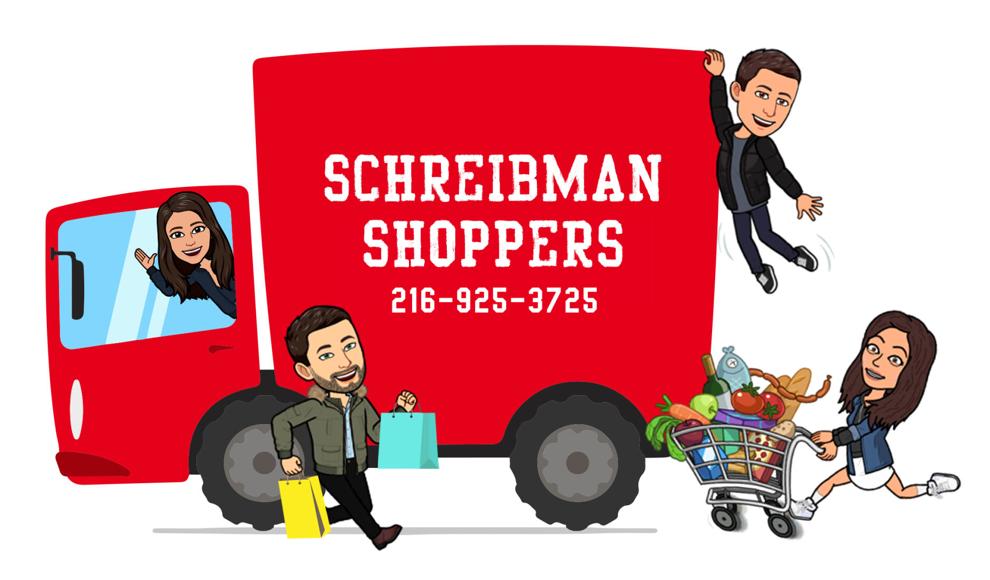 "We totally know exactly where everything is in that store and we are so smooth now and get in and out fast," Cori said. They've developed quite the system.
Describing Kyle, 25, as their "data and logistics guy," Cori explained he created a spreadsheet to keep track of every client's name, address, phone number and Heinen's tab. Cori, Quinn, 25, and Jesse, 26, are the primary shoppers. They itemize their shopping list by location in the store and each tackle a section.
They use hand sanitizer prior to entering Heinen's and wear masks while they shop. When it comes to deliveries, they take the aforementioned precautions and wear gloves.
"We kind of have it down to a science now," Cori said.
A portion of their gratuity is being donated to University Hospitals' COVID-19 relief fund. Jesse and Quinn said their clients seem to like that.
"And we like helping the community," Jesse said. He said their father has long been involved in charities and has always set a good example in that regard.
"So we thought that was important to do, as well," Jesse added. "Especially during these unprecedented times."
Quinn made sure to mention that, every time they make a donation, they send their client list – comprised now of 45 to 50 regulars – a receipt, "so they're notified of our donations."
Asked how long they're planning to inhabit the local grocery delivery niche, Jesse said until the quarantine is over.
"Me, Kyle and Quinn live in New York City," Jesse said. "We have to get back to our real jobs in New York once this whole thing blows over."
Despite Ohio's stay-at-home order being lifted, Cori had a different answer. A rising senior at the University of Michigan School of Kinesiology in Ann Arbor, Mich., Cori said, "Since I am going to be home all summer, if people still want the service who don't want to go out into the community just yet because of the pandemic, I would be more than happy to continue doing this."
The siblings described their clientele as appreciative. Quinn said the number of recurring clients they have shows they've been doing a good job.
"Everyone has been so appreciative and just so thankful. So it obviously is keeping us busy, but it's also making everyone so happy, so it's been such a pleasure doing this," Quinn said. Her sister said seeing how much their clients value their service has been "awesome."
"People just really need their groceries in a time like this and don't want to go out," Cori said. "Some of the older people that we've been helping make it seem like we are doing the best thing in the world for them. It's such a great feeling for us to see their happiness and we get to be together the whole time."
The charge is $20 per delivery. To hire Schreibman Shoppers, call 216-925-3725.