After raising a record $32.7 million in its 2018 Campaign for Jewish Needs last fall, the Jewish Federation of Cleveland's board of trustees unanimously approved allocation of those funds and more to a range of international, national and local Jewish causes June 27.
After adding an estimated $1.6 million from the United Way Fund and $320,000 from prior year collections, the Federation allocated a total of $34.6 million.
In keeping with past years' campaign allocations, the largest portion of funds will go to local human services and education causes, totaling $17.1 million. Next, $12.2 million was allocated to overseas causes and $696,620 to national agencies.
Because the Federation had $1.4 million more in funding than last year, most local agencies received a funding increase. None received less.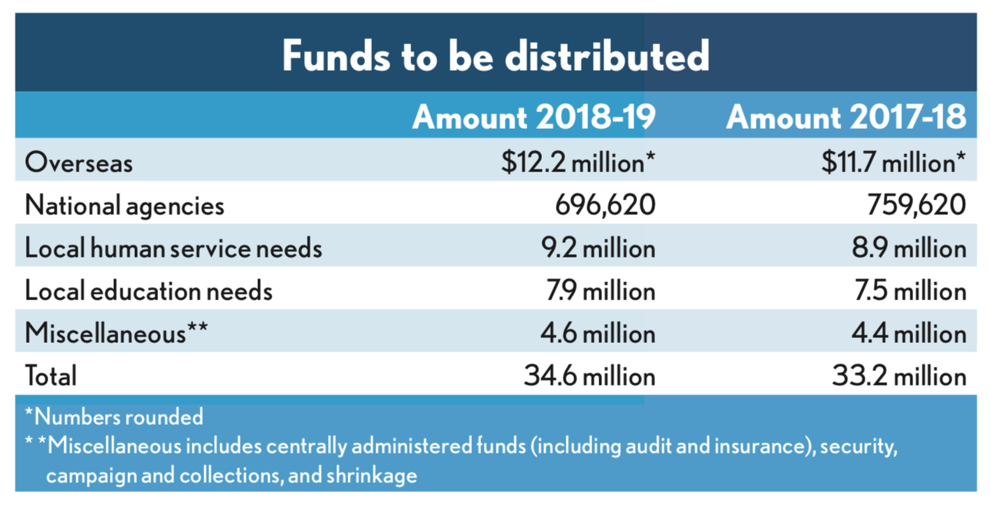 "The campaign was very successful, and because of that, it gave us an opportunity to increase the allocations to the agencies – after we evaluate them and determine how successful they are in meeting the needs of the constituency here in town, and abroad, and how good a job they are doing operating with limited resources," Federation board chair Gary L. Gross said.
DETERMINING DISTRIBUTION
Among local funding recipients, Jewish Family Service Association received the highest amount,
$2.6 million. Allocations committee chair Beth Wain Brandon said the allocations committee and subcommittees convene to first ensure campaign funds are used effectively and efficiently, then identify and address issues specific to local agencies and lastly recommend allocation of the funds. After making determinations and voting on them, the suggested allocations are voted by the Federation's board. The process begins after the campaign closes in December and typically finishes early in the summer.
"The criteria that they look at are things like, how critical is the agency's work to the well-being and strength of the Jewish community, how well do they use their limited resources, how well does the agency do at providing the services that are needed in our community and how would this increase impact the agency?" Brandon said.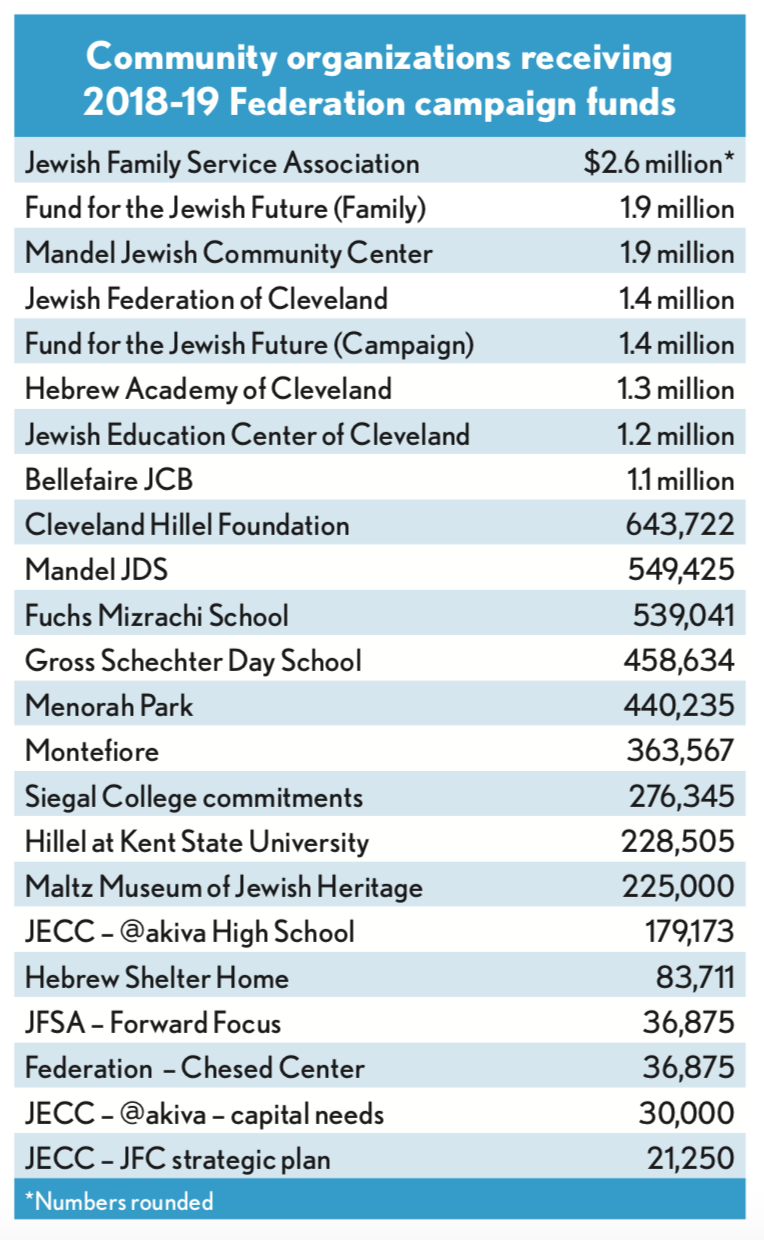 Brandon and Gross said funds this year increased in part due to a one-time, $500,000 matching grant given to the campaign by an anonymous donor. That grant changed the allocation process slightly – the committee selected four specific community projects to give to that were not singled out by the campaign in the past. Those projects are: renovation of the @Akiva high school space at the Joseph and Florence Mandel Jewish Day School via the Jewish Education Center of Cleveland; Forward Focus, a JFSA project to help those struggling economically; the Federation's Cleveland Chesed Center, a kosher food bank; and supporting the JECC's funds for the Federation's strategic plan.
"We don't give directly to programming – we give to our agencies and trust them to use money where they need it most, and they know where they need it most," Brandon said. "But with this extra money, we had an opportunity to do something a little bit different this year."
NEW INITIATIVES
Also this year, Brandon said the human services subcommittee focused on new initiatives important to the Jewish community when allocating. For example, JFSA, Menorah Park and Montefiore have been working together on a dementia initiative, which was taken into consideration. JFSA, Bellefaire JCB, Case Western Reserve University's Siegal Lifelong Learning program and area synagogues are addressing the opioid epidemic in the Jewish community, also taken into consideration.
Other local organizations receiving top funding are the Mandel Jewish Community Center with $1.9 million, the Federation with $1.4 million and the Hebrew Academy of Cleveland with $1.3 million.
Also receiving top funding locally are the combined family and campaign divisions of the Fund for the Jewish Future with $3.3 million. Fund for the Jewish Future is a more than 20-year-old funding mechanism to improve local Jewish education that is managed through the JECC. A portion of the matching grant also was named to this fund.
The same organizations also received the highest amounts last year.
Among international causes to receive funds, the Jewish Federations of North America will receive $7.6 million, and designated Cleveland overseas projects will receive $3.1 million. According to Gross, an overseas connection committee evaluates such programs abroad.
One example of how international funding is actually used is a new science, technology, engineering and math program accessible to under-served populations in Israel, which Brandon said is a new "exciting" involvement for the Cleveland community.
National agencies and organizations receiving funding include Hillel Foundation for Jewish Campus Life, JCC Association, Jewish Council for Public Affairs, Hillel at Miami University, Hillel at Ohio University, American Jewish Committee, the Anti-Defamation League, BBYO and JTA.
Despite the Federation raising more money in its campaigns in recent years, there are still many unmet community needs, Brandon and Gross said. For example, Brandon said the allocations committee has seen more requests from Jewish day schools for increased financial aid to support more kids attending the schools and to improve low teacher salaries.
Gross said Federation donors should feel comforted knowing the efforts the allocations committee makes to understand the details of each agency receiving funding and to ensure such money helps community members in a tangible way.
"I don't know how these agencies could do with less funds, so I'm thrilled when the campaign is successful so we are able to make the lives of the people in need just a little bit better," he said. "So when I go solicit funds for the campaign that will be in the fall, it encourages me to ask people for increases to their funds because I know the money will get well spent."