Two-time Olympian and gold medalist in artistic gymnastics, Alexandra "Aly" Raisman will perform in Cleveland Oct. 19 as part of the 2016 Kellogg's Tour of Gymnastics Champions. 
Just months after the Rio Olympics, Raisman is already deep into tour mode and anticipating a run for the 2020 Olympic team. 
"We've been sleeping on tour buses and in a different city almost every day of the week," Raisman, 22, said via email from Omaha, Neb. "It's been a very cool experience, but definitely trying to catch up on sleep wherever I can!"
The nationwide tour of 36 cities lasts about two months. The final stop is
Nov. 13 in Boston, about 20 miles from her hometown of Needham, Mass. There were no performances on the two days of Rosh Hashanah or on Yom Kippur.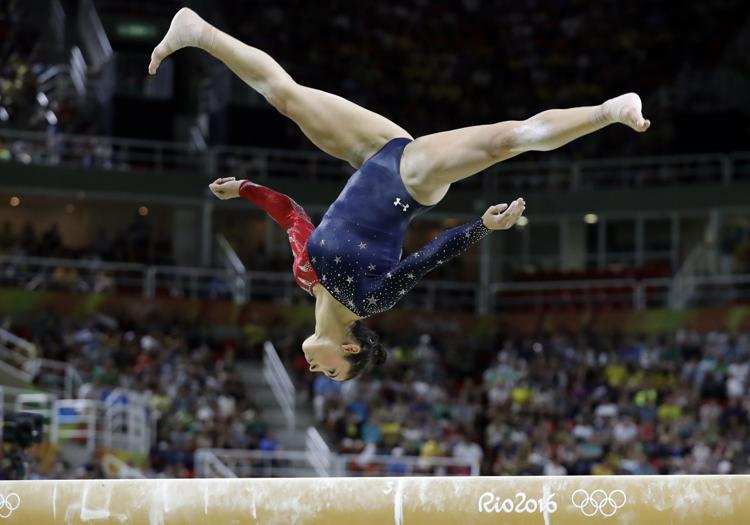 Raisman belongs to a Reform congregation, Temple Beth Avodah, in Newton, Mass. Although she said she enjoys celebrating Jewish holidays with her family, her busy gymnastics schedule gets in the way.
"There have been so many times that my gymnastics takes me away from my family," Raisman said. "Because of that, I really cherish the time we get to spend together."
Raisman said she especially enjoyed celebrating Chanukah with her bubbe, who died of lung cancer in 2011. 
"Family was the most important thing to her and as a result we are all very close," she said. "Chanukah was always her favorite. She would spoil us with so many presents. But really the best part was spending the day just enjoying family."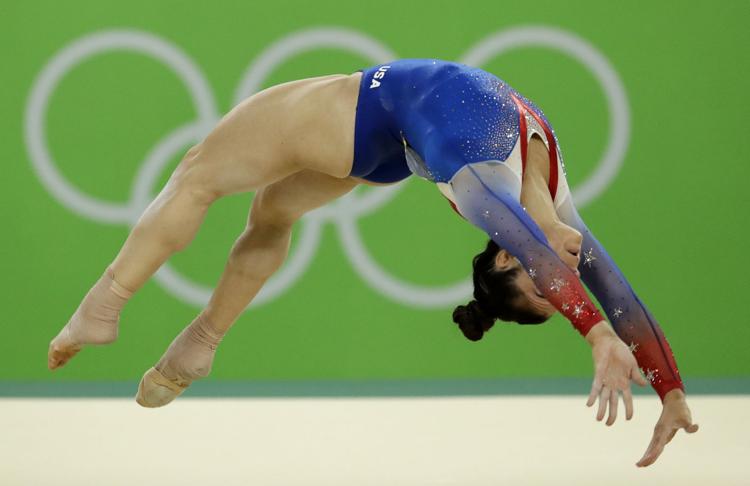 Raisman began gymnastics when she was 2. Her mother, Lynn, is a former gymnast who along with her husband, Rick, became well known for their anxious mannerisms during Raisman's routines at the 2012 and 2016 Summer Olympics.
In Rio, Raisman earned silver medals in all-around competition and on floor exercise as well as team gold medal won by the "Final Five,"referring to the nickname for her and teammates, Simone Biles, Gabby Douglas, Laurie Hernandez and Madison Kocian.
Raisman and Biles announced the nickname while accepting all-around medals, which signifies the last Olympic team coached by Marta Karolyi who, along with her husband, Bela, largely defined the U.S. team since the 1980s. Karolyi retired after this year's Olympics and Valeri Liukin, father and coach of 2008 Olympic all-around gold medalist Nastia Liukin, who also took over. This year was the last year that five gymnasts were selected for the team finals. Now, only four gymnasts will be selected.
The Final Five was one of the most racially and ethnically diverse teams to come out of the U.S.
 "I think it is really special that we all came from such diverse backgrounds, but were able to come together as a team," Raisman said. 
Raisman said her favorite gymnastics move is her first tumbling pass. Difficult even by today's increasingly high standards, the move is a round-off into a 1.5-twisting layout step-out, round-off back handspring, Arabian double-front, to punch layout.
Already designated as the team "grandma" – and captain – in 2016, Raisman plans to train for the 2020 Olympics. If she makes the team, at 26 she would be the oldest American female gymnast to participate in an Olympics since 1964 and first American female gymnast since Dominique Dawes in 2000 to be a three-time Olympian. 
"(I am) going to take a break and go on a vacation with my family," said Raisman, who has three siblings, Brett, Chloe and Madison. "Then pick up training after next summer."
Raisman trains at Brestyan's American Gymnastics Club in Burlington, Mass., with coach Mihai Brestyan, who is from Romania and coached Israel's National Gymnastics Team in the 1990s. With Brestyan's support, Raisman made the U.S. national team in 2009, where 28 or fewer gymnasts in the country were selected. After placing third in the U.S. Olympic Trials in 2012, Raisman won three medals at the London Olympics. She received a gold medal in floor exercise, where she performed to, "Hava Nagilla." She also received a team gold and bronze medal on beam, but was denied a bronze medal for the all-around competition due to a tiebreaker, which she said motivated her to go back for a second Olympics.
After taking a break and competing on television's "Dancing with the Stars," Raisman faced stronger competition coming back in 2016, especially from teammate Biles, who is considered the greatest gymnast of all time. However, Raisman's consistently solid performances made her a favorite for the Olympic team prior to and during the trials.  
"It's really special to have been a part of the Final Five," Raisman said. "We all have worked so hard and we accomplished our goals together."