About 30 workers gathered on the sidewalk in front of Menorah Park in Beachwood July 29 in a call to nursing homes to provide hazard pay to all workers during the COVID-19 pandemic and to make adequate allowance for personal protection equipment.
The vigil, as it was called, included speeches by the organizers with Service Employees International Union, which represents about 650 employees at Menorah Park, including state licensed nursing aides and unlicensed nursing aides, along with dietary, maintenance, laundry and housekeeping employees.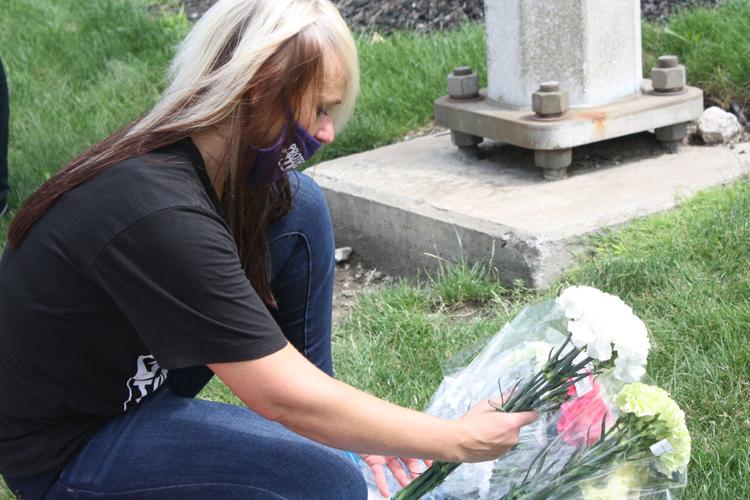 At the vigil, employees carried 46 red, yellow and white carnations. That number was chosen to represent each case of COVID-19 among staff and residents at Menorah Park.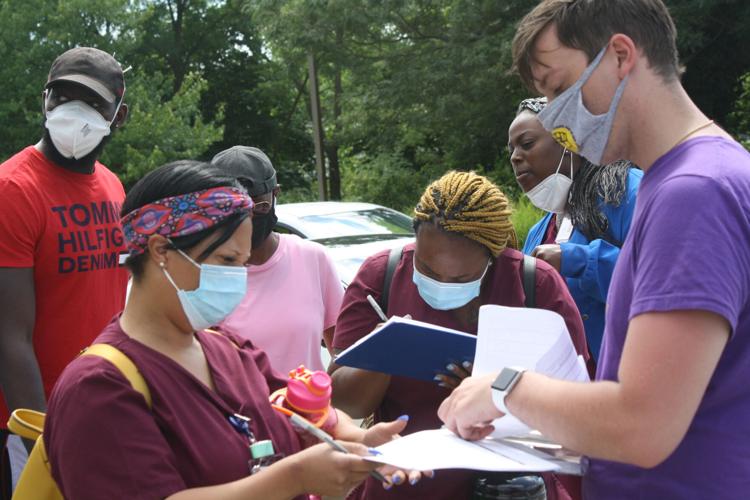 The demonstration was called after Jamie Herbst, vice president of human resources, informed the union that hazard pay was ending as of July 5 for some employees, and that incentive pay would remain only for those employees on COVID-19 units.
"MP intends on modifying the 'Covid-19' incentive bonus payments set forth in our agreed upon MOU, effective July 5, 2020," Herbst wrote to Samara Knight, interim executive vice president of SEIU District 1199 based in Cleveland. "The incentive pay for Nursing Assistants will be $2.50/hour. We will eliminate added incentive pay for dietary, laundry, and engineering, and housekeeping (except those below). We will pay a $7.50/hour Covid incentive bonus ONLY for Nursing Assistants and Housekeepers who actually work on the COVID unit."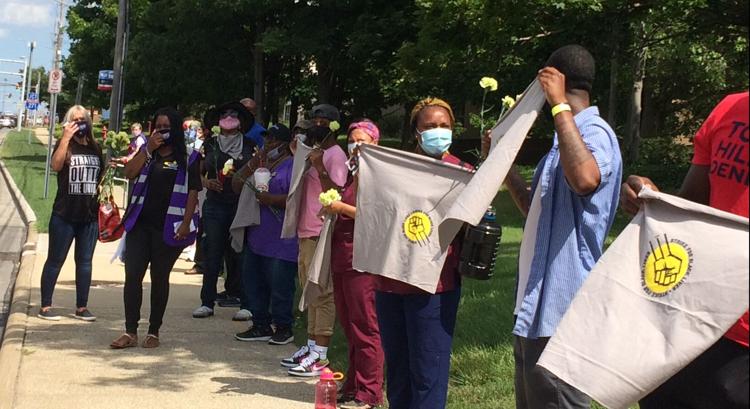 The Ohio Department of Health's dashboard listed the following number of cases of COVID-19 at Menorah Park as of July 27: five current resident cases; 22 cumulative resident cases; three current staff cases; and 14 cumulative staff cases, or a total of 44 cases.
The state addresses deaths by county. As of July 22, there were 221 deaths in Cuyahoga County long-term care facilities due to COVID-19 and 1,868 such deaths across Ohio.
Knight said employees have contacted her with concerns about inadequate supply of gloves and other personal protective equipment.
"The members are concerned about how much PPE they put out," she told the CJN. "They also are concerned about working these different units, particularly if they are scheduled to the COVID unit, how they're transferring them around within the building."
Knight said every employee does valuable work and is at risk.
"Everyone in here is in contact, whether hands-on or not," she said. "They still put their lives at risk. COVID does not pick by classification who it's going to contract."
Menorah Park released a statement to the CJN regarding the demonstration.
"Upon the onset of this global pandemic, Menorah Park engaged the union in good-faith discussions about provisional added pay for essential union workers, and came to an agreement after a vote by the membership," the statement reads. "As we've all learned more about the novel virus over the past few months, and in accordance with our agreement with the union, we have evolved compensation to ensure we continue to strongly support our staff members who are directly engaged with clients and residents that have contracted the virus, by increasing the added provisional pay for those individuals.
"With a goal of safety and well-being for all staff, we also provide ample personal protective equipment; ongoing education and training in best practices for hygiene and safety, and daily screening. Nursing home staff also fully cooperated with state-mandated baseline testing for COVID-19. As a result, 1.7% of staff tested asymptomatic positive; a strong indicator that Menorah Park protocols for safety have been effective and staff are doing an excellent job following best practices as well."
On Cedar Road, several ambulances traveled to and from the campus during the demonstration. Drivers of trucks and cars honked in solidarity with the workers, many of whom wore their scrubs and came after shift change.
They waved their flowers and gray banners that featured a fist and read, "Strike for Black Lives."
They sang "We Shall Not Be Moved" and chanted call and response with Knight leading.
"Show me what heroes look like," she called.
And the workers responded, "Heroes look like this."
---
CJN Digital Marketing Manager Cheryl Sadler contributed to this report.