Holocaust survivors gathered with Jewish educators and volunteers to celebrate 25 years of Face to Face, a unique program based at Congregation Shaarey Tikvah that combines education about Judaism with lessons of the Holocaust.
About 170 people gathered at the Beachwood synagogue's social hall to celebrate the program on May 19. Face to Face was acquired by Kol Israel Foundation Jan. 1 as Louise Freilich, its director for 16 years, prepares to retire from her position on June 30. The program has educated nearly 55,000 students from Northeast Ohio public and parochial schools, most of them non-Jewish.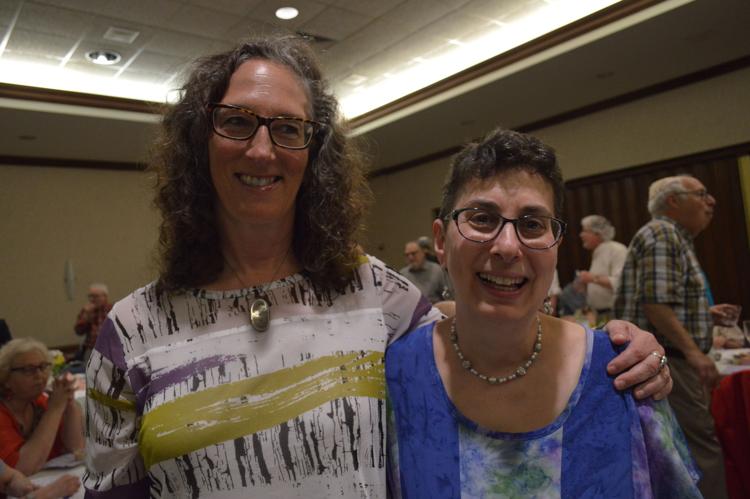 Kol Israel has its own Holocaust education program using a different model and will continue using the Face to Face model in tandem with its approach under Marianne Lax, newly hired education director.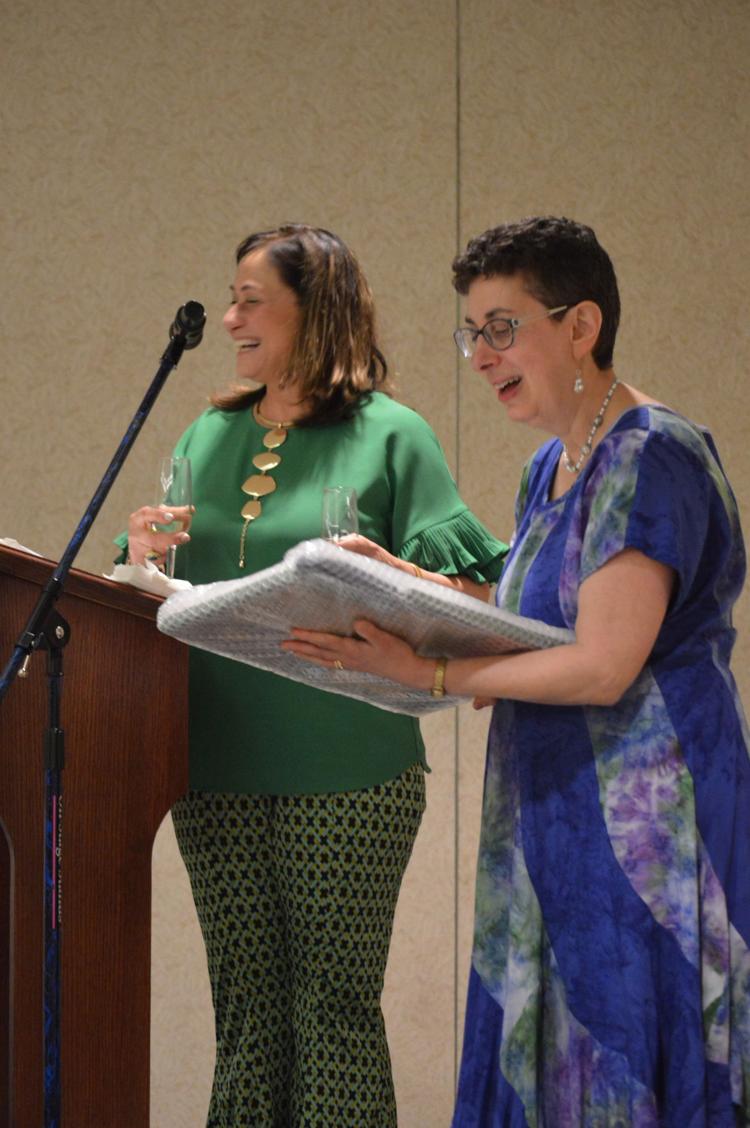 Sharon Fagin, Face to Face's first director, chaired the reception and program, serving as emcee.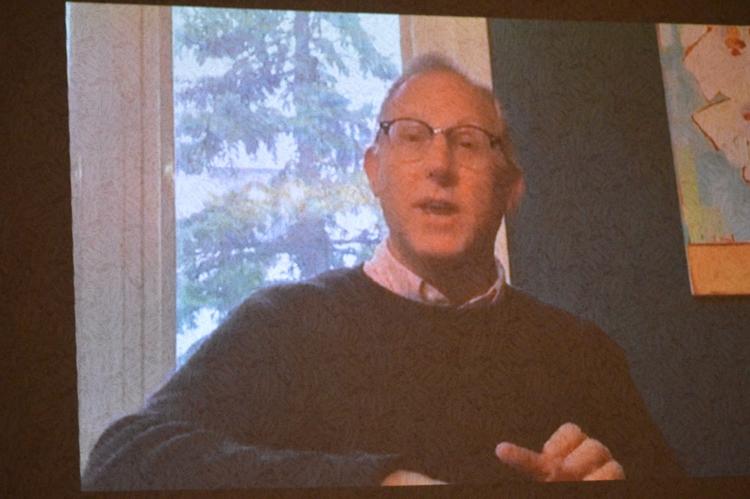 Rabbi Gary Robuck, Shaarey Tikvah's former rabbi, founded the program. In a video created for the May 19 event, he spoke of the influence of Cleveland Heights High School teacher Leatrice Rabinsky on his decision to found the program and teach the Holocaust. As a high school student, Robuck went on Rabinsky's second Journey of Conscience to Eastern Europe and met Simon Wiesenthal at that time.
"'We must stop the begin. There must be never another begin to a Holocaust'" Robuck recalled Wiesenthal telling his group. "And I took that as a charge to teach as many students as possible throughout the course of my career about the importance of Holocaust education."
Fagin spoke of the program's early days, explaining that "The Diary of Anne Frank," was being shown at Playhouse Square in 1997 and that the list of schools seeing the play was given to Face to Face.
"Well, as they say, 'The rest is history,'" Fagin said. "The program exploded when we marketed it to the Playhouse Square attendees, and we applied for and won a Solomon Schechter gold award for the program the year after."
She showed appreciation for Freilich's work to expand and enhance the program in her 16 years as director, as well as her efforts to videotape survivors recounting their stories to students. Those videos are now housed in the online archives of the U.S. Holocaust Memorial Museum.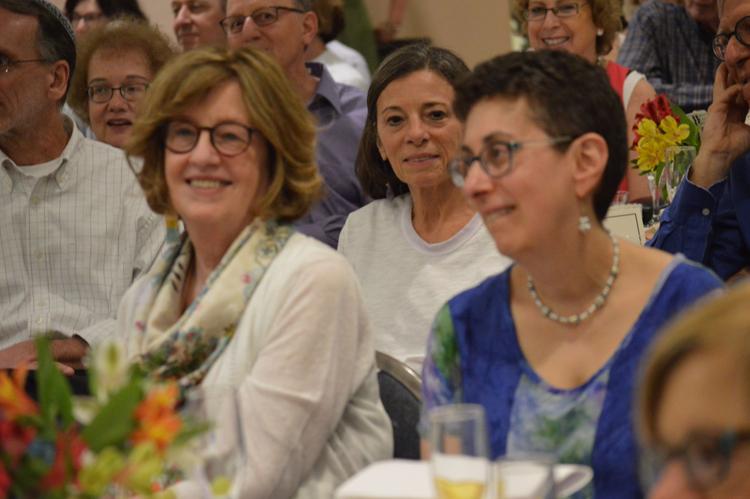 Dr. Elizabeth Kark-Singer, who now lives in Chapel Hill, N.C., also took the podium. She was the second director and referred to herself as "the enthusiastic hyphen" between Fagin and Freilich.
"Where but here could I meet so many survivors one on one and had the time to learn from each of them?" she said, adding, "confronting our own prejudices isn't easy but to the extent we can, perhaps we can demonstrate, as all of you who volunteer in this program do, the empathy of Abraham and enable nonJews to see the better angels of our nature."
Esther Hexter, Holocaust educator in Akron, thanked Freilich for providing the names of "carefully selected" speakers for programs in Akron.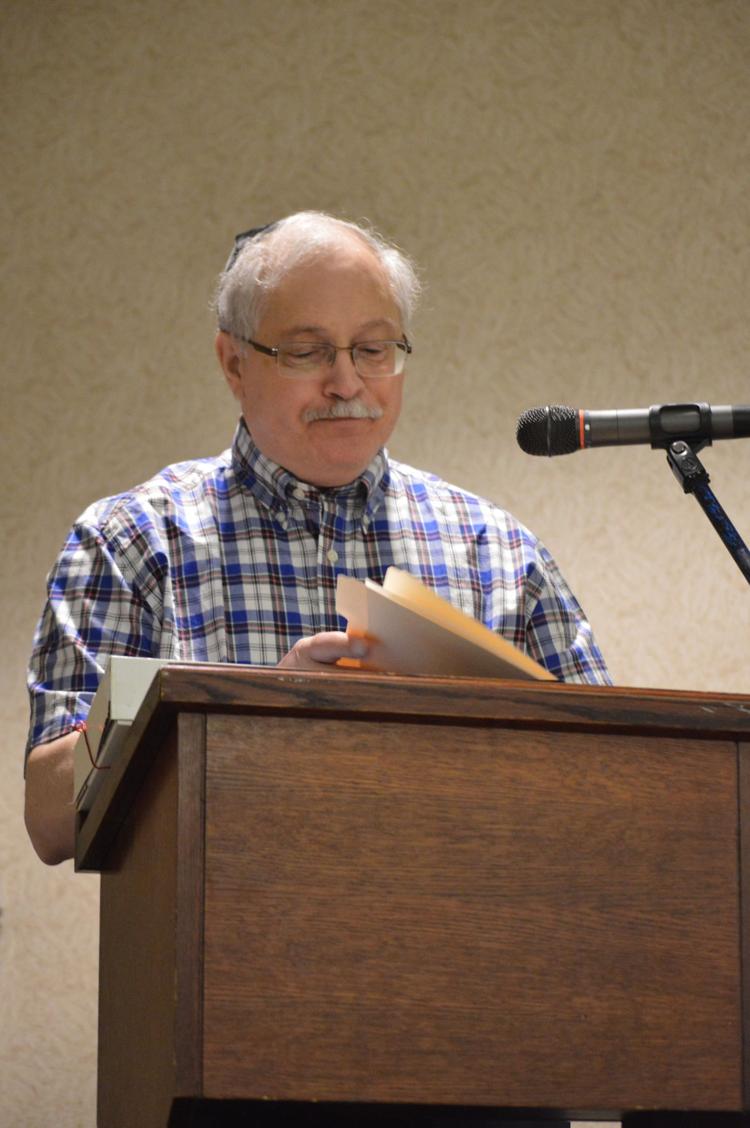 Face to Face volunteer Jeff Kaplan presented Freilich with proclamations from U.S. Supreme Court Justice Elena Kagan, from U.S. Sen. Sherrod Brown, D-Cleveland, and a letter from Ohio Gov. Mike DeWine, whose father entered Dachau shortly after its liberation.
"'While my father didn't talk much about the war, he did tell me about the horrors he witnessed upon entering the camp,'" Kaplan read from DeWine's letter. "'He relayed that information to warn me about the power of hate and the importance of standing up for it.'"
Muriel Weber, Kol Israel Foundation's president, spoke of her hope for the program's future and presented Freilich a proclamation from the U.S. Holocaust Memorial Museum.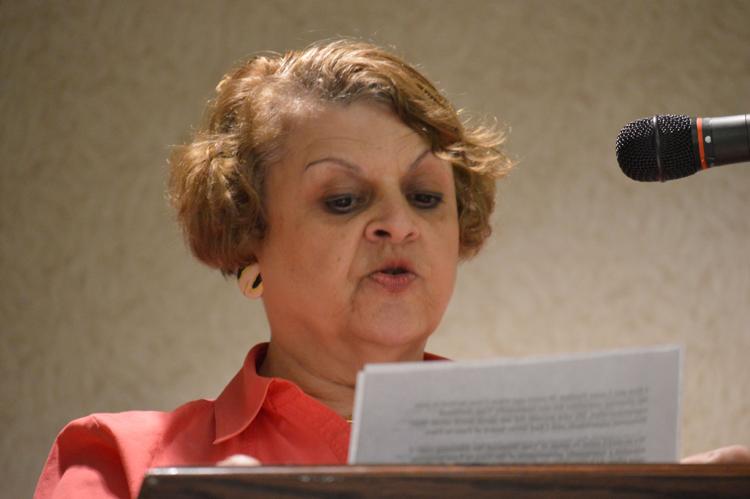 "What an amazing impact Face to Face has had," Weber said. "In the months and years to come, we will work on upgrading the exhibit, reaching out to communities and schools, and also inviting community, church and professional organizations to our presentations."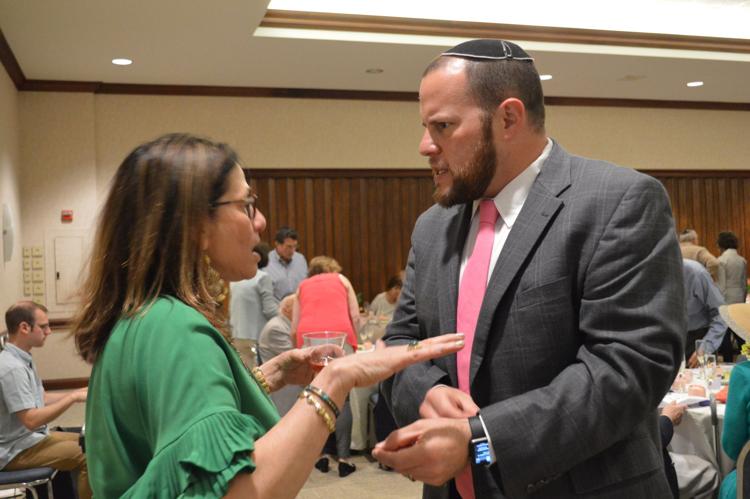 Rabbi Scott Roland of Shaarey Tikvah spoke of the hope of the founders of the synagogue, who themselves were Holocaust survivors, in his opening remarks.
Cantor Emeritus Gary Paller sang three songs solo as part of the program: first, a combined version of "Carefully Taught" and "Children Will Listen," then Hannah Senesh's "Eli, Eli," and a song he said he learned from Freilich, "Give Light," by the duo Magpie. Paller said he chose songs that he sung during volunteer appreciation events through the years at Face to Face.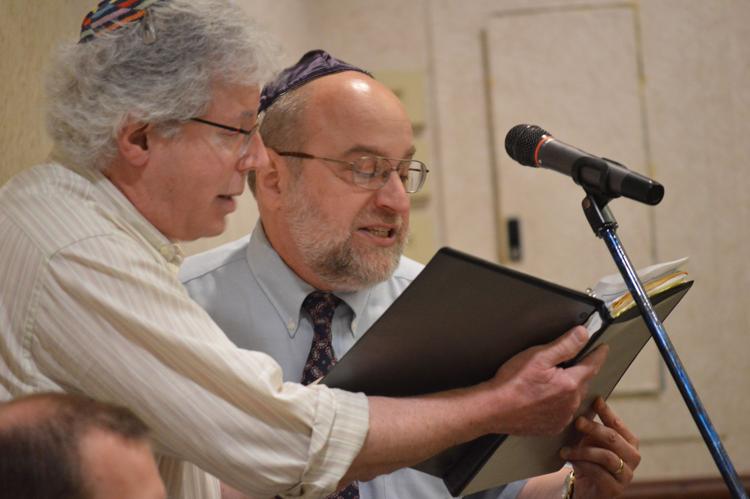 Then, as a surprise, Paller called up Joel Freilich, Louise Freilich's husband, and the two of them finished the musical segment of the program with an up-tempo duet of "Bei Mir Bist Du Schoen" in Yiddish.
Louise Freilich took the stage devoting her remarks to thanking volunteers, asking groups to stand. But she also took a moment to list those aspects of the work she would miss and a few that she will not.
Among those she said she will not miss were technical difficulties and traffic-tie-ups along with "being the default audio-visual technician at Shaarey Tikvah."
Among those she will miss are "the wonderful volunteers, who really care about the program and each other… being personally inspired by the personal stories of survivors… seeing students actively engaged in learning (and) reading the heartfelt thank-you letters from students."