Oberlin College alumni and civil rights lawyers alike were stunned by the combined $44 million in damages awarded by a Lorain County jury to the owners of Gibson's Bakery in a libel, slander and defamation suit.
The lawsuit, which named both the college and Meredith Raimondo, vice president and dean of students, stemmed from a Nov. 9, 2016, shoplifting incident and fight at the Oberlin bakery that involved three African-American Oberlin College students and Allyn D. Gibson, a white store clerk. The incident sparked immediate protests.
The complaint states that Raimondo and other Oberlin College representatives "handed out hundreds of copies of the flyer to Oberlin College faculty, staff, and students, the Oberlin community and media representatives stating that Gibson's Bakery and its owners racially profiled (the students)."
Raimondo and other faculty, including Tita Reed, assistant to the president of Oberlin, "raised their fists in support of the demonstration, while shouting defamatory statements on a bullhorn, thereby assuring that a large audience would hear their defamatory statements," according to the complaint filed by Allyn W. Gibson and his son, David R. Gibson. The college suspended classes to allow students to protest the bakery and ordered its employees to supply the protesters with free food and drink.
A week after the incident, the college ceased purchasing from the bakery. The bakery provided baked goods to the college. That move "resulted in extreme distress of Michelle Gross causing her to take a leave of absence and then early retirement," the complaint states. Gross was director of dining services at Oberlin.
The college later reinstated its relationship with Gibson's Bakery but then severed ties when the lawsuit was filed. The jury awarded the Gibsons $11 million in compensatory damages and punitive damages of $33 million. 
Attorneys assess implications
Lee Plakas, the plaintiffs' lead attorney and managing partner at Tzangas, Plakas, Mannos, Ltd. in Akron, said Oberlin administrators hoped to deflect attention from the college's problems with African-American students by backing students regarding Gibson's Bakery.
"This is a college, not a nursery school," he said. "Your job as college administrators is to be an adult in the room. And rather than appeasing or humoring or facilitating the students, you're supposed to guide them and teach them how to think critically and to prevent them from rushing to judgment without at least thinking about what they're doing."
Plakas said Marvin Krislov, former Oberlin College president, testified the Gibsons were not racist.
"He confirmed that he believed that there was really no reason to suspend the 100-year-old relationship between the Gibsons and the college, and that wasn't something that he was in favor of," said Plakas, also noting Krislov testified he was paid the final year of his contract after leaving Oberlin. Krislov announced his departure from Oberlin in September 2016, but stayed on through the end of the academic year in 2017 before becoming president of Pace University in New York.
"They had allowed him to not serve out his last year, but still paid him more than $500,000," Plakas said he told the jury in reference to punitive damages. "The theme was this college has enough money to pay people for not doing anything."
Multiple attempts to reach Krislov at his office via email and phone were unsuccessful.
In reflecting on the case, Plakas said, "It scares me because of the mob mentality of scapegoating individuals, or a group of individuals, and from the lens of any ethnic group, that's scary and it's dangerous."
Jared Klebanow, a civil rights lawyer for Klebanow Law, LLC in Cleveland, who lives in Solon and attends Solon Chabad, said the case is having "a chilling effect on college campuses, particularly as administrations consider their responses to student protest. 
"The crux of the case, and what it really turns on, is a lot of these student protests that go on," he said. "I think we've seen an uptick in student activism on campus. It's really one of the first cases of prominence across the country."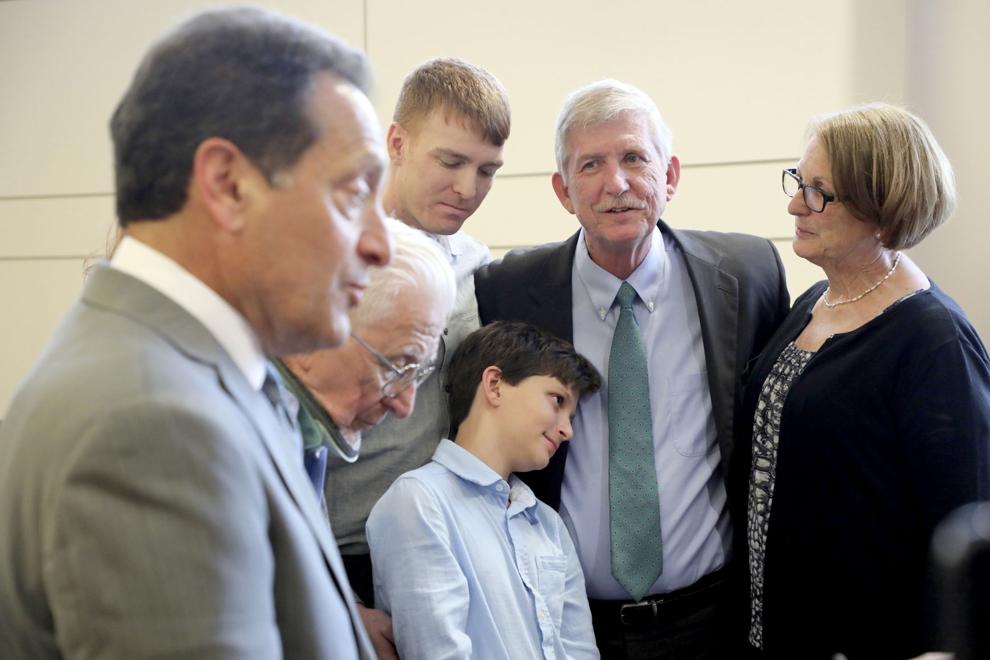 "Whatever misbehavior may have been involved with individuals," said Avery Friedman, a civil rights lawyer who teaches constitutional law at Ursuline College in Pepper Pike and at Cleveland-Marshall College of Law in Cleveland, "if the amount of a verdict is so staggering that it will chill speech and chill expression, then the First Amendment is diminished."
Alumni weigh in on ruling
Mark Jaffee of Oberlin, who graduated from Oberlin College in 1967, said he has known the Gibson family since he was a college freshman in 1963. Now retired and the religious director of Agudath B'nai Israel Synagogue in Lorain, Jaffee said he taught math to both David Gibson and his son Allyn D. Gibson at Oberlin High School.
"There's absolutely been no evidence over the past 50 years that they have any racist tendencies at all," he said. "As far as the Gibsons being unfairly treated by the college, yeah, I'd say they were."
Dr. Paul Treuhaft graduated from Oberlin in 1964, and later returned to live in Oberlin as Lorain County Deputy Coroner. Reached in Santa Rosa, Calif., Treuhaft offered his perspective. 
"Having been a student in the '60s and having lived in Oberlin for nearly 20 years, from 1993 until 2012, I understand why the students have some suspicion of Gibson's," Treuhaft said. "But I am basically in agreement with the people who think that the way the college responded to this was inappropriate and in particular, I think that dean (Meredith) Raimondo's part in this was inappropriate."
Raimondo, appointed by Krislov to the post of vice president and dean of student services, had been special assistant to the president for diversity, equity and inclusion. 
"Going beyond that, my view is that I think the judge made a fundamental mistake in not granting a change of venue," Treuhaft said. "I agree with those people who say that, in general, the county has a biased view of Oberlin and I have difficulty believing that the jury was unbiased about that in the beginning. I just find that a little hard to accept. And I think the amount of the award is absolutely ridiculous, but I also think it's subject to negotiation."
Treuhaft said he believed the Gibsons had a legitimate complaint, "and they're entitled to some restitution, but not to $11 million and not to $22 million in punitive damages, certainly not $33 million in punitive damages."
Treuhaft was one of 90 alumni to sign a letter in 2018 calling out Oberlin College President Carmen Twillie Ambar about anti-Semitic acts and anti-Israel sentiment on campus. 
A former Oberlin College professor, Joilynn Karega-Mason, sued the college Nov. 9, 2018, after her dismissal from the college after a comprehensive review found she failed to meet academic standards and demonstrate intellectual honesty. She was initially suspended in August 2016 after she was accused of making anti-Semitic posts and comments online. 
Cantor Richard Lawrence, who recently left his post at Temple Emanu El in Orange to join his wife in Philadelphia, graduated from Oberlin College in 2008.
In spite of the outcome, Lawrence viewed the bakery lawsuit as a wake-up call about racism.
"I think it's a reckoning moment," he said. "I think it is plausible enough that it has to be taken into consideration because of how many people are profiled in this country simply by the color of their skin, whether it is part of explicit bias or implicit bias.
"Racial bias is present even when we don't think about (it)," he continued. "Or I would say racial bias exists because we don't think about it."
Rabbi-Cantor Paul Offenkrantz, who graduated from Oberlin College in 1982 and now lives in Boynton Beach, Fla., said Oberlin College students may be quick to adopt a mob mentality.
"When I saw that the verdict was in favor of Gibson's," he said, "I felt that maybe that was a just verdict." 
Offenkrantz signed the same 2018 letter that Treuhaft did. 
"I think the whole thing is sobering," he said.