Gilda Cohen and Leonard Senkfor were presented with awards for their extensive and dedicated work to further the mission of giving back to the state of Israel by Israel Bonds and Park Synagogue to an audience of 85 on Nov. 21 at Park Synagogue East in Pepper Pike. The event raised $2 million in bond investments for the state of Israel, said Tom Lockshin, executive director of the Development Corporation for Israel/Israel Bonds for Ohio and Kentucky.
"We've been planning this event at The Park Synagogue for probably more than a year, and Gilda and Leonard came up at the top of the list," Lockshin said. "They're both active at The Park Synagogue and they're Israel bond supporters. We appreciate Gilda and Leonard for allowing us to honor them, which they richly deserve. We're really thrilled because both of them are highly respected by the synagogue and the community; that's why we got a great turnout and why we were able to raise nearly $2 million in Israel bond investments."
Jennifer Teege, an author from Germany, served as the event's guest speaker.
Teege, who was adopted, spoke of the discovery she made when she found out her maternal grandfather was Amon Goeth, a Nazi commandant of the Plaszow concentration camp, and the deep psychological process that led up to her writing her novel about the experience, "My Grandfather Would Have Shot Me."
"I was looking at his face (in a photo) and then my face at the same time, and I saw some physical similarities," Teege said. "And I was scared because I asked myself if I look like this man, does it mean that I carry something of him within me? Well, the answer of course is no. I hope you understand why because if I would be like him only because I resemble him, this would support the Nazi ideology. It's only because you look like someone, it doesn't say anything about who you are or about your character. And today I understand that there is no such a thing as a Nazi gene and it's important that everyone in the room understands it. But I wasn't ready at that point to think so rationally."
Teege also spoke of the time she visited and lived in Israel for five years, amazed by the advanced and modern city, before she made the discovery of her grandfather.
"When I went to Israel in the first place, it was not connected to my family's history. It was just to visit. And while being in Israel, I fell in love with Israel. I thought the country – especially because what I knew about Israel was only what I had seen on the news – was a violent country where anywhere, everywhere a bomb could go off. Also with all the knowledge that I had about the Holocaust, I thought it's a very dark country with old people. And I remember that time I was so fascinated by Tel Aviv, by Jerusalem, and I met an Israeli guy. I fell in love and this is how I happened to stay in Israel for almost five years and studied. I don't know whether it was faith or whether it was coincidence, but I do believe that in our life, we have some kind of destiny," Teege said.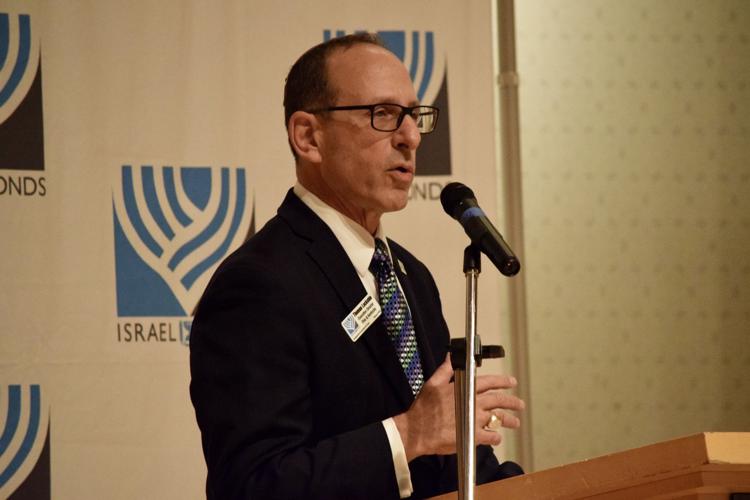 Lockshin connected Teege's story to a number of occurrences today that could help Israel Bonds' mission to support the state of Israel.
"We thought she had a very unusual and interesting story to tell, and we're in a time now where there seems to be a resurgence in hate and anti-Semitism – she's a success story of surviving," he said. "But by her not letting her history or her heritage and ancestors define her, and the fact that she spent five years in Israel and loves Israel was a great story for our organization that's all about connecting people to Israel."
Following Teege's speech was the presentation of the awards.
Gilda Cohen has been an active member of the Israel Bonds Women's Division for the past 30 years and has given back to the state of Israel numerous times through the purchasing of Israel bonds.
She worked hard to instill in her family the beauty of giving back to the community and cherishing family but also to support Israel to help create a home and a refuge for Jewish people.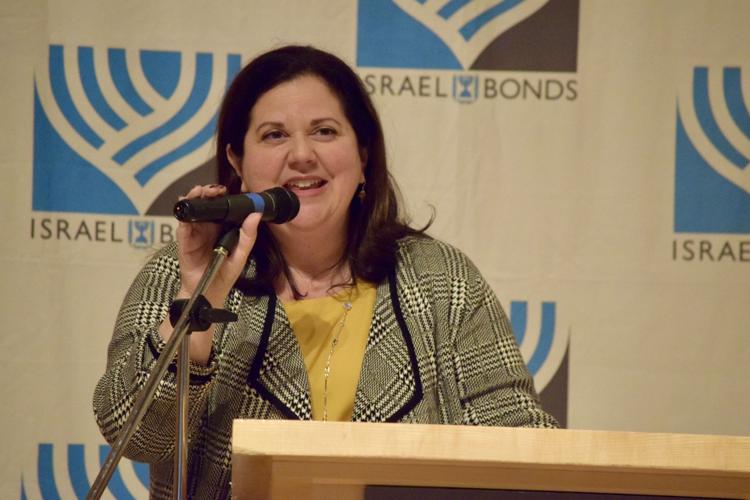 "She volunteered at many organizations ...but recently, her favorite vehicle has been contributing back to her home by purchasing Israel bonds," said Mindy Cohen, Gilda's daughter. "My mom invests but she isn't just investing in my family anymore but in our shared future together. My mother's advice to us for her admonishing that to purchase Israel bonds may be prescient, she can perhaps see something that I might appreciate in the future and she is invested in it now."
Cohen received her award from Rabbi Joshua Skoff of Park Synagogue, who told both her and the audience that he is a fan of hers and that she stands as a role model for the community.
"Gilda, you've never asked for any of this," Skoff said. "You like to mind your own business walking along, singing your song, and yet we find you because we think what you do is very special. ... You've always known who you are and what you are is a role model because you're a bubbly and a decent and a kind and a charming human being that you stand here not only as a leader for Israel, which you are, but also as a proud patriarch of a very wonderful family with a great legacy."
Cohen then addressed the audience, thanking Israel Bonds and Park Synagogue for the award, continuing her message of the importance to maintain the state of Israel.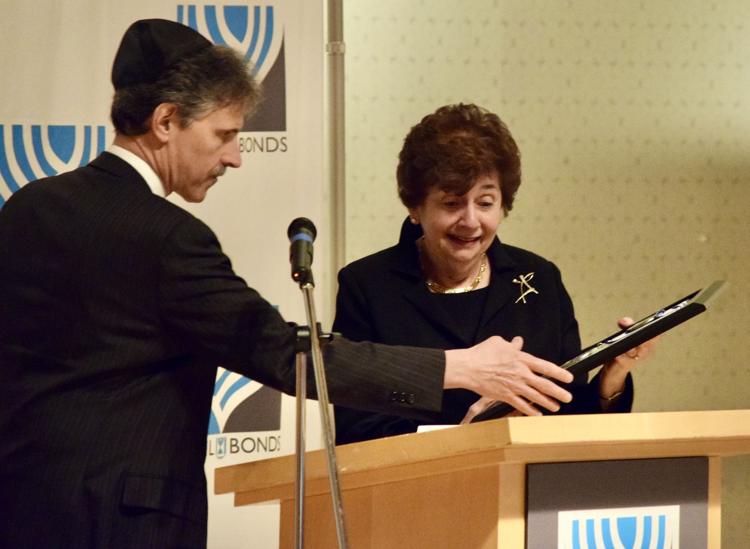 "I've visited Israel around seven times, and each time I've been there, I've been amazed at all the changes and progress the country has made," Cohen said. "Israel is the only democracy in the Middle East and the holy heart of our Jewish people. With the rise of anti-Semitism at an all-time high since the end of the second World War, just knowing that we have the state of Israel makes me feel safer and I sleep much better again. It also provides us with a place that will take us in God forbid we should ever need it. Purchasing Israel bonds is one of the best ways to support Israel."
Senkfor started investing in the state of Israel through the purchasing of Israel bonds in 2006, and he hasn't stopped since. The 93-year-old has been involved in a number of philanthropic projects through the years including with Park Synagogue, and he refuses to relinquish his personal values no matter what.
Senkfor's son, Steve Senkfor, read aloud a paper he had written in 1943 when he was in the 11th grade of his future goals to highlight how Leonard Senkfor's philanthropic ways have been with him since he was young.
"He wrote, 'I would join some clubs and be an active member of them. I will try to be a help to my community, my country and most of all to God. I also will try to give money to people that need it,'" Steve Senkfor said. "This was amazing to me. This is the guy that was going to bed hungry and was 17 years old and thinking about the world around him in those ways. I'm just amazed and I will say that this generosity has stayed with him throughout his life and is what I will take back and take forever as his legacy. He always wanted to give to other people."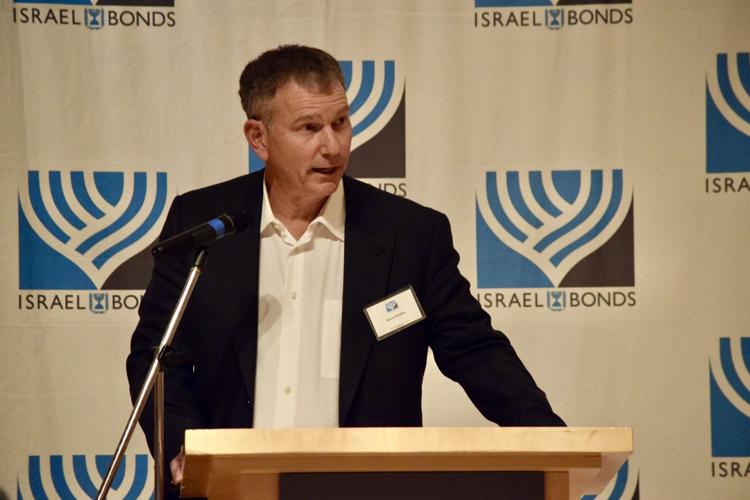 Skoff then described to the audience a number of Leonard Senkfor's values – of which he holds onto dearly.
(Leonard) doesn't get rid of his values; he doesn't get rid of his principles," Skoff said. "He stands by them always. We may all have problems from time to time but we never give up on ourselves. That's Leonard's model. We never give up on others. We never give up on ourselves. He certainly doesn't turn his back on his people, and of course that includes the state of Israel."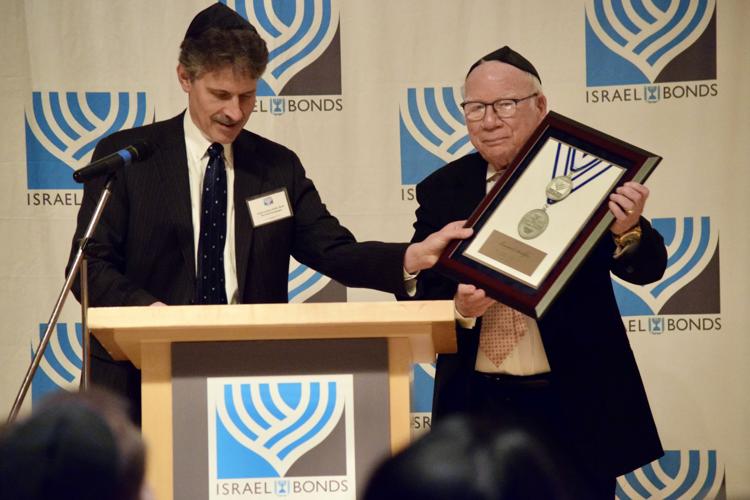 Leonard Senkfor seconded the remarks Skoff made about him, leaving the audience with a final value of his.
"I didn't know (Skoff) was going to say it, but it's all true," Leonard Senkfor said. "A friend is a friend, and you've got to be honest."